---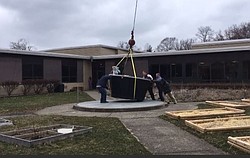 Photo
Neighbors | Submitted .Diamond Steel workers helped place the composter for Boardman Glenwood Junior High School.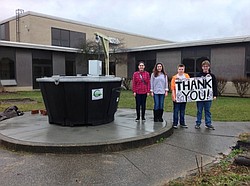 Photo
Neighbors | Submitted .Students in the HOPE club said "thanks" in courtyard where they soon planted biodegradable waste. Pictured are, Alyssa Alberti, Mia Gagliano, Max Welton and Devon Alm.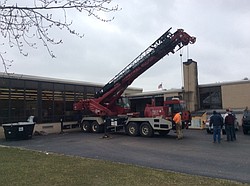 Photo
Neighbors | Submitted.Diamond Steel donated a crane to help the students and staff at Boardman Glenwood hoist a composter tub over the school building and into the courtyard.
Glenwood students and staff thank the Diamond Steel Construction Company of North Lima for donating the use of a massive crane to hoist an 8 foot in diameter Earth Tub Composter over the building and into the Glenwood courtyard.
Now students will be able to finish the job that started with an EPA Grant award of $16,000 to compost the waste from the school cafeteria.
"On March 14, Diamond Steel workers helped us hook up the composter, lift it at least 30 feet in the air and glide it into place," said science teacher Laura Frost. "It was a blustery day, so students were inside watching in amazement through the window."
Last year, Glenwood received a highly competitive $16,000 Ohio Environmental Education Fund Grant to purchase the Earth Tub. Students at the school will now be able to reduce their waste by up to 35 percent by composting in an Earth Tub system. Dozens of students who are HOPE club members (Helping Our Planet Earth) will also maintain the courtyard gardens.