Summary of recent criminal activity in Poland and Boardman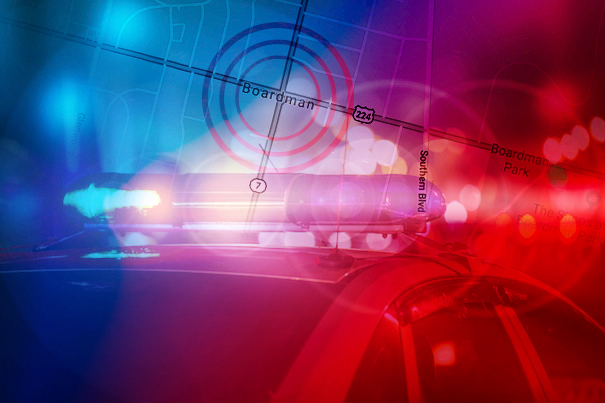 ---
A summary of recent criminal activity in Poland and Boardman townships:
POLAND
April 25
Identity fraud: A Jennifer Drive man found out his credit-card number had been used without consent.
BOARDMAN
April 25
Identity fraud: A Youngstown woman discovered someone had fraudulently withdrawn a total of $460 on five occasions from her checking account at a Market Street credit union.
Theft: A woman reportedly stole $25 worth of socks and clothing from Gabe's, 850 Boardman-Poland Road.
April 26
Burglary: To an apartment in the 3900 block of South Schenley Avenue via the front door. A 40-inch smart TV was removed from the living room.
Counterfeit: An official with Boardman Center Intermediate School on Market Street reported a student had brought to school 16 phony $100 bills, some of which he apparently passed to fellow students.
Criminal damaging: A woman told police that two walls to a piece of rental property she owns in the 100 block of Shields Road sustained damage, which was estimated at $300.
Theft: A woman reported her son's $65 mountain bike had been taken from the front porch to their Oakridge Drive residence.
Theft: Julie M. Lehman, 35, of Sunny Estates Drive, Niles, was charged with making a fraudulent return at Kohl's, 383 Boardman-Poland Road, via merchandise that had been reported stolen from the Niles location, and receiving $105 in store credit. Lehman, who also was accused of stealing a $34 pair of sunglasses from the Boardman department store, faced an additional charge of possessing drug paraphernalia when, authorities alleged, she admitted having a suspected crack-cocaine pipe.
Theft: Police at a Market Street motel took into custody Alvin P. Traylor III, 50, of Detroit Avenue, Youngstown, and Orlanda M. Dodson, 51, of Council Rock Drive, Youngstown, on warrants after four cartons of cigarettes were stolen April 22 from Walgreens Pharmacy, 7295 Market St.
Theft: Jamie J. Jones of Canfield Road, Youngstown, was charged after police alleged Jones, 32, had stolen a $12 pair of leggings from Walmart, 1300 Doral Drive, then returned the item to the customer-service counter for a refund.
April 27
Arrest: Authorities conducting an investigation at a Boardman-Poland Road bank picked up Brittney R. Reber, 24, of Lucius Avenue, Youngstown, upon learning that Reber was wanted on a warrant accusing her of failing to appear in Campbell Municipal Court.
Assault: After a Boardman Center Intermediate School official had reported an assault, police watched surveillance footage that reportedly showed a girl intentionally tripping another student as they entered a classroom, apparently as part of a three-month pattern of harassment.
Theft: An employee with a McClurg Road business reported her debit card stolen while at work.
Drug paraphernalia: Police in the 7100 block of Market Street arrested Alvin P. Traylor III, 50, who listed addresses on Market Street in Boardman and Detroit Avenue in Youngstown. Traylor, who was wanted on three warrants, also was charged with having a suspected crack-cocaine pipe in his pocket.
Arrest: Officers responding to a possible domestic situation at a Glenwood Avenue apartment charged Celeste G. Wolfe, 26, with obstructing official business after alleging Wolfe, of East Philadelphia Avenue, Youngstown, provided a false name and date of birth during the investigation.
Breaking and entering: Authorities at the Columbiana County jail arrested Joshua A. Burke, 24, of Shadyside Drive, Boardman, on a breaking-and-entering charge, related to a December 2015 break-in at a vacant home in the 4800 block of Grover Drive. A $400 pressure washer was removed from the premises.
Theft: Hubbard Township police handed to Boardman authorities Jacob C. Mercado, 21, of Ohio Avenue, Youngstown, who was wanted on a theft charge, related to a Feb. 26 shoplifting situation in which $605 worth of goods was stolen from Walmart.
Drugs: A traffic stop near Southern Boulevard led to the arrest of Matthew J. Crowl, 39, who listed addresses on Market Street in North Lima and state Route 30 in Lisbon, and who was charged with possessing drug-abuse instruments and drug paraphernalia after police alleged having found a used syringe and a cotton swab with drug residue. Also taken into custody was Christopher A. Juillerat, 29, of Pennsylvania, who was wanted on a Columbiana County warrant charging disorderly conduct.
Theft: A Centervale Avenue woman noticed a wallet, $70 and other items missing from her vehicle.
April 28
Arrest: While responding to a vehicular crash with possible injuries at an East Western Reserve Road gas station, officers charged Paul M. Scahill, 53, of Upper Arlington, Ohio, with operating a vehicle impaired, and cited him on a charge of failure to control a motor vehicle. Scahill refused to submit to urine and breath tests, a report showed.
Assault: A Poland woman alleged her former boyfriend's current girlfriend, of Stadler Avenue, knocked her to the ground and punched the accuser in the head when she returned to the apartment thinking she had left her cellphone there. The victim complained of pain to her head and lip.
Arrest: Officers in the 500 block of Oakridge Drive arrested Clyde G. Carter Jr., 51, after learning that the Harrisonville, Va., man was wanted on a warrant from that state.
Arrest: After pulling him over near Mathews Road, authorities charged Montrail D. Berry, 29, of Taft Avenue, Youngstown, with operating a vehicle impaired. Berry refused to undergo a Breathalyzer test, a report said.
Theft: A Poland woman noticed a $500 iPhone and its case missing from her car while she patronized a Boardman-Poland Road hair salon.
Extortion: A Shadyside Drive man told police he had received a text message demanding $300 or the sender would release apparently unflattering information about the accuser on the internet.
Arrest: Police answered a fight call at a Market Street motel, where they took into custody William D. Vancil, 40, upon ascertaining the New Carlisle, Ohio, man was wanted on a Greene County, Ohio, felony warrant charging child neglect.
Theft: A woman reportedly stole $30 worth of children's clothing from Family Dollar, 4030 Market St.
Theft: Authorities charged Mickey R. Vargas, 24, after alleging Vargas, of Wyandot Lane, Youngstown, had taken a T-shirt, license-plate fasteners and another shirt from Walmart.
April 29
Arrest: While assisting at an Austintown checkpoint on state Route 46, police charged William V. Greathouse, 33, with operating a vehicle impaired. Greathouse, of Manor Drive, Brookfield, registered a 0.179 blood-alcohol content, which is more than double Ohio's 0.08 legal intoxication limit, a report stated.
Assault: A 16-year-old girl alleged her former boyfriend had choked her when the teen went to a Bonnie Place apartment to retrieve personal belongings.
Theft: Two 16-year-old Youngstown girls reportedly stole $175 worth of merchandise, including body wash, from Walmart.
Theft by deception: A Bob-o-Link Drive woman told police that after having posted online a request to buy an iPhone, a man who made an offer showed up at her residence, where she gave him $400 only to receive an older model that had a shattered screen.
Theft: Henry A. Garner, 54, of East Auburndale Avenue, Youngstown, was charged, accused of taking about $44 worth of candy from Family Dollar, 4030 Market St.
Harassment: A worker with a Tiffany Boulevard motel reported an irate caller made derogatory remarks upon seeing that his credit card was charged for renting a room that had sustained damage.
Drugs: A traffic stop near an Interstate 680 on-ramp led to a minor-misdemeanor citation charging Kyle T. Lessick, 24, of Misty Ridge Trail, Poland, with having in his shoe a bag of suspected marijuana that weighed about 3 grams.
Theft: A boy and a girl, both 16 and of Youngstown, were accused of stealing $17 worth of merchandise from Walmart.
Theft: A man and a woman reportedly took a metal breaker box and a large piece of piping from Home Depot, 7001 Southern Blvd.
Arrest: Authorities arrested Le'ray J. Jackson, 26, while dealing with a possible domestic situation at a Lockwood Boulevard apartment. Jackson, of Youngstown, was wanted on a Campbell warrant charging him with violating a court order.
Theft: A man reportedly stole five personal-care items valued at $40 from Family Dollar, 4030 Market St.
Theft: A man age 45 to 50 reportedly stole about $50 worth of property that included a pillow from Walgreens Pharmacy, 525 E. Midlothian Blvd.
Theft: Kevin P. O'Connell, 28, of Locust Avenue, Boardman, was charged in the theft of about $64 worth of groceries and cleaning products from Walmart.
Theft: Two women reportedly stole $17 worth of undergarments and baby wipes from Family Dollar, 4030 Market St.
April 30
Theft: Crystal V. Huff, 21, of Wolosyn Circle, Youngstown, was charged with taking four cellphones and other property from Walmart.
Identity fraud: A Kiwana Drive man discovered someone had stolen his identification, then used his credit card to make $9,642 worth of online purchases.
More like this from vindy.com