Niles employee: I paid Infante for jobs, promotion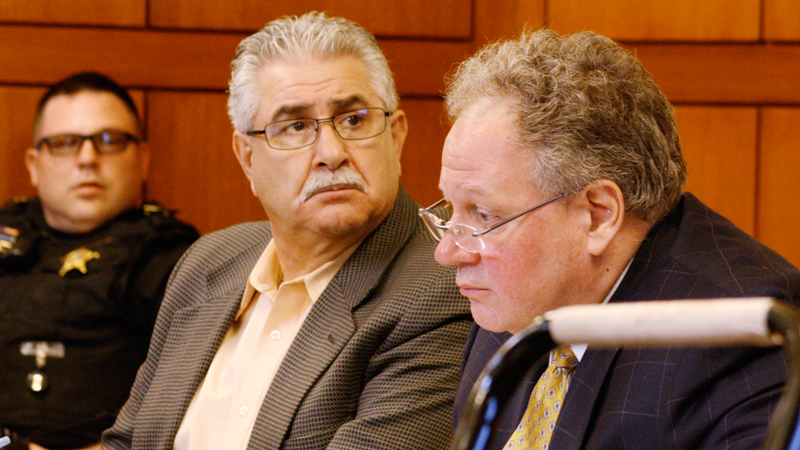 ---
By Ed Runyan
WARREN
Niles city employee Scott Shaffer took the stand in the Ralph Infante corruption trial to give a face and a voice to the bribery charges the former longtime Niles mayor faces.
Shaffer spent an hour Wednesday giving detailed information about the four times he says Infante agreed to provide jobs and a promotion to him and his friends in exchange for cash and items for Infante's McKinley Heights bar.
Shaffer also said he used city equipment on a regular basis for noncity business and did it because Infante indicated it was OK.
"I don't know how many times I used city equipment because it happened all the time," Shaffer said.
When asked by the prosecution if he thinks he committed any crimes, Shaffer said, "I don't feel I did anything wrong. I did what I was told."
The trial resumes at 9 a.m. today in Trumbull County Common Pleas Court with additional testimony from Chris Rudy, an investigator with the Ohio Auditor's Office, who testified for hours Wednesday about search warrants and evidence confiscated from Infante's home, bar, bank accounts and office over a couple of years.
Infante, 63, faces 41 criminal charges accusing him of engaging in a pattern of corrupt activity, bribery, illegal gambling and tampering with records during his 24 years as Niles mayor ending in 2015.
Shaffer was indicted on charges related to using city equipment for personal use in the same indictment with Infante in 2016, but the state dropped the charges against Shaffer in exchange for his cooperation with prosecutors and investigators.
Shaffer started working part time for the city April 15, 2002, according to a document in his personnel file. Shaffer said that happened after he met Infante at Infante's bar, the ITAM No. 39. Shaffer's brother, who worked with Infante at a steel mill years earlier, introduced Shaffer to the mayor, Shaffer said.
Sometime after Shaffer was hired part time, then-Niles service director Don Allen asked Shaffer to do him a favor by removing dirt from the home of his son, Billy Allen, and Billy's wife, Karen Infante Allen, who is Infante's sister.
Shaffer said he did the work in several hours one day using his father's excavator.
Karen Infante Allen is now Trumbull County clerk of courts.
There was no mention during testimony of her involvement in the project or her husband's involvement.
Niles city employee JoJo Cella testified Monday the dirt Shaffer removed helped Cella build a retaining wall at the home. Cella said he and Shaffer did the work after city hours, and they used their own equipment. Cella said he was not paid for his work.
Shaffer had difficulty remembering specific months or years for many of the meetings with Infante, but he said he asked Infante at the bar around that time if Shaffer could get a full-time job with the city.
They agreed that Shaffer would pay Infante $2,500 for a position in the city's water department, and Shaffer said he paid Infante the money at the bar. Shaffer started the job March 18, 2003, according to a letter in Shaffer's personnel file.
Probably around early 2014, Shaffer said, he asked Infante at the bar whether Shaffer's girlfriend, Stephanie Ford, could get a job with the city. Infante referred the question to Robert Swauger, Niles treasurer, who was also in the bar, Shaffer said.
"I said what do I have to do to get my girlfriend a job?" Shaffer said he asked Swauger. The treasurer "pointed to Ralph and said 'Talk to him,'" Shaffer said. He negotiated a price of $3,000 with Infante over several days, and Ford went to work in the billing office, Shaffer said.
He paid Infante in $50 and $100 bills in an envelope at the bar, Shaffer said.
Tom Telego, who was utilities billing manager, got sick and missed a lot of work, so Shaffer and Ford felt she should get his job, Shaffer said.
"I said, 'What's it going to take to get this?'" Shaffer said of a conversation with Infante at the bar.
Infante "said he needed a big-screen TV and air conditioner," Shaffer testified.
"I said, 'Are you serious?' and he shrugged his shoulders," Shaffer said.
Shaffer bought and installed those items, valued about $2,000, Shaffer said.
A co-worker of Shaffer's, Pete Kozup, helped Shaffer mount a shelf for the television, Shaffer said. Kozup testified about it Monday.
Ford didn't know Shaffer paid for her job or her promotion, Shaffer said.
In early 2015, before Infante lost the primary election for mayor, Shaffer asked Infante if the mayor would give a friend of Shaffer's, Tommy Davis, a job, and Infante said Davis could come on part time, Shaffer testified.
Maybe a week later, Shaffer asked Infante again at the bar about a job for Davis, and they agreed on a price of $1,500, Shaffer said.
More like this from vindy.com