Nutter's three-run blast ignites Ursuline softball team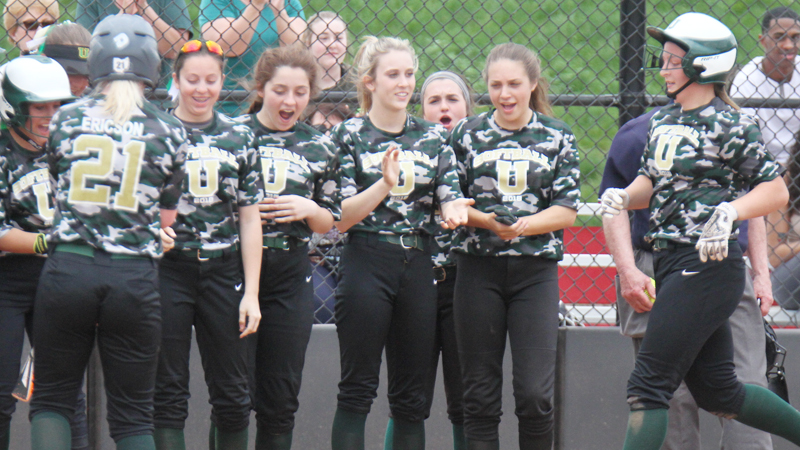 ---
Nutter's three-run blast ignites Ursuline softball team
By Dan Hiner
youngstown
With the game tied at 2 in the bottom of the third inning, Ursuline's Julia Nutter hit a three-run home run over the left field fence in the Irish's 11-2 win over Lakeview.
Nutter's homer gave the Irish a 5-2 lead as Ursuline bats came alive after being held to two hits in the first two innings.
"I think it got us going, to know that we could come back and keep fighting," Nutter said.
The Irish (17-4) sent 10 batters to the plate in the third and scored six runs to push the led to 7-2.
Struggling in the beginning of the year, the Ursuline freshman finally hit her first high school home run.
"For me, it was a slow start this year," Nutter said. "I think it was in my head at first, but I'm good now."
Nutter finished 2 for 4 with three RBIs and a run scored.
Ursuline pitcher Emma Ericson struck out seven and allowed four hits and two walks in a complete game.
"[Ericson] had good ball movement," Ursuline head coach Mike Kernan said. "That's a pretty decent hitting team she faced."
Lakeview (10-5) scored two unearned runs in the top of the first, but were shut down the rest of the game.
Shortstop Maris Barbato and center fielder Destiny Goodnight helped the Irish offensively and defensively.
Both players went 2 for 5, and Goodnight scored three runs while Barbato drove in a run on an RBI triple.
They also made multiple stops in the field to back up Ericson and prevent the Bulldogs from getting any momentum at the plate.
"I knew to have confidence in myself and confidence in my defense," Ericson said. "I knew they'd have my back if the ball was put in play."
Avrey Steiner, Annie Pavlansky, Tori Wells and Lexi Rygalski had the only Lakeview hits.
Steiner scored on a error after Pavlansky attempted a bunt in the first.
Ursuline third baseman Emily Holland fielded the bunt but committed a throwing error, allowing Steiner to score. Pavlansky later scored on a double by Wells.
Lakeview pitcher Cait Kelm struck out six and allowed 11 runs, eight earned, on 11 hits and four walks in a complete game. Kelm allowed five hits and hit two batters in the Irish's breakout inning.
"Our kids were out there, they played hard," Lakeview head coach Scott Chronister said. "It was just one thing after another. And that's what we talked about, trying to recover, limit that damage and what we'd really like to do is try to get back in our next at-bat and try to get one or two of those back.
"We weren't able to get a couple runs back to stop their momentum and then they tacked on a couple more and the game kinda of got away from us a bit."
With the Irish's first-round tournament game coming up on May 11, Ericson and Nutter believe the team is getting hot at the right time.
"We're getting along with each other and more focused," Nutter said. "We're definitely maturing more then we were at the beginning [of the year]."
Ericson likes the makeup of the team.
"As long as we stay focused and determined, I believe we have a special group of girls with us this year," she said.
More like this from vindy.com