Playing with puppies at YSU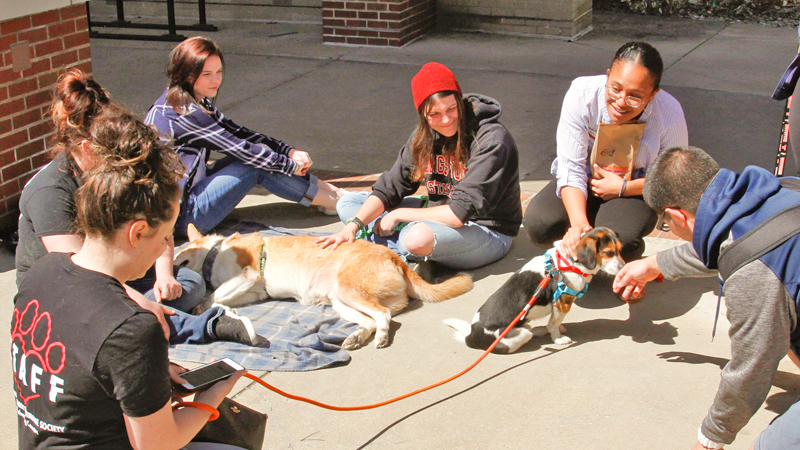 ---
YOUNGSTOWN
Youngstown State University's Puppy Palooza attracted stressed-out students to frolic with furry friends.
From 10 a.m. to 2 p.m. Monday, students were welcomed to the awning outside Andrews Student Recreation and Wellness Center to play with Animal Charity Humane Society's dogs for an end-of-the-semester celebration – and to help relieve some stress during finals week.
Although freshman student Sydney Tillman said playing at Puppy Palooza was furthering her procrastination of her finals work, she felt "awesome."
"I wish there were more Puppy Paloozas throughout the semester," she said. "It just feels good."
It's a semiannual campus event.
Alyssa Kubec, freshman, said she likes seeing this practice on a college campus.
"It's a nice break from finals," she said. "My high school did this same thing – I'm from the Cleveland area – and they would bring in dogs and cats to sit with you and lower your stress and just kind of have fun with the dogs."
In addition, the dogs provide a nice way to spend free time while on campus, Kubec added.
"You can just come sit with them in your down time," she said.
Junior student Alice Davis appreciates furry frenzy for an entirely different reason.
"I love coming to Puppy Palooza," she said. "I'm autistic and dyslexic, and learning things is just really hard enough. But you get to come and hang out with dogs and cats, and they just provide emotional stability for you and for people like me."
Davis said she has that kind of stability at home, too, with a Savannah cat, a tabby cat and a corgi. To further that emotional stability, Davis said she normally wears cat ears for comfort and as a part of her personality. She left the ears off Monday because she didn't want to upset the dogs.
But for some students, it's just a simple love of the animals.
Sophomore student Megan Gocala said she just loves the atmosphere.
"I love dogs and love being able to have them be a part of my day," she said.
More like this from vindy.com