Ambassadors of Christ host annual walk in Y'town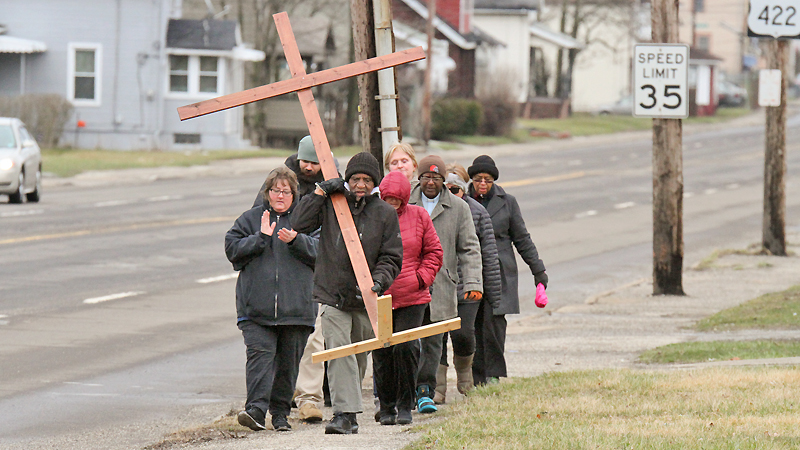 ---
By GRAIG GRAZIOSI
ggraziosi@vindy.com
YOUNGSTOWN
Nearly a dozen
people left the comforts of their homes Friday to carry a cross through the cold afternoon air for the Ambassadors of Christ's 17th annual Walk with the Cross event through Youngstown's East Side.
The annual Good Friday event began at We Walk By Faith Bible Church on Himrod Avenue and continued down Oak Street onto Wick Avenue, Commerce Street, East Federal Street and then over the bridge to Wilson Avenue, concluding at Holy Apostles and St. Stephen of Hungary Catholic Church.
Walkers take turns holding the cross as the group proceeds along the route. Throughout the three-mile journey the participants often stop and pray for the city, their neighbors and themselves.
The walk brings together churches from various congregations and traditions for the public display of faith, and is inspired by the Biblical account of Jesus carrying the cross he would later be crucified on up the slope of Mount Calvary.
The Rev. George Wilkins of Mount Sinai Missionary Baptist Church has participated in the walk for the past 12 years. He keeps coming out because he loves the unity.
"We all get together. Catholics, Baptist, Church of God," he said. "The Spirit keeps us coming back."
John and Doshia Banks, members of Mount Zion Baptist Church, have been attending the event for the past six years, and arrived at We Walk By Faith bundled up and ready to walk.
John Banks said that even though the event always takes place on Good Friday, it always ends up being cold. But that doesn't stop him or his wife from showing up.
"We want people to see us doing this and to join us in our worship," he said.
One of the women present has been walking with the cross since the event began.
Barbara Kukla, a Catholic participant, traveled in the inaugural Walk with the Cross event and is now an Ambassadors of Christ secretary.
She said she values the relationships she's made at the event over the years.
"It doesn't matter which race or church we come from, everyone's welcome," she said.
Due to the nature of the event, walkers are subject to the weather on the day of the walk as well as interaction from the public.
Kukla said they've largely had positive feedback.
"Cars that come by will honk at us and people will wave," she said.
"On past days when it's a little warmer out, people will sit out on their porches and wave to us. It's a way to show our faith in public."
More like this from vindy.com