Ukers meet at Austintown library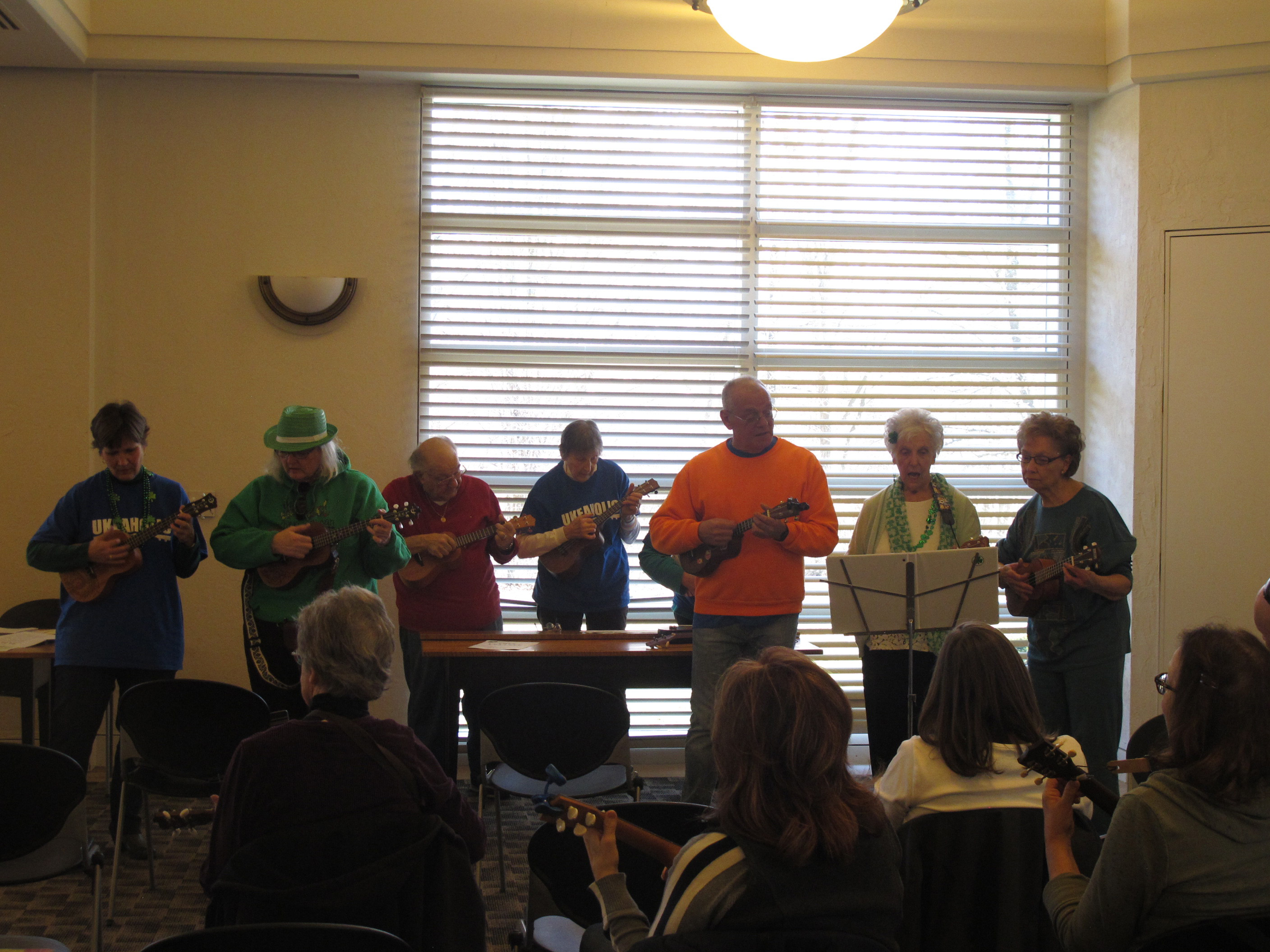 ---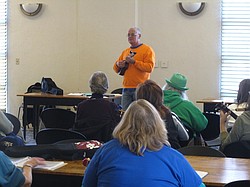 Photo
Neighbors | Zack Shively.Ukulele players from around the community gathered in the Austintown library for a chance to learn or just to play together. Pictured, Richard Wyant led the group through the song, "He's Got the Whole World in His Hands."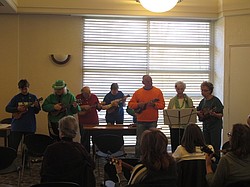 Photo
Neighbors | Zack Shively.At the end of the ukulele program at the library, a group called The Ukeahloics played a couple of songs for St. patrick's Day. The performed "Oh Danny Boy" and "Molly Malone."

Photo
Neighbors | Zack Shively.Richard Wyant led the meeting of ukulele players at the Austintown library. Together, the group played a number of songs, such as "You Are My Sunshine."
By ZACK SHIVELY
The Austintown library invited ukulele players from the area to join them for a session on March 17 in the large meeting room.
Richard Wyant reserved the space to have a gathering spot for local ukulele players from the community. He previously played often at the Austintown Senior Center, but he wanted to get a larger group together.
He searched online for different ukulele communities in larger cities and looked at how they got started. He used that knowledge for the event and wants to create an environment to help beginners and have fun with people of all skill levels and ages.
He brought his group from the senior center to the event, and they played with others in the community. Some attendees just wanted to learn how to play and some were looking for a group to play with. Wyant's group decided to call themselves the Steel Valley Ukers.
They began the meeting by strumming a bit. Wyant had been very loose with the meeting, where he led at times and chatted at others. He walked around and talked to all attendees at the meeting and helped them if they needed assistance.
Wyant led the attendees on four songs, including "You Are My Sunshine" and "Three Little Birds." These songs only had a couple of chords that the players needed to know how to play. He taught them the chords they needed to know and everyone played and sang together.
The event took place on St. Patrick's Day, so Wyant and a more experienced group, called The Ukeholics, performed a couple Irish songs to end the program. They played "Oh Danny Boy" and "Molly Malone."
The group talked about their next meeting. They were not sure if they would meet in the library again or some other social gathering place. If you are interested in joining the group, contact their Steel Valley Ukers page on Facebook.
More like this from vindy.com