---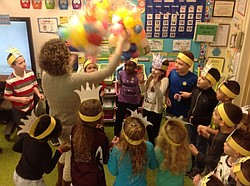 Photo
Neighbors | Submitted .Teacher Erica Knapick released balloons at Robinwood Elementary to celebrate 100 Days of Learning. Pictured clockwise from back left are Giovanni Hall, Eli Rojas, Jaliyah Tellington, Adelynne Ganser, Anthony Rovnak, Evan Cubilette, Bradyn Jackson, Reda Adkins-Hill, Jordan Hodge, Madilyn Belcastro, Gionna Sheppard, Myah Soares and Gabby Johnson.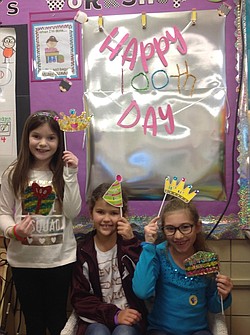 Photo
Neighbors | Submitted .Robinwood Elementary first-graders Adelynne Ganser, Myah Soares and Gianna Sheppard posed at the 100th Day photo booth for 100 Days of Learning.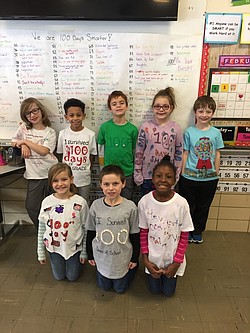 Photo
Neighbors | Submitted .Second-graders made shirts to celebrate being 100 days smarter for 100 Days of Learning at Boardman Elementary schools. Pictured are (back) Westley Whitehouse, Cordae Perkins, Ayden Hale, Alli Hromyak, Jason Clark; (front) Natalie Bell, Thomas Sinkovich and Gaziah Brown.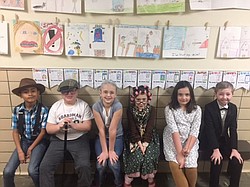 Photo
Neighbors | Submitted .West Boulevard Elementary second-graders dressed up to look 100-years-old for 100 Days of Learning. Pictured, from left, are Logan Marciano, Luke Owens, Isabella Culp, Payton Ramos, Annabelle Breese and Daniel Milush.
Boardman Elementary students celebrated 100 Days of Learning in all kinds of ways the first full week of February.
Some dressed the part of 100-year-old Spartans, some decorated or counted at learning stations and others enjoyed a balloon drop and made "100" themed crowns. All of them had fun.
"My first-graders counted to 100 to build up the excitement before we let the balloons loose for the balloon drop," said Robinwood Elementary teacher Tiffany Rowe. "We set up learning stations, and even a photo booth with props to mark our 100th day."
Students at West Boulevard Elementary also enjoyed pretending to be 100 while other students chose to make shirts celebrating being 100 days smarter.