Middle school learns to Start With Hello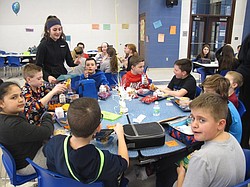 Photo
Neighbors | Zack Shively.Poland Middle School celebrated No One Eats Alone Day at lunch on Feb. 9. Older students facilitated conversation using sample questions to promote connections between students sitting by each other at random. The lunch stood as the final day of Start With Hello Week.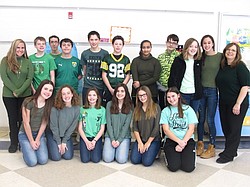 Photo
Neighbors | Zack Shively.The Poland Middle School students and staff wore green on Feb. 8 to show support for the Sandy Hook Promise as a part of their Start With Hello Week. Sandy Hook Promise is an organization started by families affected by the shooting at Sandy Hook Elementary. They aim to bring schools and communities closer together by combating social isolation.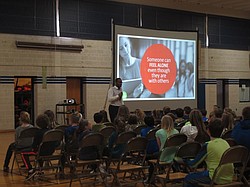 Photo
Neighbors | Zack Shively.Poland Middle School participated in Start With Hello Week, a week of activities with a focus on ending social isolation created by Sandy Hook Promise. Pictured, Promise Presenter Andre Elliott spoke to students about identifying a socially isolated student and how to reach out.
By ZACK SHIVELY
Poland Middle School participated in the annual Start With Hello Week from Feb. 5-9 to promote reaching out and preventing violence.
The Sandy Hook Promise, a non-profit organization created by the families affected by the shooting at Sandy Hook Elementary in 2012, created Starts With Hello Week as a violence prevention campaign by recognizing students' issues and connecting with the student.
"It's important for the community and school to feel connected," said Mary Jo Rowan, one of the school's two guidance counselors. Wendy Butch, the other guidance counselor, added that they want the students to feel that they belong at the school which will help them learn more effectively and make the students more excited to come to school each day.
The middle school had a theme week, assembly and special lunch over the course of the week. Each activity focused on creating bonds between students and with the community.
The students dressed differently each day through Start With Hello Week. They began the week by wearing Poland gear to demonstrate their commitment to keeping their community connected. On Tuesday, they wore superhero clothes to show what made them super. They mixed and matched their clothes on Wednesday to celebrate differences. The students wore green on Thursday in support of the Sandy Hook Promise. They finished the week by wearing pajamas for their "Be Comfortable With Who You Are Day."
They had an assembly from the Sandy Hook Promise on Thursday. Promise Presenter Andre Elloitt explained what the organization aimed to do and who created it. He first covered some of the signs that a student is socially isolated, such as eating alone at lunch. Then, he gave students some examples of what to do to help them, such as reaching out on social media or using icebreaker exercises to create conversation.
They finished Start With Hello Week with No One Eats Alone Day, a lunchtime program that focused on combating social isolation. The students chose numbers at random from a hat and their number corresponded with a table. Each student who picked that number sat at the corresponding table. The school had the students do this to change who they normally sit by and promote new social connections.
Rowan and Butch brought had older students facilitate conversation at each of the tables. They had high school students come over for the eighth grade lunch to help. The eighth-grade students did the facilitation for the fifth-, sixth- and seventh-grade lunches.
Rowan gave the students a sheet of 55 questions to start conversations. Some of the questions were hypothetical; for example, one question asked, "If you were could be any type of sandwich, what would you be and why?" Other questions inquired about students' favorite things, such as favorite foods and movies. The eighth-grade students worked with Rowan and Butch to create the questions.
Start With Hello plans for short-term and long-term benefits of the program. The believe that a school's students and staff will see immediate results with the program, and the community in general will eventually grow closer from the new connectedness forged in school.
The school has done Start With Hello week for three years. Rowan said they do not go into much detail of the events at Sandy Hook Elementary that led to the creation of the program, especially with the younger students, but they do talk about mental health issues and violence prevention with the students.
More like this from vindy.com