Boardman Center students play bubble ball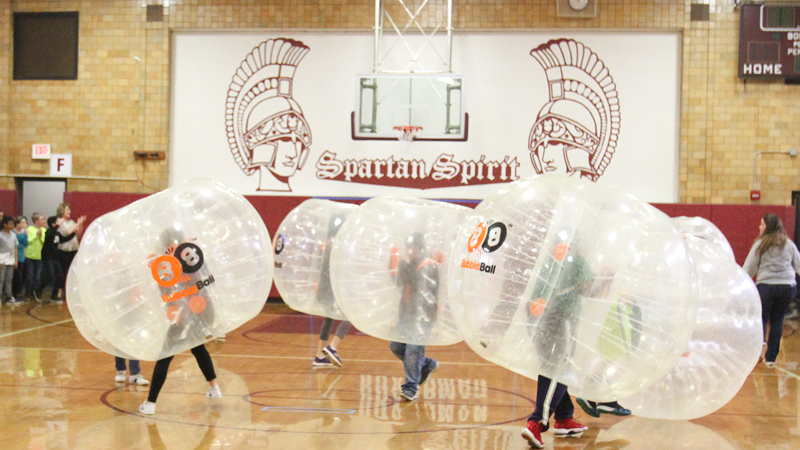 ---
BOARDMAN
Bubble Ball At Boardman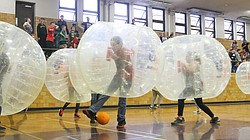 Video
Bubble Ball At Boardman Intermediate School
Cheers echoed all the way from the Center Intermediate School's gymnasium and into the parking lot Thursday.
The boisterous sounds followed a collection of bubbles bouncing around the gym floor. Inside each bubble was a Center student.
The school recently participated in Box Tops for Education, a General Mills program that provides funding to participating schools. The Parent-Teacher Association rewarded the top-collecting home rooms with a special treat: Bubble Ball.
"Bubble Ball, for the kids and for the teachers alike, is just something fun. They just love it," said fifth-grade social studies teacher Jennifer Dravecky.
Students are enclosed in the large, clear, inflatable "bubbles," then play a game of soccer. The goal is to score goals on the other team, with the added twist of running into other bubbles.
During Thursday's games, bubbles frequently collided – but students were safely cushioned by their protective enclosure.
Among the players was fifth-grade student Eric Lenhart. Eric said his favorite part of the game was scoring goals and hitting other people.
"It's really fun – and it's hot," he said. "When you get knocked down, it's kind of hard to get back up because you really only have your legs to get back up."
The top four classes from fifth- and sixth-grade played the game – but it was fun for onlookers, too. Students gathered in the bleachers, where they cheered wildly and some danced enthusiastically.
"The students absolutely love it," said guidance counselor Mindy DePietro. "They get exercise, and the school is able to benefit from all the free equipment we receive from the Box Tops for Education program."
More like this from vindy.com