Shooting suspect's brother pleads no contest to trespassing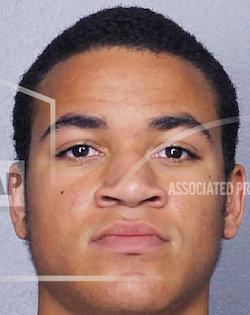 Photo
FORT LAUDERDALE, Fla. (AP) — The brother of the suspected Florida high school gunman pleaded no contest today to trespassing on the campus where the deadly rampage occurred and was sentenced to time served and six months of probation.
Circuit Judge Melinda Kirsch Brown also ordered Zachary Cruz, 18, to enroll in therapy, wear an ankle monitor and said he cannot possess firearms or ammunition.
The judge also said Cruz must be tested to make sure he isn't consuming drugs or alcohol and must stay at least 1 mile from Marjory Stoneman Douglas High School during probation. He can never visit the school again and must not contact any victims or their families.
He was arrested March 19 after police found him skateboarding at Stoneman Douglas after school, 33 days after his 19-year-old brother, Nikolas Cruz, killed 17 students and staff members and wounded 17 others during a Valentine's Day shooting. Broward sheriff's deputies say school officials had told him not to come on campus, but his attorney, Joseph Kimok, denied that.
His arrest created concern in the Stoneman Douglas community and caused Florida Gov. Rick Scott to order highway patrol troopers on campus to bolster already heightened security provided by the sheriff's office.
Zachary Cruz had spent the last 10 days in custody on $500,000 bond ordered by a different judge. The typical bond in Broward County for trespassing, a second-degree misdemeanor, is $25.
More like this from vindy.com