Beaver cops' arrest of 3 is vindication for anti-revenge porn group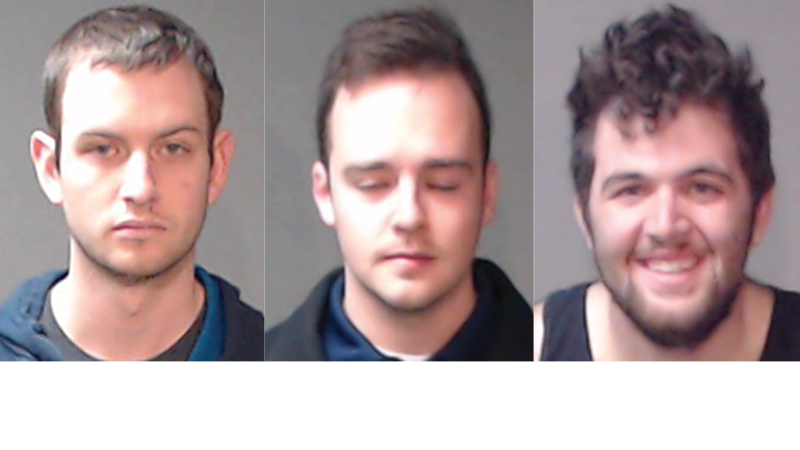 ---
VINDICATOR EXCLUSIVE
NORTH LIMA
In July, a teenage girl received a text message from a number she didn't recognize.
Opening it, she was shocked to see an intimate photo of herself, taken years before when she was only 15.
In the coming months, she would learn just how far this invasion of privacy had gone. She would also learn she wasn't alone in her situation.
The experience led her to Battling Against Demeaning and Abusive Selfie Sharing (BADASS), an anti-revenge porn organization co-founded last year by a local woman.
This week, the 19-year-old victim's ordeal of harassment and humiliation ended with some measure of vindication: Beaver township police arrested three men in connection with the incident.
Noah Ogan, 19, and Jeffery Bean, 22, both of Boardman, are charged with telephone harassment, and Zachary Good, 23, of Columbiana is charged with complicity, according to court records. All are first-degree misdemeanor offenses.
Police said the crimes against the victim, who did not want to be identified, unfolded in two separate, but overlapping, incidents.
Police believe it started several years ago with Good sending at least one photo from the victim's phone to himself after she left her phone unlocked and sitting out at a fast-food restaurant where they both worked. Police said Good admitted to stealing a photo from her phone, but denied it was an explicit photo.
Police believe Good then shared the photo with Bean, who later posted it online, which police said Bean admitted. They believe it was Ogan who texted the photo to the victim, which he claimed he did simply to notify her.
"I don't believe they were coordinating it," said Det. Lt. Eric Dattilo, who investigated the case. "I think they shared with each other and, stupidly, one posted on this Discord app, and the Ogan kid sent her the text messages."
Ogan claimed he was simply alerting the victim, "but if you look at the text messages, it was more to harass her than anything," Dattilo said.
All three suspects were arrested this week following an investigation that began in October after the victim received texts from the unknown number. After sending out subpoenas to companies in an attempt to track down the number's user, Dattilo eventually got an IP address and a device identification number, resulting in a possible lead.
Then, in January, the victim got a Facebook message from someone she didn't know. The message informed her that an intimate photo of her was on Discord, a chat video game app.
The message came from Katelyn Bowden of Youngstown, who not long ago found she was a victim of revenge porn.
About a year ago, Bowden got a warning message of her own, alerting her that her intimate photos were online. She would later learn that someone had stolen her ex-boyfriend's phone and taken the photos.
At first, Bowden's reaction was to shut down. Panicked and humiliated, she stayed home and didn't talk to anyone for days.
"You feel ashamed. You feel embarrassed. You feel alone," she said.
What soon followed was frustration, when she found out police could do little to help her.
In the ensuing months, however, Bowden turned her feelings of shame to action. It began when she started to make connections with other victims.
"I just said, 'Why don't we start telling everybody?'" she said.
Bowden began combing the websites on which revenge porn is posted, and reached out to victims to alert them.
Her efforts turned into BADASS, which has grown to nearly 1,000 members from around the world. The group continues working to get revenge porn removed from websites. The organization also provides support to victims, lobbies for anti-revenge porn laws, and increasingly is trying to help police with investigations.
The North Lima case marks the first time BADASS aided in an arrest. Bowden was able to help Dattilo identify Bean as one of the suspects.
"I am absolutely thrilled," Bowden said. "Part of the goal of our organization, from the beginning, was to create consequences for the guys who are doing this sort of thing, and I'm really happy to see we are actually achieving that goal."
She commended Beaver Township police "for following through and being so dedicated to helping victims."
Dattilo said he hopes the arrests serve as a warning, both against these types of crimes and against taking intimate photos, because there are many ways they could end up in the wrong hands.
For the victim, it was difficult to have photos taken as a 15-year-old follow her into adulthood.
"It was so awful, because I knew I did stuff like that when I was younger, but I thought I was able to grow up and move on," she said.
Her message for anyone going through what she went through is: "It feels like you're the only person in the whole world who's ever sent a picture. ... You're not. There are so many other people out there who do it. It's not wrong. If you want to trust somebody with your body, go ahead."
What's wrong, she said, is to send or share those images without consent.
"The worst part is, I never actually sent these pictures to them. They were never intended for them. They were stolen from me," she said. "I'm just happy they realized there are consequences for the actions they did."
More like this from vindy.com