'Irreparably corrupt' Austin Burke sentenced to 58 years to life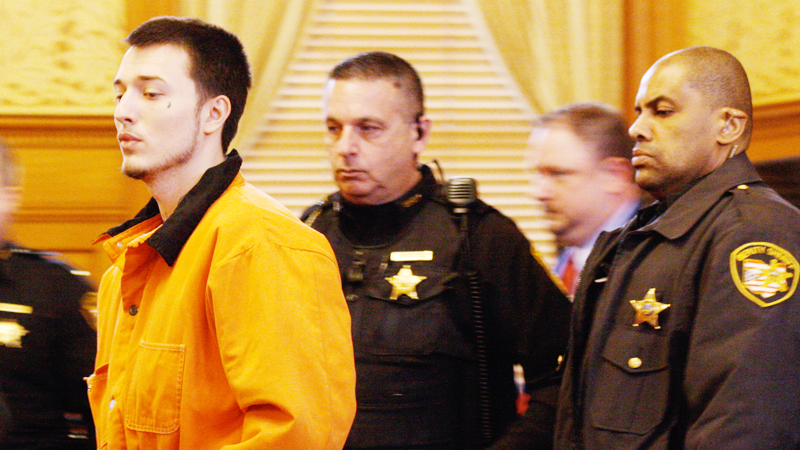 ---
By Ed Runyan
WARREN
Two Trumbull County judges sentenced Austin Burke to 58 years to life in prison Tuesday.
Burke, 19, got 33 years to life for killing Brandon Sample, 22, in the Grand River wildlife area of Bristol Township on June 12, 2017. Judge Andrew Logan of common pleas court added another 14 years for Burke robbing the Pizza Joe's restaurant in Cortland with a gun June 20.
Burke went down the hallway to Judge Ronald Rice, who sentenced Burke to another 11 years for having a plastic knife last July in the county jail.
All of the sentences run one after the other.
Burke, of Bristolville, didn't show any emotion during the proceedings and didn't make a statement to the court.
His attorney, Bradley Olson Jr., urged Judge Logan not to give Burke life in prison without parole because Burke was only 18 at the time of the murder.
Olson said prosecutors offered Burke a 15-years-to-life sentence before the trial. That indicates prosecutors believed there was hope Burke could be rehabilitated, Olson said.
But Chris Becker, assistant county prosecutor, disagreed.
"There is the poster child for irreparably corrupt and permanently incorrigible standing before you," Becker said of Burke, quoting legal terminology Olson brought up earlier. The words are used to describe a youthful offender who doesn't deserve another chance at rehabilitation.
Judge Logan said the facts of the aggravated murder and aggravated robbery indicated it was "necessary that you be removed from society for the safety of society."
But the judge stopped short of giving Burke the maximum penalty of life without parole.
Stephanie Sample, mother of Brandon Sample, held a photo of her son dressed in his Army uniform outside of the courtroom after the hearing.
She described her son as "a very kind soul. He was naive, but he was very kind. He worked with special needs kids. It's like he knew how to take care of them."
Her son encountered Burke when Sample was working as a corrections officer at an Ohio Department of Youth Services facility and Burke was locked up there for a 2012 Girard aggravated burglary involving three other males.
Court testimony indicated that Sample willingly met up with Burke the night he was killed. Authorities believe he was shot to death in the Grand River wildlife area in Bristol Township. His body was found there a couple of days later by police. The coroner's office said Sample had been shot once in the head and once in the neck.
Police knew to look on Hatchet Man Road in the township because Burke told friends that he killed Sample at that location.
Stephanie Sample said now that the Burke hearings are over, "it will help the family heal."
Sample's grandmother, Regenna Sample, said of Brandon: "He was one of the sweetest kids."
As for Burke, jail staff not only found the plastic knife in his cell in July, they found evidence that he tampered with a piece of metal on his cell window last week. He was also found with a piece of metal Tuesday before his hearing, Becker said.
No additional charges will be filed. "We want to get him out of here," Becker explained.
Becker said earlier that Burke's earlier criminal cases were all through juvenile court — receiving stolen property in 2013 and 2014, breaking and entering, inducing panic and the aggravated burglary.
More like this from vindy.com