U.S. Sen. Sherrod Brown visits Valley to discuss new opioid funding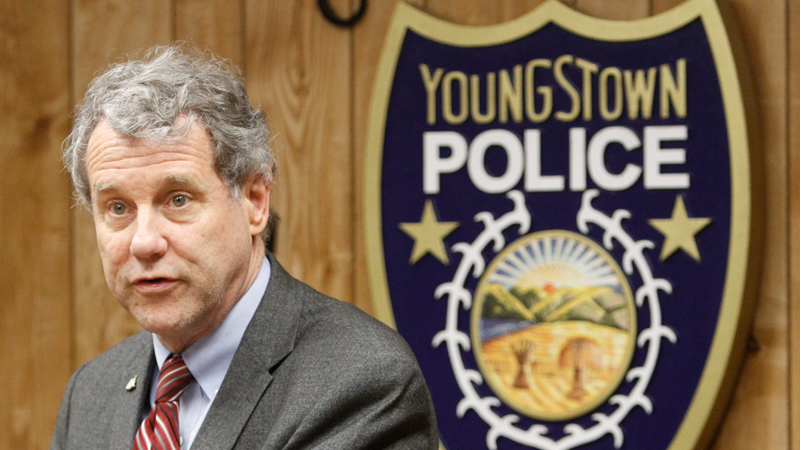 ---
YOUNGSTOWN
U.S. Sen. Sherrod Brown, a Democrat of Cleveland, visited the Mahoning Valley to discuss funding to combat the opioid epidemic that is included in a new federal spending bill.
Brown spoke from the city police department, where he was joined Tuesday by police Chief Robin Lees and Ruth Bowdish, a chemical dependency counselor at On Demand, an Austintown treatment provider.
Brown highlighted a component of the bill that prioritizes funding for states that are hardest-hit by the opioid crisis, such as Ohio.
Of $3 billion outlined in the spending package, $1 billion will go to State Targeted Response Grants, according to Brown's office. Fifteen percent of that grant funding will be reserved for states such as Ohio, which has one of the highest overdose rates in the country. Ohio can also qualify for funding from the other 85 percent of that $1 billion, according to Brown's office.
The spending package also includes $65 million for the INTERDICT Act, which President Donald Trump signed into law earlier this year. That money will fund opioid detection devices and screening equipment to help stop the flow of drugs across the U.S. border.
"For too long, Ohio communities have been desperate for the federal government to step up and provide the necessary resources to effectively combat the opioid epidemic," Brown said in a statement. "While we know there is more work to be done, this funding is a meaningful step forward for Ohio. By investing in local communities and support law enforcement through the INTERDICT Act, we can better address the opioid crisis in our state."
Lees, who spent much of his career in drug enforcement, thanked Brown for his efforts.
Noting his drug enforcement work involving crack cocaine, Lees said, "The heroin addiction has eclipsed that and done something different."
That is why it's important to invest in interdiction and programs that help families and people who are addicted, he said.
"What we're talking about here and why this funding is so critical ... is because each day, I see the lasting effect of this poison on the faces of our clients. I see how it tears families apart," Bowdish said.
She highlighted some of the data on opioid addiction, saying the number of people who fatally overdosed on fentanyl, a powerful synthetic opioid, more than doubled between 2015 and 2016. She noted, too, that Ohio saw its highest-ever drug-overdose death rate in 2016, with more than 4,000 unintentional drug overdoses.
"Instead of these numbers decreasing, we're seeing them rise," Bowdish said.
More like this from vindy.com