Details revealed in Girard police killing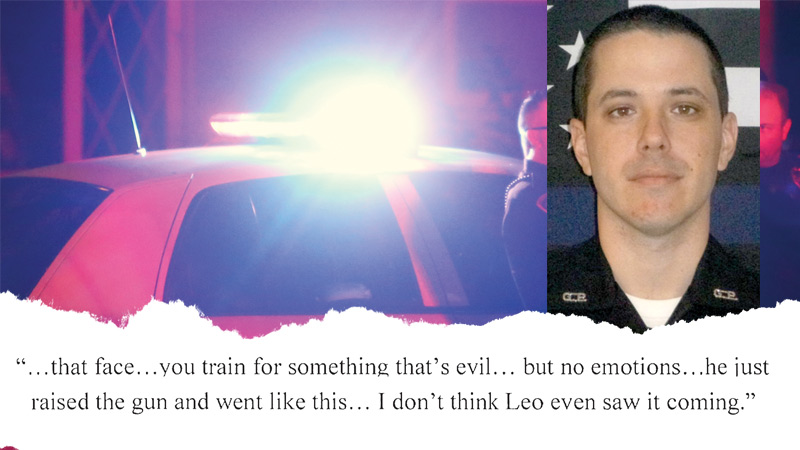 ---
By SAMANTHA PHILLIPS
sphillips@vindy.com
GIRARD
Officer involved shooting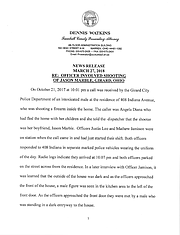 Document
Officer involved shooting of Jason Marble
The Trumbull County Prosecutor's office ruled the shooting death of Jason Marble by Girard police a justifiable homicide in the aftermath of an officer gunned down and in self-defense.
Girard officer Justin Leo was not wearing a protective vest when Marble fatally shot him Oct. 21, 2017, according to a report issued Tuesday from Prosecutor Dennis Watkins. Police Chief John Norman said department policy requires officers to have the vest readily available, but they don't have to wear it.
The Ohio Bureau of Criminal Investigation and the Trumbull County Homicide Task Force investigated, with Watkin's office receiving BCI's findings Feb. 3.
Watkins' narrative said officers Leo and Mathew Jamison answered a domestic violence call at 408 Indiana Ave. about 10 p.m. Angela Diana, Marble's girlfriend, had called Girard police saying Marble threatened her earlier in the day. After she left the house, a friend notified her that Marble was shooting his AR-15 rifle inside.
The officers approached the house at 10:07 p.m., and saw Marble standing in a dark entryway. He denied the officers entrance, but agreed to show them his identification.
When Leo reached for his notepad, however, Marble shot him through the screen door with a pistol point-blank in the chest. He shot him a second time, hitting his finger.
Jamison immediately returned fire and shot Marble three times. He told a police dispatcher at 10:13 p.m. that Leo was down.
Later, Jamison told investigators Marble "just raised the gun and went like this ... I don't think Leo even saw it coming." Leo's weapon remained in his duty belt and was never fired.
"Officer Jamison had no other choice but to protect himself and his fellow officer, Justin Leo, under the circumstances by shooting Marble in self-defense and in the defense of others. Without any doubt, Officer Mathew Jamison's heroic quick action saved lives," the prosecutor found.
Just 15 feet away from Marble was a fully loaded AR-15 rifle with 39 bullets in the magazine, and a second magazine with 29 bullets nearby.
Marble was dead. Toxicology reports show Marble's blood alcohol level was 0.24, three times the legal limit, and he had the opiate fentanyl in his system. Diana said in the 911 call for domestic violence that Marble drank a pint of vodka and several beers.
Jamison asked Leo if the vest took the shot — and Leo responded he wasn't wearing one. Jamison waited with his partner until the ambulance arrived.
Leo died during surgery in St. Elizabeth Youngstown Hospital two hours later. The fatal bullet struck his heart, stomach, aorta, vertebra and spinal cord.
The report revealed Diana bought the pistol that fired the fatal shot, and she also bought the AR-15 for Marble just before Christmas 2016. The report notes, however, the validity of that gun transaction — such as lack of documentation — will be investigated further.
Multiple people told investigators Marble was obsessed with guns. He also had a lengthy criminal record.
Marble was convicted in Lorain Municipal Court of domestic violence in 2000, convicted in Lorain County Common Pleas Court of breaking and entering and put on probation and alcohol treatment for two years in 2001, convicted of domestic violence in Lorain in 2004, convicted of attempted negligent assault in Vermilion Municipal Court in 2008, charged with drug possession in Liberty Township in 2015, and charged in Girard Municipal Court with endangering children, criminal damaging and a DUI in 2016. He was revived with the opiate-reversal drug naloxone by Liberty police when he was charged with possession. Another time, he was revived at his friend's house, Diana told investigators.
Marble struggled with drug and alcohol addiction, Diana told investigators. Marble bought Oxycotin off the streets after a work injury, but then switched to heroin "because it was cheaper," the report said. He was depressed but didn't take prescribed medication to treat it.
Diana told investigators he was clean for a period, then showed signs of heroin addiction two months before the shooting. The couple argued about his drug use, and Diana threatened to kick him out.
The day of the shooting, Marble's friend, Adam Fletcher, was at the house helping with yard work. Marble had been drinking and his demeanor was different that day, Diana told investigators. Sometime after 8:30 p.m., Diana looked through Marble's phone and found a name she didn't recognize, and assumed it was a drug dealer. She again threatened to throw him out.
Marble "went ballistic ... started calling me names ... then he comes out of the bedroom with a handgun and the AR-15," Diana said in the report. She took her two children and went to her sister's house in Youngstown.
Fletcher told investigators Diana threatened to call her brother-in-law before she left, and that's when Marble brought out his guns, saying: "Tell him to come over." Fletcher said he unloaded the AR-15 when Marble walked out of the room, and Marble shouted at him: "Don't f--- with my guns."
Then, Marble said: "She wants to call motherf------ on me ... bring them on ... I got guns," and fired two or three shots into the kitchen cabinet, Fletcher told investigators. At that time, Fletcher notified a friend about Marble's actions. The friend alerted Diana, and she called police as she drove back to the house.
Fletcher fled out the back door when Marble shot Leo. He was apprehended by police on a burglary warrant.
Watkins' conclusion said officers face dangers knowing the risks involved, and Leo and Jamison couldn't have known that "Jason Marble was an angry, unhinged, drug/alcohol infested criminal bound on his own self-destruction."
David Leo, Justin's father, was traveling for a funeral Tuesday and said he intended to read the report later that night.
More like this from vindy.com