YSU's McNutt sees spring progress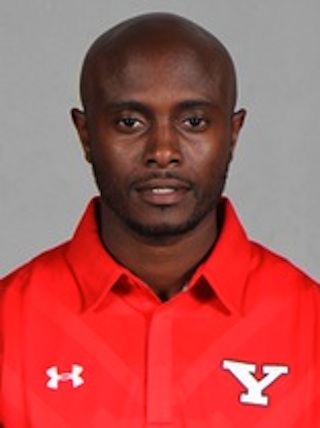 Photo
By Greg Gulas
sports@vindy.com
BEAVER TOWNSHIP
Youngstown State co-defensive coordinator-secondary coach Richard McNutt was pleased with the way the Penguins performed during their recently completed spring drills.
While other teams are just now getting into their spring practice routines, he said that head coach Bo Pelini and staff will now meet with the players in order to focus on the mental aspect of the game.
"Spring practice went very well on both sides of the ball. There was a lot of crisp hitting, we installed some new things and got to teach fundamentals to our offense and defense," he told the Curbstone Coaches during Monday's weekly meeting at Avion Banquet Center. "We have a very physical team, the guys were excited to bang helmets and we were able to lay the foundation for the upcoming season."
McNutt said Pelini wasn't looking for a winner or loser in their final practice scrimmage, as much as he was looking to see continued improvement.
"Coach Pelini turned the team loose in order to see what they've learned in the spring and they definitely showed that they can compete," he said. "They played fast, physical and competed like we wanted them to. It wasn't about looking for a winner or a loser. Coach wanted to see them play hard and to see if they understood what they were taught, then be able to go out and execute."
In addition to teaching fundamentals, McNutt said his defense was also exposed to multiple sets.
"It wasn't so much going out there and running plays, as much as it was them getting an understanding as to why we are doing so," he said.
As secondary coach, McNutt thought his group had an exceptional spring session.
"At safety, Kyle Hegedus and Deshon Taylor each had a nice spring. Kyle started last year and Deshon really improved," McNutt said. "Bryce Gibson started every game at cornerback last season as a true freshman and D.J. Smalls, who also started a few games, really developed as well. At the nickel, Avery Larkin is a senior and has played ever since he was a true freshman while Will Latham really came along this spring as well."
McNutt also added that defensive ends Justus Reed and Johnson Louigene were solid while Antoine Cook and James Jackson also stood out at the end slot.
Up front, standouts included Lamont Ragland, Shereif Bynum and Savon Smith.
"We have high expectations of ourselves and the players also have high expectations of themselves," McNutt said. "We have a really good group returning and they've bought into coach Pelini's system. They're willing to pay the price in order to win."
McNutt also serves as recruiting coordinator, noting that this year's recruiting class yielded 22 excellent additions.
"We're always going to focus on home first, targeting area players before expanding our search to all of Ohio and then Pennsylvania," he said. "We signed 13 players with Ohio ties this year and also added players from Mississippi, Maryland, Florida, Georgia, California and New York."
Of the 22 incoming players, 12 play offense, nine are defensive players with a kicker rounding out the class.
There are 14 high school prospects, seven junior college players and tight end Kierre Hawkins, who transferred from Ohio State University and was able to take part in the spring.
More like this from vindy.com