Youngstown alums will compete in Frozen Four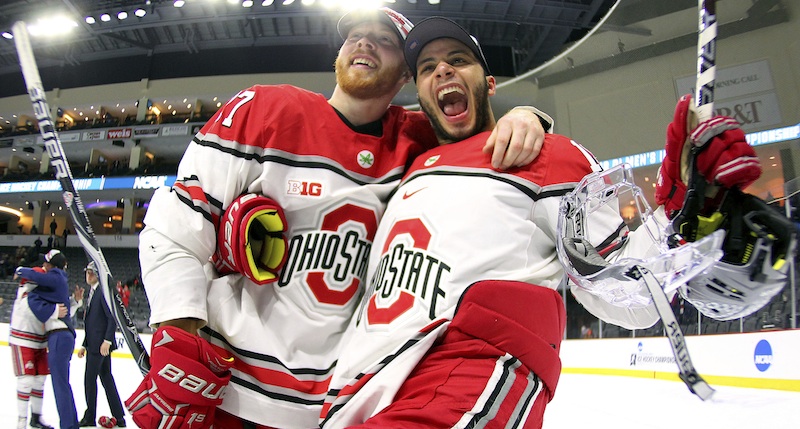 ---
By TOM WILLIAMS
williams@vindy.com
YOUNGSTOWN
Seven former Youngstown Phantoms are two wins away from winning a NCAA hockey championship.
Five are Ohio State Buckeyes.
Sunday in Allentown, Pa., Buckeyes goaltender Sean Romeo stopped 30 shots as Ohio State eliminated defending champion Denver, 5-1.
The win sends the Buckeyes (26-9-5) to the NCAA's Frozen Four Tournament in St. Paul, Minn., from April 5-7. It's the second time Ohio State has qualified for the Frozen Four.
Romeo was named the Most Outstanding Player of the NCAA Championship Midwest Regional. He was the winning goalie in Saturday's 4-2 victory of Princeton, shutting out the Tigers for 59 minutes.
In addition to Romeo, defensemen Tommy Parran and Matt Miller and forwards Luke Stork and Austin Pooley played junior hockey with the Phantoms.
Notre Dame, the Big Ten champions, has two former Phantom forwards: sophomore Cam Morrison and freshman Pierce Crawford.
Romeo played three full seasons with the Phantoms from 2011-14. In 2011-12, the Cary, N.C., native played 16 games as backup to Matt O'Connor as the Phantoms earned their first playoff berth. (In 2015, O'Connor's Boston University played in the NCAA championship game).
Romeo's best with the Phantoms came in the 2012-13 season when he broke O'Connor's record for wins with his 31-20-0 record. That season was the only time the Phantoms came with one victory of qualifying for the Clark Cup Finals. The Phantoms lost a five-game series to the Dubuque Fighting Saints.
A leg injury limited Romeo to 30 games in his final season in Youngstown as the Phantoms missed the playoffs.
At the University of Maine, Romeo played 20 games as a freshman but just two as a sophomore. He transferred to Ohio State and sat out the 2016-17 season.
This year, Romeo has a 22-9-5 record with a sterling 2.06 goals-against average.
Parran and Miller were Phantoms teammates of Romeo. Parran hails from Shaker Heights. He played 49 games for the Phantoms in the 2013-14 season, then blossomed the next season as an alternate captain.
Parran, a junior, was the Phantoms' top defender in the 2014-15 season when the team posted a USHL-record 17-game winning streak.
Parran scored three goals and made 10 assists, finishing the season with a +12 in plus/minus. He has four assists this season.
Miller is an East Palestine native who played with the Phantoms from 2013-16. His best season also was the 2014-15 campaign when he scored four goals, made nine assists and finished plus 11. The next season, he scored seven goals and six assists.
This season, Miller has seven goals and 11 assists in 36 games. His brother, J.T., is a forward with the NHL's Tampa Bay Lightning.
The Buckeyes' penalty-killing unit leads the nation (.893).
Stork is from Pittsburgh and was a Phantom from 2012-14. He scored 30 points in the 2012-13 season and 27 the following campaign when he was an alternate captain. He has eight points this season for Ohio State.
Pooley, a freshman who grew up in Columbus, played four seasons in the USHL: one with Omaha, two with Fargo and one with Youngstown.
A year ago, Pooley scored 21 goals and made 11 assists for Youngstown.
For the Buckeyes, Pooley has two goals and three assists in 40 games.
Buckeyes defenseman Matt Joyaux, a sophomore, did not play for the Phantoms, but his brother Michael is a Phantom this season. In Sunday's win, Matt Joyaux scored Ohio State's third goal.
Ohio State's last Frozen Four appearance was in 1998.
On April 5 at 6 p.m. at the Xcel Energy Center, the Buckeyes will play Minnesota-Duluth (23-16-3).
Notre Dame (27-9-2) will play Michigan (22-14-3) in the other semifinal.
Morrison played for the Phantoms two seasons ago when he scored 34 goals and made 32 assists. He finished +38 and was the USHL Rookie of the Year.
Last season, Morrison scored 12 goals and 12 assists for the Fighting Irish. This season, he has eight goals and 13 assists.
In the 2016 NHL Draft, the Colorado Avalanche drafted Morrison in the second round (40th overall).
Crawford played 17 games for the Phantoms last season after being traded from the Omaha Lancers. Crawford scored four goals and five assists to help the Phantoms qualify for the postseason. He's played in eight games this season for Notre Dame.
More like this from vindy.com
March 27, 2018 12:17 a.m.