Youngstown's general fund has a small surplus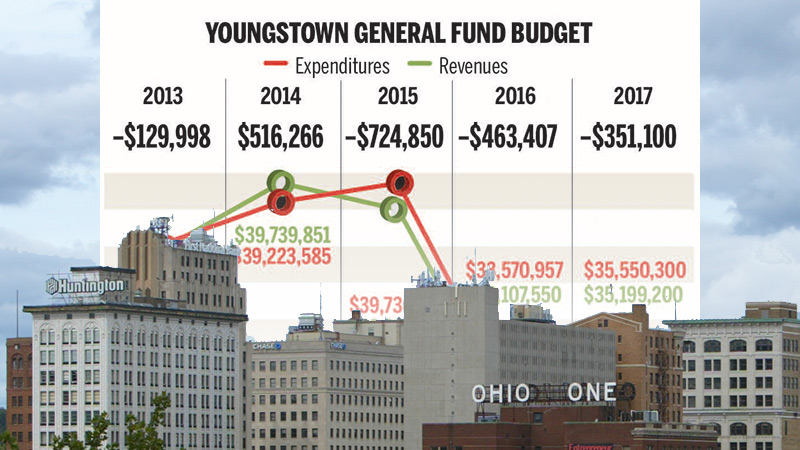 ---
By DAVID SKOLNICK
skolnick@vindy.com
YOUNGSTOWN
City council approved a 2018 budget with a small $12,000 projected surplus in the general fund.
It's a far cry from a projected $2,296,400 deficit in the general fund last month.
While some positions were left empty, the city didn't lay off any of its employees with this budget.
Council voted Monday for the $182.8 million spending plan during a brief meeting.
Next is a five-year financial plan to help the city avoid deficits in future years.
"Given the required cuts that were made, department heads are going to have to monitor expenses much more closely than in the past," said Kyle Miasek, interim finance director. "It is critical if spending increases that the finance department is notified immediately so we can assess the impact to the overall budget. Any increases will have to be offset by savings that we'll need to identify. That's the only way we'll be able to bring the year-end budget back into balance."
Council enacted cuts to the general fund proposed last month by the administration. The major ones include:
A $150,000 reduction in police overtime.
Saving $140,000 by leasing a snowplow truck over five years instead of buying one. A lease this year will cost about $60,000 rather than $200,000 to buy one.
A $96,000 savings by eliminating bonuses to management employees for having higher-education degrees and for not using sick time.
A $106,400 savings for a firetruck lease. The money for the vehicles will come from the federal Community Development Block Grant fund rather than the general fund.
But council declined to take a $40,000 reduction in its discretionary funds, used to pay for community projects, and cut $20,000 from the Federal Plaza fund, used to finance downtown events and programs, rather than the recommended $45,000 amount.
To make up that shortfall, council agreed to use $37,000 from the civil speeding citation fund to pay the last annual lease amount for police tasers with Miasek saying he made $23,000 in small cuts throughout the $32.5 million general-fund to bring it into balance. Also, council made a $12,000 savings in salary and benefits in the law department to create the modest projected surplus, Miasek said.
"We trimmed where we could," said Councilman Mike Ray, D-4th and a member of the finance committee. "We were cooperative and worked together. It's definitely a balancing act. We've stretched as far as we can go. There are structural issues we have to address."
The administration plans to present a five-year financial projection next month to city council to "highlight the need to create new revenues or make additional cuts, which would likely lead to department reductions in staffing through attrition and possible layoffs," Miasek said. "We will formulate a plan to address the budget deficit that will most likely occur in future years through the five-year forecast."
Councilman T.J. Rodgers, D-2nd and chairman of the finance committee, said: "We passed a balanced budget for 2018. But we have to address structural issues before 2019."
More like this from vindy.com