Kiser, Kline named Trumbull's best players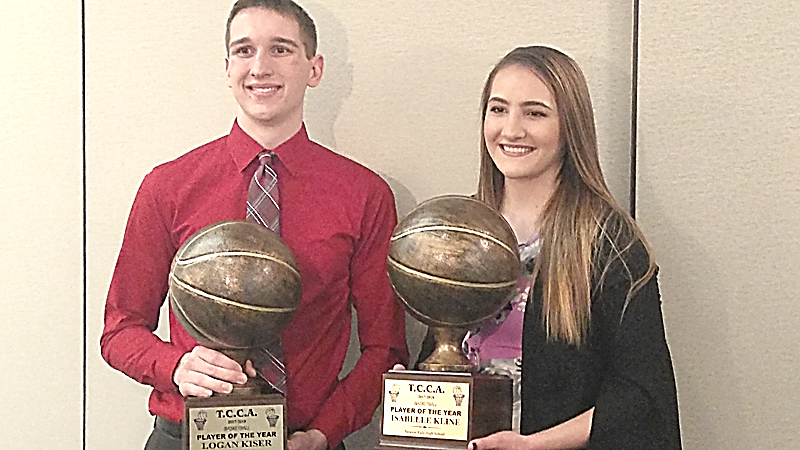 ---
By DAN HINER
dhiner@vindy.com
HOWLAND
Most families would be happy to have one child win the Trumbull County Coaches Association's basketball Player of the Year award.
On Monday, LaBrae's Logan Kiser was named the boys Player of the Year and Newton Falls' Izzy Kline received the award for the girls at Leo's Ristorante.
Both have older sisters who won the award in recent years.
Kline's sister, Gabby, won in 2016 and Kiser's sister, Mackenzie, won in 2013.
"It's a good feeling because me and my sister always joke around, trying to see who's better," Kiser said. "And we always ask my Dad, he's the coach. He would know and he never answered it.
"Now I think it'll be a little bit harder because we both have the trophy."
Kiser helped lead LaBrae to the Division III regional semifinals. He averaged 15 points per game for the Vikings.
Kline averaged 19.9 points per game and led the Tigers to the Division III regional semifinals.
"It was a nice way to wrap things up," Kline said. "I think it was a great end to my career.
Kiser kept his acceptance speech short, not because he didn't want to take up time, but because he didn't think he'd win.
"Like I told everybody before, it's just a great feeling to be considered as some of these players here," Kiser said. "[McDonald's Braedon] Poole's a great player, [Champion's Drake Batcho's] a great player, all of them are great players.
"I wasn't expecting to pull it out among all those kids."
LaBrae head coach Chad Kiser, Logan Kiser's father, had a different reason for his son's short speech.
"His sister was teasing him before he left, asking him if he had a speech ready," Chad Kiser said. "He said, 'I'm not gonna win.' Luckily he got to do his speech second so he could copy off Izzy for a little bit there."
Kline was happy just to be named a finalist and didn't think she would win.
Newton Falls head coach Mark Baker said Kline's leadership allowed him to be more hands off.
"It was a slow process, but it eventually got to the point where she became the vocal leader," Baker said. "She became the one that became a cheerleader when she needed to be a cheerleader. She really did everything."
Kline broke the school's career points record during the season, a record that was previously owned by her older sister.
"My sister, something she always told me was if there was someone she wanted to break her record, she wanted it to be me," Kline said. "It makes me feel better when I break her stuff."
More like this from vindy.com