Somebunny to Love fundraiser benefits rabbits training as therapy pets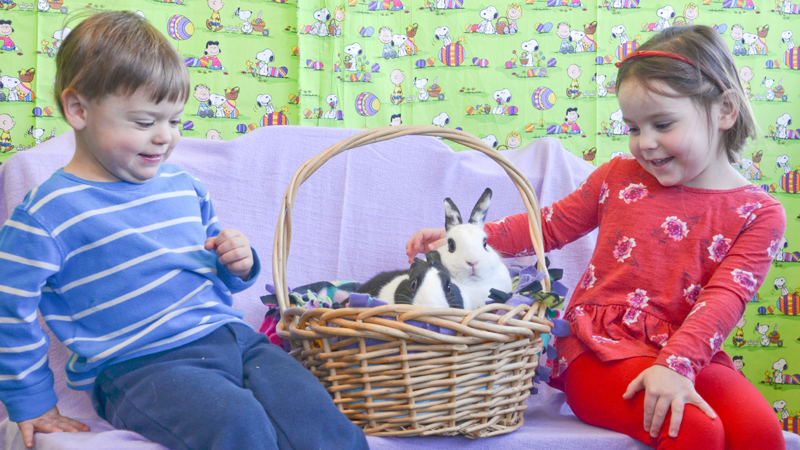 ---
By SEAN BARRON
news@vindy.com
AUSTINTOWN
Like most people, Sassy Pickard views bunnies as soft, cute and cuddly, but she's also highly attuned to their therapeutic value.
"Rabbits are very empathetic. If you go somewhere and someone's crying, they will actually try to comfort them," explained Pickard, director and owner of Youngstown-based Frisky Ferrets, Fuzzies & Feathered Friends Rescue & Sanctuary, a 23-year-old organization that spays or neuters bunnies and trains them to be therapy animals.
"Somebunny to Love"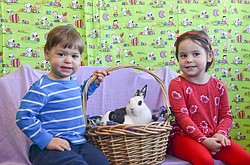 Gallery
Legacy Dog Rescue and F5RS – Frisky Ferrets, Fuzzies, and Feathered Friends held an event called "Somebunny to Love" at Family Video in Austintown on Sunday March 25, 2018. Photos by Scott Williams – The Vindicator
Pickard, who's also vice president of National Bunnies and Baskets Therapy Rabbits, which serves 23 states, had seven such animals on hand for Somebunny to Love, a community fundraiser Sunday at Family Video, 4385 Kirk Road.
Also part of the program was Legacy Dog Rescue of Ohio, a foster-based rescue organization that works with dogs in Mahoning and Trumbull counties.
Domestic bunnies often adapt poorly to being in the wild, Pickard noted, adding the partnership with Legacy formed when it assisted F5RS with rescuing several rabbits last year that someone had dumped in an Austintown neighborhood.
"Domesticated rabbits don't do well in the heat, and they can be killed, by the way," she said.
Baby Blue and Little Man, two of the therapy bunnies Pickard brought to the fundraiser, seemed to have no problem, however, adapting to and basking in the attention they received from Concetta Ceraolo, 4, and her brother, Vincent, 2, of Vienna, who doted on them. Watching their children's joy were their parents, Mark and Maria Ceraolo.
F5RS also determines if a given animal has the correct temperament and personality to be trained as a therapy bunny, meaning having the ability to be calm yet outgoing. Training typically takes three to six months, Pickard explained.
"It's very easy to train a rabbit," she said, noting that her organization's animals visit nursing homes and schools as well as provide tranquility and serenity to residents in long-term care facilities and to people on the autism spectrum.
Pickard cited the example of a man in an area nursing home with limited use of his hands and arms, but who is reluctant to seek others' help. Nevertheless, one of the bunnies in a basket placed its nose under his hand and gently shoved it, knowing the man wanted to pat its head, she recalled.
The animals also make appearances twice monthly at a Ronald McDonald House in Cleveland, along with being part of Right to Read Week events, she continued.
Assisting with Sunday's fundraising effort was Jill Williams, an F5RS volunteer who was selling a colorful variety of candle melts, as well as handmade jewelry, key chains and purse charms.
Peter Yale, a Legacy Dog Rescue volunteer, said the 6-year-old nonprofit organization, which accepts all breeds, is training and rehabilitating about 30 dogs so they're ready to be adopted into loving, "forever" homes.
Yale was conducting fundraising in conjunction with F5RS' efforts by selling dog blankets and T-shirts, the proceeds of which will be used to benefit Legacy.
Other items volunteers were selling included fudge and an assortment of baked goods. To make a donation to Frisky Ferrets, go to www.f5rs.org.
More like this from vindy.com