Rally against gun violence attracts 400 to Wick Park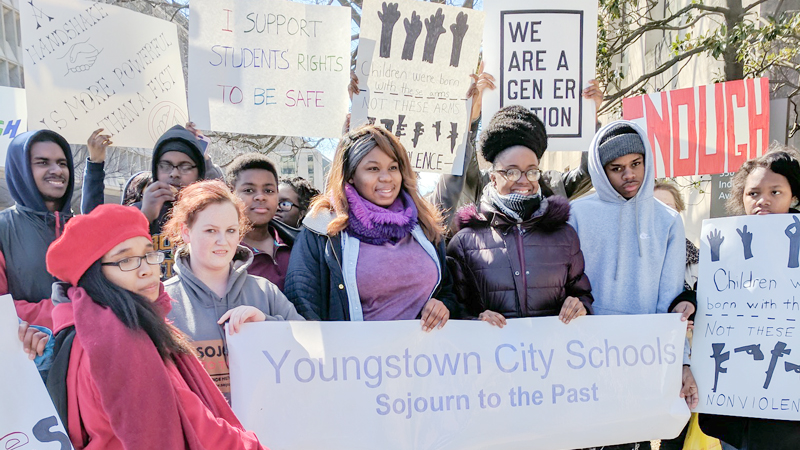 ---
By Bob Jackson
YOUNGSTOWN
While an estimated half-million people marched on Washington, D.C. , Saturday to protest gun violence, a smaller but equally passionate group rallied locally to help raise awareness.
The March For Our Lives movement was spurred by a recent rash of school shootings across the country, and was ignited by last month's massacre at Marjory Stoneman Douglas High School in Parkland, Fla., where 17 students and staff were killed by a gunman.
Some 400 people attended Saturday's rally in Wick Park on the city's North Side. The attendance was about double of the number expected.
"I was very inspired that we had something locally where we had such a large group of people who were willing to come together and speak out," said Aidan Hyland of Youngstown. "It was brilliant and amazing."
Students from several area schools spoke about their fear of being shot while at school and their concern for improved school safety.
While she was encouraged by the turnout, Dr. Lashale Pugh of Campbell said she was disappointed at the turnout of people who live in Youngstown.
"We had an event taking place today here in the city, but I heard the voices of people from the suburbs being represented in a way that the city was not," she said.
Asked what she hoped to accomplish by attending the rally, Dr. Pugh said it came down to voting. "Not necessarily voting against guns, but voting for lives," she said.
Information distributed by event organizers, including on the event's Facebook page, said that after an initial rally and gathering at Wick Park, demonstrators would march downtown to Central Square. However, the march did not take place; the entire event took place at the park.
More like this from vindy.com