Ghossain's grows by word of mouth on quality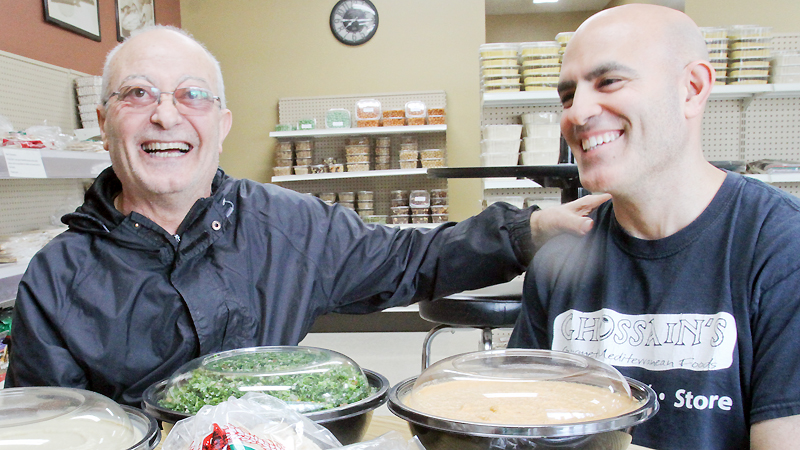 ---
If you go
What: Ghossain's Mediterranean Foods Bakery, Cafe and Store
Phone: Boardman, 330-788-6003; Niles, 330-544-5000; Canfield, 330-286-3800
By Kalea Hall
BOARDMAN
Ghossain's Bakery doesn't make its breads inside a garage as it did when it first started, but the traditional recipes that got the business its first customers are still in place.
The bakery that started inside a garage on Philadelphia Avenue on Youngstown's South Side in 1970 is today Mediterranean Foods Bakery, Cafe and Store with three locations and customers all over the world.
"Our whole idea from 1970 is to make something different," said Fred Ghossain. "Something that is healthier."
Fred, who is now 70, his late father, Joe, and brother, Nick, started the business.
The Ghossains came to the U.S. from Lebanon in the 1950s. "My dad wanted a better future for him and us," Fred said.
Fred's dad owned the family restaurant Humble's that was once on Market Street.
The family noticed there weren't many places that sold flat bread and pita bread like Fred's grandmother Raya Ghossain made.
So, they decided to build a bakery inside a garage with $1,000.
"It was my grandmother's recipe," Fred said. "We started to sell it and built four walls around the garage and made a little bigger [bakery]."
The first customer was a Middle Eastern market in New Castle, Pa., from there the bakery added more Middle Eastern stores and other stores.
In addition to the breads, Ghossain's also made other products it still makes today, including hummus and grape leaves.
From the beginning, the products have always been fresh.
"It doesn't have all the preservatives," Fred said. "You can go into the kitchen and see them chopping parsley and romaine [lettuce]. Even our hummus we start with the bean itself. It's smoother and healthier."
Eventually, Ghossain's moved out of the garage in the mid-1970s into a building the family built on Market Street.
Business growth through the years led the Ghossains to realize they needed a new location to meet the needs of their expansion.
That location was 3990 South Ave.
"I bought three acres here and then went to Lebanon and had the baking equipment designed," Fred said. "We have been here since 2004."
In 2009, Ghossain's added a Niles location at 6261 Youngstown-Warren Road where customers can pick up their breads, other items from the market and check out the menu of deli items.
This year, Ghossain's opened a Canfield location at 4559 Boardman-Canfield Road.
Fred is now semiretired and his son, Joe, runs the operations.
"Under Joe, they have more deli [options]," Fred said. "We have different varieties of bread we are making now. We added the catering. We have three stores. Plus we are still doing our shipping all over the country."
Chances are if there's pita bread on the table on a restaurant in the region it came from Ghossain's.
The Ghossains say the word-of-mouth growth was brought about the quality of their products.
Joe Ghossain, who is 43, knew from a young age that running the family business was what he wanted to do even if it means waking up at 3 a.m. every day to bake the breads.
"I always had an interest in healthier lifestyles, and one of the biggest ways to do it is eating right," he said. "That propelled my passion to continue the tradition that was started and expand on it."
His dedication to making the perfect product has already led to two carpal-tunnel surgeries in both hands and nerve surgery in one hand.
"[That's] because we have done everything from scratch and hand stretch the doughs," Joe said. "We lift dough by hand. We still package by hand."
Ghossain's offers 70 deli items including vegetarian, gluten-free options and traditional items like the 11 different varieties of hummus, grape leaves and quinoa salad. Ghossain's in-house lunch/dinner take-out menu offers salads, wraps or rice bowls. The company also does catering for small and large events.
"I would say in the past decade there's been a huge expansion in the foods," Joe said. "We've always maintained the flat breads and pita breads. We make those daily and use them in our wraps at all of our locations."
The flat breads and pita breads are distributed to stores and restaurants throughout the 50 states.
"I think good food will always be around, so if you do it the right way ... it's rewarding to know the end result is good quality food at a reasonable price," Joe said. "We have tried to modernize fast food with something healthier and give people better options to make better dietary decisions."
More like this from vindy.com