Youngstown Alumnae Panhellenic Association celebrates it's 92nd anniversary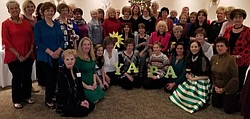 Photo
Neighbors | Submitted .The Youngstown Alumnae Panhellenic Association (YAPA) has began its 92nd year of Panhellenic sisterhood, scholarship and service. Recently, they gathered for the annual holiday luncheon attended by 50 members and 11 guests. Pictured are (front) Carol Duda, Amy Banks, Jennifer Rinehaet, Anna Mae Cuchna, Betty Jean Cuchna, Monica Bellavia, Melanie Angiuli, Anna Masi, Nancy Lysowski; (second row) Fran Brayer, Kaaren Cabraja, Jackie Stambaugh, Jackie Schweiger, Sally Ocker, Patrica Ceglie, Barbara Banks, Lucy Setz, Leilani Drake, Marion Calpin, Jayne Boucherle, Suzanne Brown, Jackie Conti, Rose Baker, Peg Connolly, Sharman Simon, Rosemarie Bisginani; (back) Dottie Melody, Jennifer Phillips, Kimberly Russell, Carol Havrilla, Mary Ellen Willmitch, Sarah Ellis, Margie Davison, Barb Seely, Christine Grabert, Anna Benson Mastriana, Patty Orenic, Kathy Pope and Sally Winsen.
The Youngstown Alumnae Panhellenic Association (YAPA) has begun its 92nd year of Panhellenic sisterhood, scholarship and service.
YAPA members have given generously of their time, support and donations to various projects this past Panhellenic year.
YAPA is celebrating several successes of their past year which included six new members, collecting fifteen pounds of non-perishable food items for the YSU Student Food Pantry, 61 personal care items to Hero Box organization for a servicewoman and 22 YAPA members participated in a "Smart Cookie" program. Members baked or donated sweet treats for YSU collegiate Greek women as a care package for finals week. Each sorority was given treats for their individual members along with a note of encouragement.
One of the biggest successes was the annual holiday luncheon attended by 50 members and 11 guests. Anna Masi of Delta Zeta, YAPA President and Historian and Jennifer Rinehart of Alpha Sigma Tau, Philanthropic Endeavors Chairman brought back an old tradition of a gift basket raffle in addition to a 50/50 raffle and a new pretzel fundraiser to raise funds for our scholarship endowment. The luncheon is a time to celebrate the Panhellenic bond with members and honor members who have achieved a membership milestone. YAPA recognized Jackie Stambaugh for obtaining Life Membership status for 50 years of membership. Stambaugh was presented with a gift to acknowledge her dedication. YAPA also recognized eleven past presidents in attendance.
The gift basket raffle had 26 donations from area businesses and organizations which raised $580. The total amount raised for the scholarship endowment at the luncheon was $755 which is the second highest total in the last two decades. Donations for the luncheon fundraiser were from Alicia Layton of Panache Salon, Akron Art Museum, Akron Zoo, Cinemark, Carnegie Museums of Art and Natural History, Cleveland Metroparks and Zoo, Hopewell Theatre, Ohio Lottery Commission, Pittsburgh Steelers, Playhouse Square, Spread Eagle Tavern, Sugar Shack Too, The Andy Warhol Museum, Youngstown Playhouse, University Theatre, Cindy Cuchna, Lucy Setz, Delta Zeta Members - Debbie Dory, Lynn Sorber, Cindy Wynn, Sarah Ellis, Shawna Gallagher, Suzanne Brown and Anna Masi, Mary Ellen Willmitch, Sally Winsen, Molly Maid, Zeta Tau Alpha Members- Betty Jean Bahmer, Fran Brayer, Kaaren Cabraja, Anna Mae Cuchna, Patty Orenic, Kathy Pope and Phi Mu alumnae members.
YAPA provides lifelong alumnae involvement for Greek alumnae women and supports collegiate Greek women. YAPA members also contribute and raise funds for a scholarship, develop and strengthen our Panhellenic bond and provide support for collegiate sororities at Youngstown State University. YAPA has leadership positions available for sorority alumnae.
For more information about membership, contact the group at yoalumpanhel@gmail.com or visit the website www.youngstownalumnaepanhellenic.weebly.com to obtain a membership form.
More like this from vindy.com