Kravitz Deli and library celebrate St. Pat's Day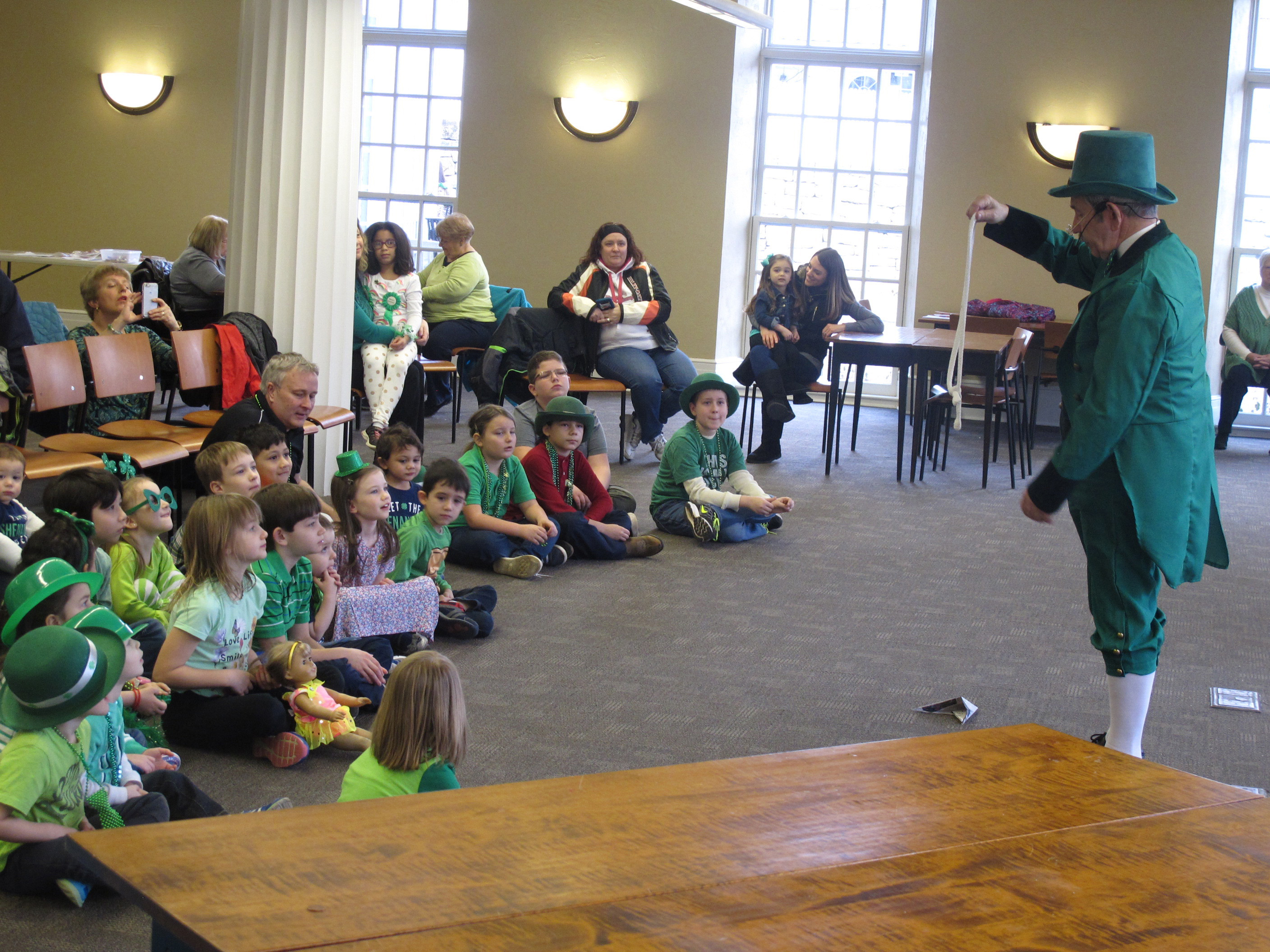 ---
By ZACK SHIVELY
Kravitz Deli teamed up with the Poland library for their annual Leprechaun Lollapalooza program on March 10 to celebrate St. Patrick's Day.
Jack Kravitz, owner of the deli, and Tricia Pratt, assistant event coordinator with deli, organized the event with Amanda Koller, a librarian at Poland. They set up a series of events for children throughout the day, including a scavenger hunt and story time.
"We wanted something geared toward children for St. Patrick's Day," said Pratt. Both her and Kravitz said that the holiday is typically aimed toward adults, so creating a nice, family-friendly event seemed like a good idea.
Families gathered in the meeting room of the library before the activities began. The library set out boxes of crayons and coloring sheets for children to complete while they waited.
The event began with Fritz Coombs dressed as his leprechaun character, Seamus O'Foole. His comedy shtick featured a magic show for the children.
After his routine, librarians Koller and Annette Ahrens drew raffle tickets for two children to win books of Irish fairy tales. Then, Coombs led the children on a parade through the library.
The children returned to the meeting room for a story time following the parade. The story time included a couple of stories and songs. Ahrens and Koller displayed the pictures in the books they read and moved expressively during the songs.
The librarians then gave the children a scavenger hunt sheet. Each prompt on the sheet brought the children to a letter. Once they completed the hunt, the letters combined formed the word "leprechaun."
The children returned to the meeting room after the scavenger hunt. They either volunteered for a pickle eating contest or drew in the meeting room.
Those who volunteered for the pickle eating contest went to the Friends of the PLYMC Bookstore to compete in two rounds of pickle eating. Each child who ate the fastest in each round got a prize. The pickles came from Kravitz Deli in the library.
The Friends Library had a special discount on March 10 and 17 as a cross promotion with Kravitz Deli. Those shopping at the library received an extra 10 percent off and got a chance to pick a lucky coin. All proceeds from the bookstore always go toward children's programs, such as the "summer discover" program.
Kravitz Deli in library also had a special discount sale for St. Patrick's Day. They had rainbow bagels, wedding soup, Reuben balls and corned beef. The program marked the kickoff of their Corned Beef Fest, when they have their traditional St. Patrick's Day holiday menu.
After the pickle eating contest, the families enjoyed a performance by the Burke Irish Dancers. The children also had a competition for the best St. Patrick's Day drawing, which resulted in a prize from Kravitz Deli for the winner.
More like this from vindy.com