BGJHS offers new chess club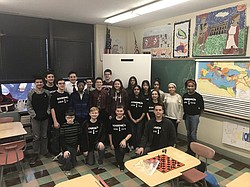 Photo
Neighbors | Submitted .Boardman Glenwood Junior High now offers a chess club for students. Pictured is the Chess Club at BGJH.
Boardman Glenwood Junior High School recently announced that it now offers a chess club.
Students are lined up to join in the fun and learn the game of chess.
Students in seventh-grade social studies classes study the Middle Ages and while they are learning about Medieval times, they are also introduced to the game of chess, a game that hasn't changed for more than 500 years. Students learn that knights of the time period were taught chess as part of their training to improve their thinking skills and to be able to predict their opponent's next move.
The students also participate in a classroom and school-wide chess tournament. When the unit on the Middle Ages was over, students were still asking to play chess. Since so many students were interested continuing play chess, the seventh-grade social studies teachers, Mr. Basista, Mr. Cordon, Mr. Head and Mrs. Mangapora, decided to create the school's first chess club.
Many schools throughout the country have adopted chess as part of their curriculum because of the critical thinking skills and connections to mathematics. The chess club is an exciting new addition to the academic clubs at the school. The teachers also feel like it is a great opportunity for students unplug from their devices and to connect with parents, grandparents and other family members who know the game of chess and teach it to their children.
More like this from vindy.com