BCIS students are 'too good for drugs'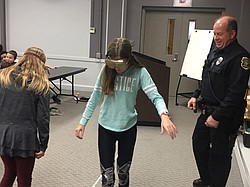 Photo
Neighbors | Submitted .At the Too Good For Drugs Program, fifth-grader Brenyn Wilson tries to walk a straight line with Fatal Vision Goggles, as school resource officer Mike Salser stands by for guidance.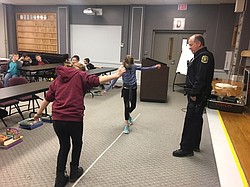 Photo
Neighbors | Submitted .While wearing the Fatal Vision Goggles, Boardman Center Intermediate School fifth-graders use arms to balance but still can't walk a straight line.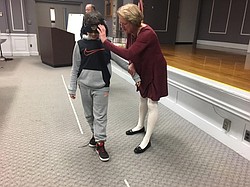 Photo
Neighbors | Submitted .Drug educator Karen Kannal is pictured adjusting goggles for a fifth-grader trying to navigate a straight line.
Fifth-graders at Center Intermediate School each took a turn trying on a pair of Fatal Vision Goggles as part of the district's "Too Good for Drugs Program."
The goggles mimic the altered perceptions people experience when using drugs or alcohol.
School Resource Officer Mike Salser and Drug Educator Karen Kannal conduct weekly drug education sessions at Center for all fifth- and sixth-graders. They say the goggles are always a favorite with students.
"The goggles really give students perspective on just how much your abilities can suffer when you use drugs or alcohol," said Kannal. "They may laugh when they can't stay on the line, but they definitely understand the more serious message of how dangerous it can be behind the wheel of a car, or walking across the street."
"Too Good for Drugs" includes weekly lessons for middle school students at Center Intermediate as well as Glenwood Junior High. It pairs school resource officers with drug educators to give good information, as well as create trusting relationships with students to provide a strong support network.
More like this from vindy.com