Boardman High students prep for 12th "Project Mayhem" concert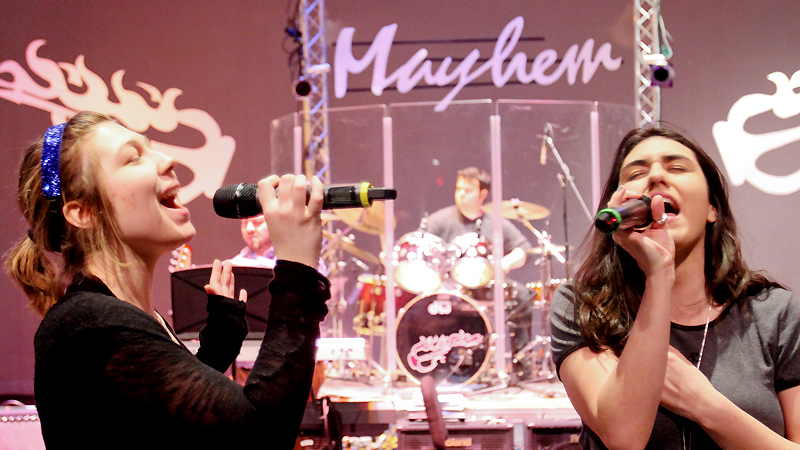 ---
By JORDYN GRZELEWSKI
jgrzelewski@vindy.com
BOARDMAN
Last year, Boardman High School's annual rock orchestra show sold out the 1,600-seat Boardman Performing Arts Center.
This year's performers are hoping for an encore of the show's success.
The 12th annual "Project Mayhem," a rock show in the style popularized by the Trans-Siberian Orchestra, will take place at 7 p.m. Friday.
"It's a great, family-friendly show," said Bill Amendol, one of three directors of the show. "It's a great place if you want to take your child to their first rock show."
The two-hour performance will feature the Boardman Orchestra playing rock hits spanning several decades. The set list includes a wide range of hits, from "Blue Collar Man" by Styx to Justin Bieber's "Love Yourself." The show also features fun elements such as a laser light show.
BHS senior Reese Maslen, who plays guitar for Project Mayhem, is most excited to play songs by his two favorite bands: "Everlong" by the Foo Fighters and "One" by Metallica.
"It's really unique," Maslen said of Project Mayhem. "It's definitely really cool to be part of. I don't know of any other school that does a program like this that sells out like we did last year."
Maslen knew he wanted to be part of Project Mayhem when he saw the show in eighth grade. He's been part of the group all four years of high school.
So has vocalist Sydney Boggs.
Boggs said she did orchestra in middle school and wanted to continue pursuing music in some way. So, she auditioned as a vocalist for Project Mayhem her freshman year, and has stuck with it ever since.
"It's just a really fun atmosphere to be in," she said.
Boggs is most looking forward to performing "Edge of Seventeen" by Stevie Nicks.
"We begged the directors to sing this one," she said.
She added, "I know we sold out last year, so that would be cool to do that again."
To order tickets in advance, call the high school at 330-758-7511, or get them at the door. All seats are general admission and tickets cost $5 apiece.
More like this from vindy.com