Taylor, Moore lead Beach comeback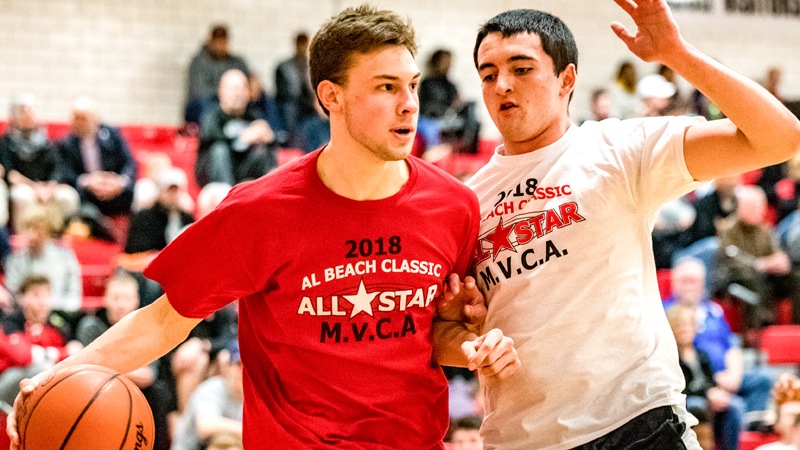 ---
Al Beach Basketball Classic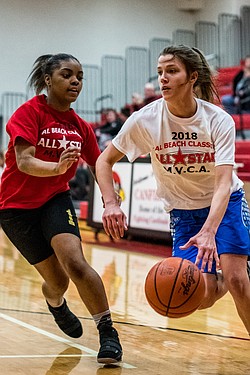 Gallery
Al Beach Basketball Classic
By TOM WILLIAMS
williams@vindy.com
CANFIELD
Defense ruled in the boys game at the 48th annual Al Beach Classic on Tuesday night.
The all-star format showcasing seniors from Mahoning, Trumbull, Columbiana and Ashtabula counties awarded a point for each defensive stop.
That format helped enable the Red team to wipe out an early 20-point deficit and storm back for a 136-134 victory settled after the buzzer expired.
Warren JFK's Byron Taylor scored 15 points and Warren Harding's Delmar Moore 12 to lead the Red.
In the girls game, the White team cruised to a 78-49 victory.
With 2:15 to play in the 36-minute boys game, the Red team trailed 127-126 when Taylor stole the ball at midcourt to tie the game. Taylor dribbled to the basket then sent a high pass to Moore for a crushing dunk.
"I guess there was some kind of chemistry going on out here between us," Moore said of Taylor. "It was fun out here. We picked it up."
With 0.9 seconds to go and Red ahead 135-134, the White team was "awarded" the ball in its own zone.
Western Reserve's Kade Hilles took the inbounds pass and launched a 3-pointer that bounced off the rim after time expired.
Canfield's Ian McGraw was name MVP for scoring a game-high 20 points, including six 3-pointers.
"It's pretty competitive, but a lot of fun," McGraw said. "I'm just glad I could be a part of it."
West Branch's Michael Boosz scored nine for White.
GIRLS GAME
Jackson-Milton's Michaelina Terranova was named the girls MVP after scoring 12 points and making several steals.
"I had a lot of fun," said Terranova, who plans to attend Mount Union but has not decided whether she will play basketball or run track. "This was different, more than I expected.
"It was fun getting to play with girls with the same experience that I don't get to play [against] in the regular season."
Terranova had competition for her award. Struthers' Khaylah Brown also scored 12 points and Poland's Bella Gajdos netted 11. For the Red team, Newton Falls' Isabelle Kline also scored 12.
"It didn't go our way, but we'll be back at it next week [in the Frank Bubba Classic on Tuesday at Warren Harding]," Kline said.
Struthers coach John Grandy, who is retiring, coached the White team. He said he told Canfield coach Matt Reel that he didn't mind this time seeing the home team winning on the Cardinals' scoreboard.
"You can see why there are so many good programs in the area, so many great kids," Grandy said. "They know what to do when they get the ball.
"It was an honor to [coach them]."
3-POINT CONTESTS
Bristol's Tom Donadio won the boys 3-point competition with 24, three more than Canfield's Joe Bruno.
In the girls competition, Champion's Abby White won with 18, the same number she won with last year at the Frank Bubba Classic.
Making four of them in the first 10 seconds gave her confidence.
"I felt relaxed out there," White said.
Of the six contestants, she went last, which made her nervous.
"Then I made that first shot and I felt all right," White said.
Fitch's Gina DiFrancesco was runner-up with 12.
COACHES
Winter Coach of the Year awards were presented to six boys basketball coaches (Ken Grisdale, Poland; Chad Kiser, LaBrae; Craig Giesy, Bristol; Patsy Daltorio, Western Reserve; Jimmy Franchescelli, Struthers; John Cullen, South Range), nine girls basketball coaches (Reel; Grandy; Ron Moschella, Columbiana; Nick Blanch, Poland; Pat Keney, Jackson-Milton; Jamie Entrikin, Lisbon; Tony Matisi, South Range; John Diehl, Howland; Walt DeShields, West Branch) and two wrestling coaches (John Burd, Austintown Fitch; Stephen Pitts, Canfield).
More like this from vindy.com