Residents, students worry about possible Boardman school cuts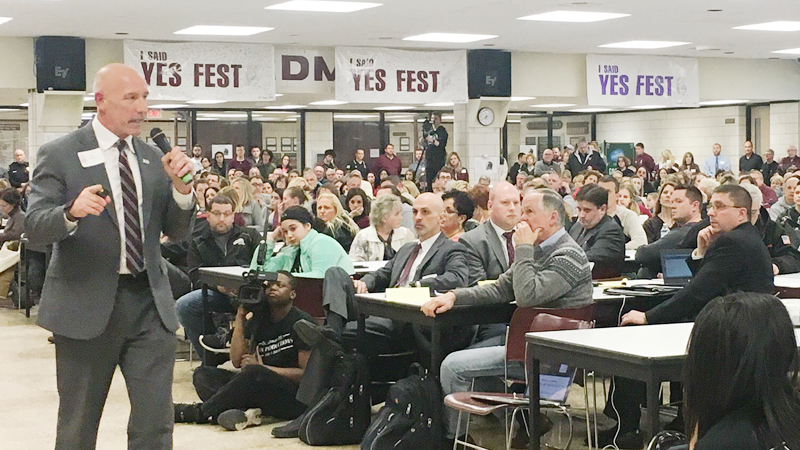 ---
BOARDMAN
The school district will have to implement $1 million in budget cuts if voters do not approve a levy on the May ballot, district leaders told attendees at a "State of the Schools" meeting Tuesday.
"It should be no secret we find ourselves in a financial crisis here," school board President Jeff Barone told the packed high-school cafeteria, where officials estimated 1,700 people gathered.
He noted the district's loss of nearly $1 million last year due to a building at Mercy Health's St. Elizabeth Boardman Hospital campus receiving a partial tax exemption that required the district to refund property-tax revenue it already had received.
"It propelled us into this situation, but it is by far not the underlying cause," Barone said. "Unfortunately, it served as a flashpoint for this crisis."
District officials also pointed to the state's funding formula as problematic.
The district is asking voters to approve a 10-year emergency levy that would generate $4.9 million annually. It would cost the owner of a $100,000 home $205 per year.
Superintendent Tim Saxton spelled out what the cuts would be if the levy fails.
Among the items in the district's "Plan B" is a reduction of 12 teaching positions, resulting in a $500,000 savings. According to information provided by the district, the cuts would include two elementary art/music positions, eliminating those programs for all elementary students; two art and technology positions at Center Intermediate, resulting in the elimination of sixth-grade art and technology classes and teacher tech support; five Glenwood Junior High positions in a variety of subjects, eliminating seventh-grade art and health and reducing teachers' ability to work in teams; and three foods, physical education and science positions at the high school, eliminating some elective courses.
The proposed cuts also include classified staff reductions; administrative staff and services reductions; elimination of three bus routes; and increased athletic fees.
Saxton grew emotional talking about the proposed cuts, saying, "This is the tough part about it. ... If you think we could take that scalpel and not cut people, it's not possible."
Attendees again and again expressed concern about the possible loss of arts education, a component of its curriculum on which Boardman prides itself. Several people said they worry the loss of arts education for elementary students would eventually have an impact on middle- and high-school students, as well.
Attendees talked in small group sessions about the "Plan B" and what they would suggest to district leaders.
In one group, Sue Pisegna, MariJo Lendak, Jules Marcu and Marie Fryda said they all support the levy, even though they do not all have children in Boardman schools.
Pisegna said she knows that people her age, whose children are out of school, don't always support school levies.
"But we want them to know that some senior citizens financed my children. Now it's our turn," she said.
"I would like the Boardman School District to remain excellent," said Lendak. "And I think every homeowner in Boardman should keep that in mind, because your community is only as strong as your school system."
In public comments to district leaders, a few common themes emerged. Several people questioned what the district's long-term plan will be to avoid similar situations in the future. Many expressed shock and concern about possible cuts. Many asked what they can do to help the levy campaign. Several said those in attendance at the meeting are the ones who already support the levy, and the district needs to get other voters on board.
Saxton also pointed to some of the ways the district already has tightened its belt.
"We have been lean," he said. "We've not filled positions through attrition. We've decreased budgets. We've found creative ways to get projects done" without going to the taxpayers.
Saxton also addressed some concerns about open enrollment.
Noting that he was not speaking for the board, he said, "I will tell you personally, open enrollment doesn't work for Boardman."
Saxton said for a district like Boardman, a single mill equals about $800,000 – the funding equivalent of 133 open-enrollment students.
"Boardman won't be Boardman," he said. "It is not the plan for us."
More like this from vindy.com