MVAC wins girls, boys all-star games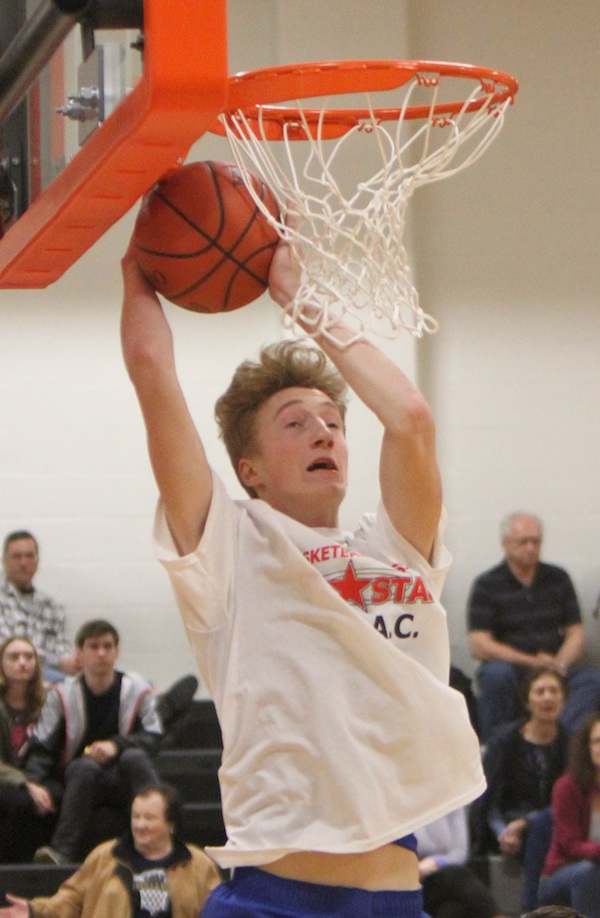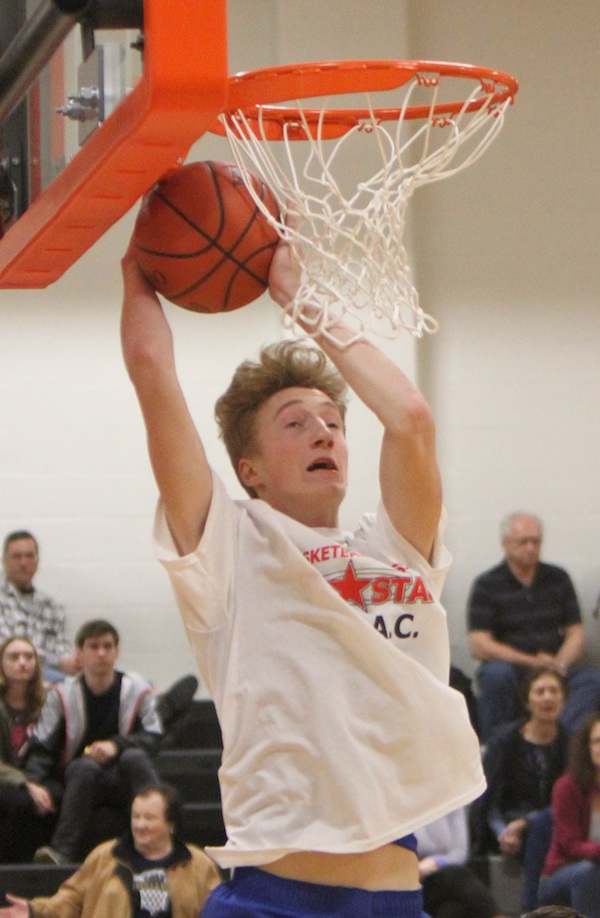 ---
Allstar Basketball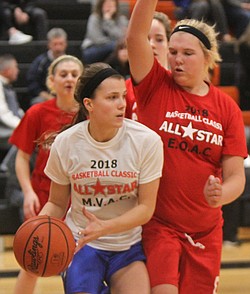 Gallery
All Star basketball was played at Mineral Ridge HS.
By BRIAN DZENIS
bdzenis@vindy.com
MINERAL RIDGE
Where no dunk contest was offered, Dom Velasquez and Kade Hilles made their own.
The Western Reserve teammates used the first Mahoning Valley Athletic Conference versus Eastern Ohio Athletic Conference All-Star game to try half-court shots and all manner of dunks. Their team rolled with the fun for a 97-71 victory, completing a sweep after the MVAC girls' side won, 56-29.
"It was open and I heard some fans say 'shoot it,'" Hilles said of his half-court attempt. "You gotta give the fans what they want to see."
Hilles dunked his way to 18 points as the EOAC moved out of the way when he charged into the lane. He included two 3-pointers in his performance.
The MVAC squad also appeared to trick the EOAC and its own coaches to set up an easy slam for Hilles. Early in the second half, Hilles grabbed an offensive rebound, but turned around to see his team — and the EOAC — running back toward the opposite basket. Hilles dribbled the ball a little toward midcourt before turning back toward the basket, with Velasquez joining him. The pair botched an alley-oop, but Hilles settled for a two-handed slam.
"I'd like to say it was part of some master plan, but it was not drawn up," said Lowellville coach Matt Olson, who coached the MVAC. "I was confused, but everybody was having fun."
Velasquez is more known for his feats as a pitcher, but his put-back dunk surprised people at Mineral Ridge High School.
"All the time after practice, we'll get 10 dunks or so and we were really disappointed. We thought there would be a dunk contest," Velasquez said. "It's all good and all in good fun."
Lowellville's Nate Solak made four 3-pointers in a 16-point performance. Western Reserve's Jack Cappabianca shot the game's only free throws — making one of two — while scoring 13 points and Springfield's Brandon Walters put up 12.
Columbiana's Jared Wilson led the EOAC with 11 points, with the Wake Forest golf commit doing most of his damage in the second half. Lisbon's Branson Brownfield added 10 points.
Pleasing the crowd — specifically the opposing crowd — wasn't what the MVAC girls team was going for in its win.
"[Coaches Steve Miller and Pat Keney] told us to play hard and make it interesting. They said, 'Play and give the other team something to boo on,'" Jackson-Milton's Michaelina Terranova said. "I think we did [that]. We came out and we played really strong. We had a talented team I was impressed with everyone. They played really well."
Nobody booed either girls team Monday night, but the MVAC asserted itself early in the second half.
Lowellville's Maddie Warren hit three 3-pointers to help the MVAC take a 25-18 halftime lead. Terranova had six points and Blue Jays teammate Emily Williams had five within the first five minutes of the first half. Warren was the only MVAC player in double figures with 12 points.
The EOAC team struggled without a single player who was a full-time point guard. Columbiana's Alexis Cross — who had a game-high 13 points — wished she had Kayla Muslovski on the floor with her. The junior briefly did see the court, but only in the 3-point contest. Muslovski won it with 17 threes. Toronto's Trillion West won the boys competition with 15.
"I miss playing with her. She's my best friend and she's so fun to be with on the court," Cross said. "We have great chemistry on the court and she gets all the steals for me so I don't have to do all the work."
After the girls game, Cross, Muslovski and teammate Marisa McDonough all went over to the opposite side of the court to greet former Clippers coach Ron Moschella. Wilson also visited the ex-coach during the girls game. Moschella and Columbiana went their separate ways last Thursday after a parent of a player complained to the school board about his behavior just before the team entered the postseason.
"He was always so fun when we won. He treated us well and he took us to dinner and stuff," Cross said. "We had a really good time with him."
More like this from vindy.com