Private meeting tonight on Homegoods site request for Lordstown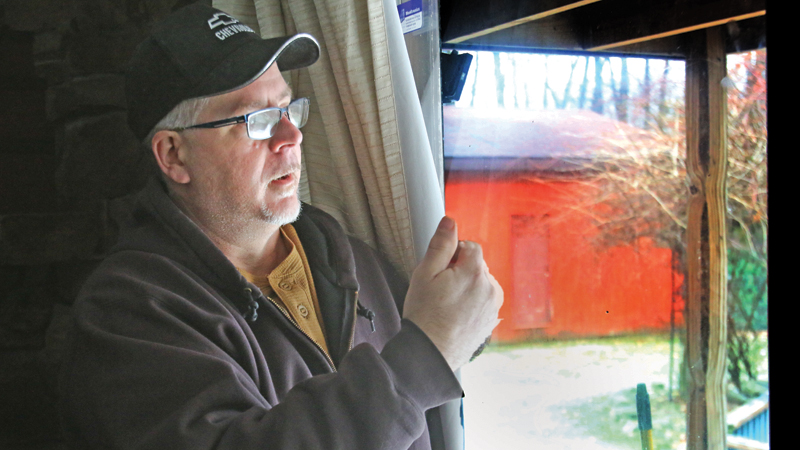 ---
By Kalea Hall
LORDSTOWN
When Bob Luzadder II built his log cabin years ago, he nestled it far back into the woods off Pritchard-Ohltown Road.
"What do you hear?" he asked as he stood near the cabin last week.
The answer: nothing.
Bob built there to relish that sound of nothing, and also to be close to his father, whose house is about 400 feet away.
The Luzadder property features a pond and picnic area for family enjoyment.
"This was solid woods when we first moved here," Luzadder said.
For the first time in 28 years, however, he's concerned his quiet lifestyle could be in for an abrupt change.
HomeGoods, a division of The TJX Companies Inc., which owns TJ Maxx and Marshalls department stores, wants to build a 1.2 million square-foot warehouse/distribution center in Lordstown.
The plan includes seven parcels along Ellsworth Bailey Road, according to the Lordstown Zoning department. One of those seven parcels is connected to the Ludzadder land.
All the parcels are currently zoned residential.
The owners of two of the parcels HomeGoods plans to develop have submitted requests for zone changes from residential to industrial. The two parcels total about 174 acres of the 290-acre development. The proposed site plan includes adding traffic lights on Ellsworth Bailey Road and realigning Hallock-Young Road, because the road runs right through the site.
"We evaluated many sites as part of this process, and the current proposed site offers us a size and configuration that will meet our business needs, allow for the specific needs of situating this building on the land, and lessen the impact on the neighboring area," said Erika Tower, spokeswoman for HomeGoods, in a statement to The Vindicator.
Last week, hundreds of residents – many of them angry about the zone changes – vented at a town hall meeting. Today, the Youngstown/Warren Regional Chamber, which helped HomeGoods in its search for distribution space, will have a private meeting with the company and area residents.
A planning commission meeting set for Wednesday was canceled.
"We were very pleased to be in Lordstown last week to speak with local residents and hear feedback from the community," Tower said. "We were pleased to receive many positive comments about the project both at that meeting and in the days following. We look forward to our meetings [tonight] with abutting residents so that we can learn more about their concerns and share some initial ideas about how we might address that feedback."
A letter, obtained by The Vindicator, was recently sent to nearby residents affected by the project. A copy of the letter is needed to gain entry into tonight's meeting.
Third-party organizers of a meeting do not have obligations under the Open Meetings Act, but a public body does have obligations to ensure that its members' attendance at so-called private meetings complies with the Open Meetings Act.
In a six-member board such as Lordstown Village Council, no more than three members should attend the nonpublic meeting. Four members would constitute a quorum which could be a violation of Ohio Sunshine Laws.
The chamber, which acts as the leader in the Mahoning Valley on economic development projects, initially presented the company 16 potential locations for the center.
"This is a phenomenal opportunity for the Mahoning Valley and these kinds of projects are game-changers for communities," said Sarah Boyarko, senior vice president for economic development at the chamber. "We look forward to a lot of great dialogue [this] evening."
HomeGoods has been in search of property to build a distribution center on for two years.
The company needs the distribution center here to service its growth. Within five years, the center would employ 1,000 to service 300 stores in the Northeast and Midwest. Total annual payroll would be $27 million.
Lordstown was selected because of its location near the turnpike and for the viable workforce.
"The business coming in is great," Luzadder said. "It's just what they are putting me into isn't great."
Down the street from his house is Silver Fox Drive. Homeowners there are also concerned about property values and potential flooding caused by the development.
"It's a change of lifestyle for everyone who is bordering this," said Phil Eubank, who lives on Silver Fox. "The placement of it is poor for me and for the residents of this community."
Eubank made clear that he is for HomeGoods coming here, just not in the location the company selected.
But if the selected area is developed, Eubank and his neighbors, Kathy and Brett Dickson who live on Pleasant Valley Drive, want to see the woodlands HomeGoods purchases become an environmental covenant held by the Ohio Environmental Protection Agency to protect the land from future development.
To build the site normally, the company needed 130 acres but wants to buy the 290 acres to make sure there's enough vegetation to serve as a buffer between the site and the surrounding residential areas.
"This is a tremendous opportunity for Lordstown, and under other circumstances, we would accept it whole-heartedly; but we are taking away prime residential property," Kathy Dickson said. "There are other industrial properties available in the vicinity that could be utilized."
Right across from the potential development sits the Imperial Communities where Richard Williams has lived and enjoyed what he calls a very quiet neighborhood for 14 years.
"It's creating jobs. I, for one, would love to have the jobs," he said. "But why do it in residential [area] when you [have] all that commercial land?"
Karen Jones is a village councilwoman and a Hallock-Young Road resident.
"We are in a real conundrum here," she said. "If it were to locate in existing industrial property, I would be very happy with it."
Jones has served as a councilwoman for 18 nonconsecutive years starting in the early 1990s. Jones was also on the planning commission for 12 years when the current zoning map was developed.
"When the zoning map was made, it was an assumption that the turnpike would be the natural buffer between residential and industrial," Jones said.
U.S. Rep. Tim Ryan of Howland, D-13th, supports the project and plans to send a letter of support to the CEO of the company.
"Any time you get an opportunity to land 1,000 jobs for people in this community, I think we've got to go after it as aggressively as we can," Ryan said. "I am hopeful we can work out some of the residents' [concerns] in Lordstown [and be] sensitive to their needs so that we can somehow find some middle ground here to make this deal happen."
The village planning commission will meet Monday but a vote is not expected on the zoning changes.
No matter if the changes are accepted by the commission, they go to village council where it will take five votes to overturn the commission's decision. The changes have to be read three times before they will be voted on by council.
More like this from vindy.com