Students head to NASA for Mars rover contest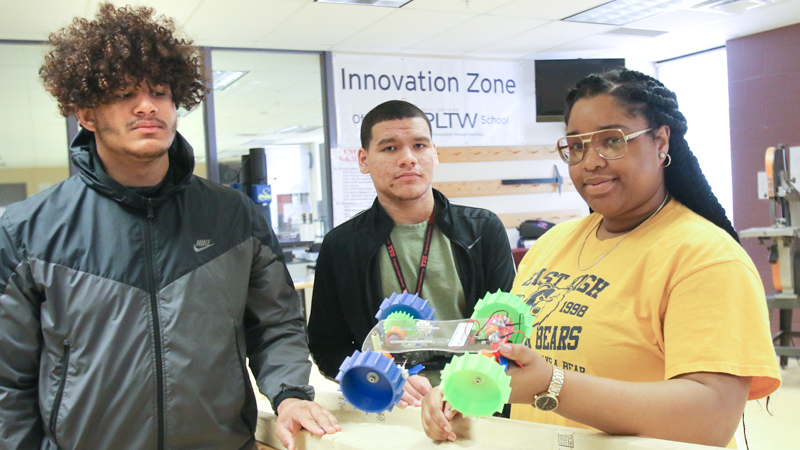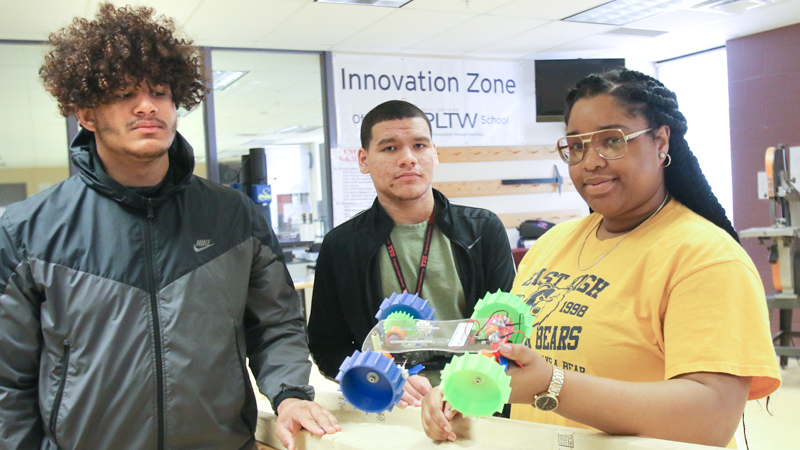 ---
By JORDYN GRZELEWSKI
jgrzelewski@vindy.com
YOUNGSTOWN
The rover rolled slowly but steadily up the steep, sandy terrain.
It wasn't on Mars, but the Choffin Career & Technical Center students who designed and built it hope maybe one day it will be.
Next month, Choffin's senior engineering students will head to the National Aeronautics and Space Administration Glenn Research Center in Cleveland as finalists in the Mars Rover Project, which challenges middle- and high-school students to design wheels for the robots exploring Earth's neighboring planet. Other finalists include Windham schools, Jefferson High School, Columbiana County Career & Technical Center, Niles Middle School and Valley STEM Academy.
The project began in the fall, leading up to a preliminary competition.
Choffin's four-person team, Rhea Dowell-Betts, Lorenzo Flowers, Silas Elder and Samuel Nazarro Rivera, all from East High School, designed their projects using design software, then worked together to come up with the best one. They received a kit that provided base wheels and gears, and a sand track on which to test their rover.
After completing the design, they used 3D printers to print the wheels.

The first design didn't work, so with the help of a NASA engineer, the students designed pointier wheels that could get better traction on Mars' sandy terrain.
Getting to talk with that NASA mechanical engineer inspired Flowers to pursue the same career. The idea was in his head already, but he said learning about the job convinced him it was right for him.
The project also included supporting curriculum in which students learned about the surface of Mars, gear ratios, and how to draw, Choffin engineering teacher Carrie Sinkele said.
She said the experience taught the students how to apply their skills.
"A lot of times in engineering, you've got the math and science, but it's pretty flat. So being able to use the software, figuring out the gear ratio, just testing stuff out" gave them a chance to apply their knowledge.
The competition required students to name their rover (the Choffin team went with "Spike") and create a team logo; describe how their team functioned; select and explain their test plan and data analysis; and explain how they used NASA's design process, among other steps.
When they go the Glenn Research Center for the final competition, they will present their project to NASA engineers and have the chance to discuss NASA's Mars mission and see the lab where the rovers are tested. The top two teams will each win a 3D printer.
Choffin engineering student Rhea Dowell-Betts, who plans to go into aeronautical engineering, said she has enjoyed the whole experience and is looking forward to the next competition.
"I'm excited," she said, smiling. "I'm glad we had this opportunity with NASA."
More like this from vindy.com