Local chapters of The International Association of Fire Fighters are celebrating its centennial anniversary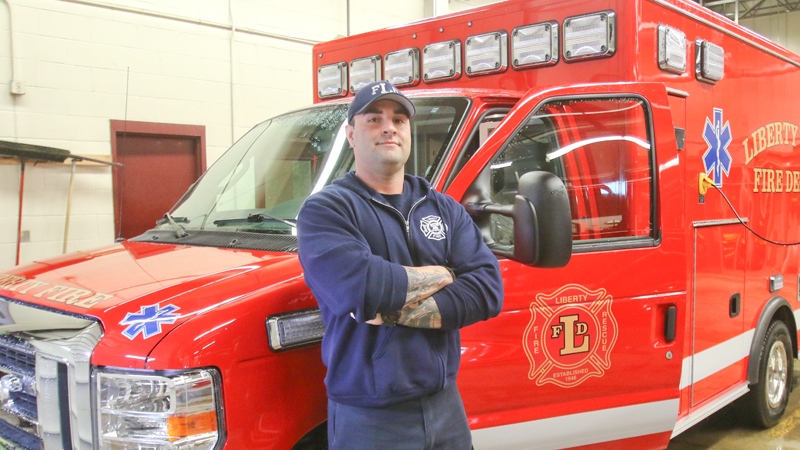 ---
GIRARD
In the early 1900s, firefighters worked as many as 84 hours a week and the average pay was 29 cents an hour, which compelled them to push for a union to improve working conditions.
The International Association of Fire Fighters was formed in 1918 to fight for better pay and safety precautions for firefighters in chapters all over the United States and Canada. This year marks its centennial.
East Liverpool Firefighters IAFF Local 24 is one of the original 24 chapters formed in 1918.
"This union means a lot to me; all of us have pride in it," said Antony Cuomo, East Liverpool chapter president.
In the past, workers could have shifts that lasted several days, only allowing firefighters to come home for lunch and dinner. Now, they have a platoon system to ensure a better work-life balance.
"That job was a grunt job; it was a dirty job nobody wanted. They had to unionize and fight for pensions, and fire safety, fire prevention, things to make the workplace safer because before then it was like peasant work," Cuomo said.
"If we have an issue, we can call them for help and get advice on certain topics. If you contact them, they will connect you with someone who can help. You have this nationwide network," he added.
Representatives from East Liverpool celebrated the anniversary in Washington, D.C., on Feb. 28 with the other original chapters, at the same time and place the union was formed 100 years ago.
The Liberty Firefighters IAFF Local 2075 formed in 1947.
"IAFF has done one heck of a job," said Justin Graham, Liberty chapter president.
Graham said the union gives workers equal rights and the ability to negotiate contracts.
"The union is there to protect us from any unfair labor practices or inequalities thrown our way," he said.
The union also requires that the department have 14 full-time firefighters, and if one of them leaves or retires, he or she can't be replaced with a part-time or volunteer firefighter. Along with staffing levels, the union also pushes for fair contracts with clear language.
"IAFF provides services and support if they have questions or are in a sticky situation, provides monetary loans if the local is short on funds when it is time to negotiate contracts. Attorneys can be provided, lots of resources can be tapped into when you are going through a tough time," Graham said.
The Girard Firefighters IAFF Local 1220 was established in 1955.
The firefighters at the time earned $380 per month, and by 1961, the pay increased to $420, said Brian Pearson, union secretary. Staffing increased from four to 13 full-time firefighters between 1955 and 1975. The department began running its own ambulance services.
The union helps provide funding for firefighters. In 2003, it worked with Congress to establish the Assistance to Firefighters Grant program and the Staffing for Adequate Fire and Emergency Response Firefighters Act, Pearson said.
"Girard has benefited from nearly $1.5 million in AFG grants for vehicle acquisition in the last five years alone," Pearson said. Thanks to a grant, the Girard chapter was able to secure a new vehicle.
The IAFF selected the Muscular Dystrophy Association as its "Charity of Choice" in 1954, and Girard's local chapter raised $1,000 for the charity in 2017. The chapter also raised $4,000 for other charities including the "Gift of a Lifetime" program through Girard City Schools, Pearson said.
"The biggest benefit is improved working conditions, greater public safety, more pull and power with the union getting these better working conditions than we would as at-will employees. Essentially, it's advocating for better safety conditions for us and the community, too," said Luke Grunder, president of the chapter. "Public safety is critical infrastructure."
The union also pushes for building and fire-code processes and inspections to reduce fire hazards. It helped to pass a firefighters presumptive cancer bill, which recognizes cancer as an occupational illness so treatment will be covered under workers compensation.
Firefighters have double the risk of getting testicular cancer, and are 11/2 times more likely than the general public for contracting myeloma, lung and skin cancer.
More like this from vindy.com