'Cappy' outlines Valley's history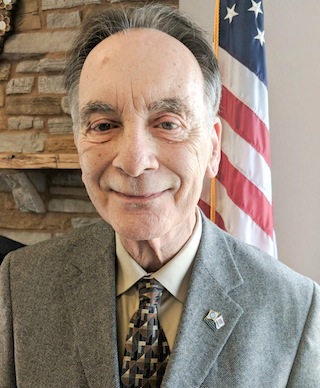 Photo
By Greg Gulas
sports@vindy.com
BEAVER TOWNSHIP
For more than five decades, John Caparanis has sat either courtside, behind home plate or in the catbird seat calling all of the play-by-play action for his listening audience.
The Warren Harding High and Ohio University alum also hosted the popular "Tip of the Cap" sports talk show.
A self-described history buff and sports historian, he told the Curbstone Coaches during Monday's weekly meeting at Avion Banquet Center that statistics, players, managers, coaches and the teams they represented always intrigued him.
"I always wanted to know about past teams, their players and events in order to interject those tidbits into my broadcast or show," Caparanis said. "Whether you are on radio or television, there's nothing worse than dead air so when you can give your listeners a fact that they might not have known, it definitely adds to a broadcast."
A former military officer — he retired as a lieutenant colonel from the U.S. Army — Caparanis has broadcast approximately 3,000 baseball, basketball and football games. He called the Mahoning Valley Scrappers in their third season of play.
He said the Mahoning Valley ranks right up there with other sports hotbeds when it comes their legacies.
"Football is the predominant sport in our area and we lay claim to a Heisman Trophy winner in Frank Sinkwich [Chaney High and the University of Georgia], and lineman of the year in Bob Dove [South High and the University of Notre Dame]," Caparanis said. "Both won their award in 1942 and it remains the only time ever in the history of the two awards that players from the same hometown were honored the very same season.
"We've produced many high-profile professional and college players, college administrators, front office personnel and an owner in Eddie DeBartolo, Jr. with multiple Super Bowl trophies, which makes you realize exactly what a hotbed we have in this area."
He also drew attention to the fact that two players took part in this year's NCAA men's basketball tournament.
"When scanning the rosters of this year's March Madness teams, former Ursuline standout Mark Hughes, a member of the Wright State Raiders and LaBrae's Peyton Aldridge, a key contributor for the Davidson Wildcats brought notice to our area," he stated.
Caparanis said not to forget East Palestine golfing great Jerry McGee, who was a member of the 1977 Ryder Cup while baseball has done its share to keep the area in the national spotlight.
"When I think of the Mahoning Valley, players like George "Shotgun" Shuba, Andy Kosco, Dave Dravecky, Jack Kralick, Jack Kucek, Rich Rollins, Floyd Baker, Bill White, Joe Caffie, Ed Stroud, and Wynn Hawkins come to mind," Caparanis said.
"There are 68 MLB umpires and four — John Hirschbeck, Brian O'Nora, Jerry Meals and the late Wally Bell — are from our area and worked together at the same time. Plus, the NFL had Bud Fiffick and Dick Creed from on their staff while Lowellville native Joe DeRosa was an NBA arbiter."
Caparanis highlighted the careers of former major leaguer trailblazers Jimmy McAleer and Billy Evans.
"Jimmy McAleer grew up on the city's North side and his career dates to the late 1800's. He was signed by the Cleveland Spiders, came up in 1890 and until Tris Speaker arrived on the scene, was considered the best defensive center fielder in the game," Caparanis said. "He would later manage Cleveland, the St. Louis Browns and Washington Senators.
"As the owner of the Boston Red Sox, he brought up a rookie outfielder-pitcher by the name of Babe Ruth and was credited with instituting the tradition that the President of the United States throw out the first pitch of the season."
Evans was a Chicago native who came to Youngstown as a child and later became a sports writer for The Vindicator.
"Billy Evans was umpiring a local sandlot baseball game in order to supplement his income, later worked in the minor leagues and advanced to the majors where he was assigned to work six World Series over a 22-year career," Caparanis said. "So good was he that he became the second American League umpire and third overall elected to the Baseball Hall of Fame, inducted by the Veterans Committee in 1973."
Next week, Richard McNutt, YSU assistant football coach will serve as guest speaker.
More like this from vindy.com