Boxer Salinas seeks 7th win in row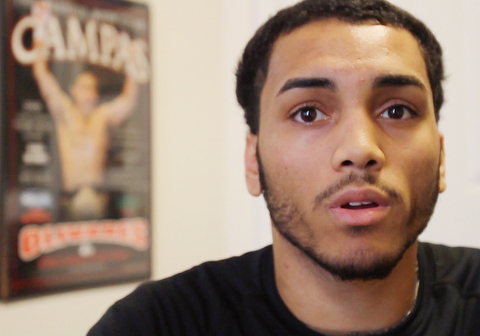 ---
By Greg Gulas
sports@vindy.com
CAMPBELL
A 12-bout pro-am boxing card featuring Alejandro "Popo" Salinas is set for Saturday at St. Lucy's Palermo Banquet Center.
Presented by trainer Jack Loew of South Side Boxing Club, the event will feature four professional and eight amateur pairings with Salinas (9-1, 8 KOs) set to go after his seventh consecutive win.
The main event originally paired Salinas with Reggie Barnett (6-1, 2 KOs) of the Netherlands for the USA Mid-American super featherweight title.
Barnett, however, broke his hand a week ago, and that sent Loew scrambling for a similar opponent in order to save his main attraction.
"Sulaiman Segawa is quite similar to Reggie Barnett in that he is left-handed, which is the type of boxer that we were originally preparing for," Loew said. "Reggie has beaten some big names."
Popo Salinas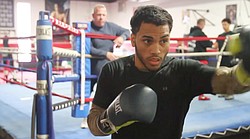 Video
Local pro boxer Popo Salinas is training for a big fight in Las Vegas. Trainer Jack Loew sees many similarities between Salinas and a world champion from the Valley.
Loew said Sulaiman is coming off a split decision win a month ago against Ben Gallegos, who is trained Robert Garcia and fights for Mayweather Promotions.
"Sulaiman is a step above what we were going to fight, and this isn't exactly what we had hoped to do, but it was either this or pull Popo from the card and that was never a consideration," Loew said. "He'll be ready to go."
Salinas is coming off a nationally-televised, unanimous decision win over Duarn Vue at the Cannery Casino and Hotel in Las Vegas on Sept. 26.
Segawa is 9-0 with three knockouts, having last fought on Feb. 17.
"The change won't affect me because I am 100 percent ready to go," Salinas said. "I've been training hard, we've been going over Sulaiman since the change took place and I am ready to get to work."
Due to the late change, the USA Mid-American super featherweight title is on hold.
"Popo is set as this is just another stepping stone for him in his professional career," Loew said. "Due to the recent change of opponent and its lateness, we weren't able to get the proper paperwork in and ultimate approval so the title fight will have to wait.
Popo Salinas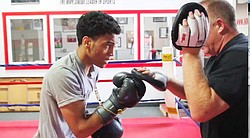 Video
Seventeen year old boxer Popo Salinas of Youngstown talks about his upcoming fight and how boxing has changed his life.
"This is a scheduled eight-rounder and Segawa, who at 5-foot7 is the same height as Barnett, is just picture perfect for us," Loew said. "In nine fights, all of which were wins, he's had his way with all of his opponents.
"He's more of a technical fighter and will want to dictate the flow of the fight. We'll see how he reacts when he can't back up Popo. If Popo lets him do that, then we can be in for a long fight."
Also on the pro card is Niles native Danny Rosenberger of Tom Cordell's Downtown Boxing Club and Akron's David Rodriguez — both super welterweights — and Loew trained middleweight Victor Toney of Youngstown.
Toney's (5-1-0, 4 KOs) only loss came at the hands of Sebastian Fundora, a six-round unanimous decision his last time out. His opponent is yet to be determined.
Rosenberger will take on John Jauvan of Brooklyn, each of whom is 2-4-2 and looking for their first professional knockout.
Rosenberger is coming off a four-round, unanimous decision loss to Justin Steave at Mountaineer Casino Ballroom on Feb. 10 while Jauvan is looking to break a two-bout losing skid.
Rodriguez, a veteran of more than 200 amateur fights, will meet Latiss Norman of East Cleveland in the pro debut for both.
More like this from vindy.com