All in for inclusive Easter Egg hunt in Boardman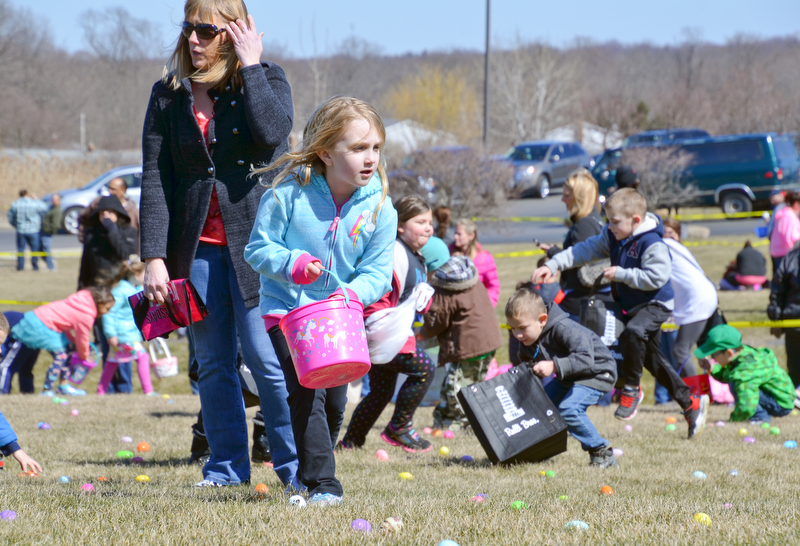 ---
BOARDMAN
Hundreds of children gathered thousands of plastic Easter eggs filled with sweets and treats during an inclusive Easter egg hunt Sunday afternoon on the front lawn of Rulli Brothers supermarket for abled kids and inside the store for special-needs kids.
Besides the pure fun of running around grabbing Easter eggs, the other purpose of the inaugural event was to raise awareness about the Walnut Grove Field of Opportunity, a multi-million- dollar inclusive playground project being build at state Route 46 and Western Reserve Road.
Like Sunday's Easter egg hunt, Walnut Grove Field will welcome all people of all levels of abilities.
All Inclusive Easter Egg Hunt at Rulli Brothers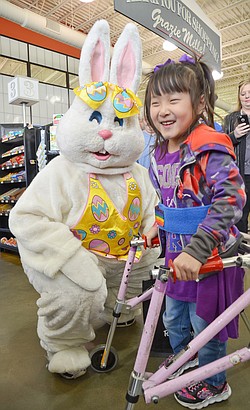 Gallery
The Walnut Grove, which has established a special needs playground in Boardman, hosted an "all inclusive" Easter egg hunt on Sunday March 18, 2018 at 2:00 p.m. and 3:00 p.m. at Rulli Brothers in Boardman. The outdoor hunt began at 2:00 p.m. and was for children of all ages. The indoor adapted egg hunt began at 3:00 p.m., and was designed for children with special needs. The weather was beautiful, and it turned out to be a very special event. Photos by Scott Williams - The Vindicator
Nature trails on the 22-acre site and the seamless surface for the $1.3 play ground are being finished, said Gretchen McGarry of Poland, special events and fund raising chairwoman for Walnut Grove Field.
The seamless surface of the play ground, which will be nearly the size of a football field when it is finished, makes it easier for people with special needs to get to the various stations, said McGarry.
"When it is finished, there will be nothing like it within 100 miles," she said.
The organizers of Sunday's event are Michael Rulli, owner of the supermarket, and Dana Winters, owner of Miss Dana's Diamonds in Boardman, and trainer of the special-needs cheerleading squad, Rock Stars.
Lots of special-needs kids may have never been to a real Easter egg hunt. That's why there were two Easter egg hunts: One outside at 2 p.m. attended by about 300 typically-abled children; and another at 3 p.m. inside the store where it is easier for special-needs children to get around, said Winters.
"We wanted to have some fun and get the word out about Walnut Grove Field," said Rulli, who called the Easter egg hunt a tremendous success. It attracted hundreds of people to spread the word.
"We're hoping it becomes an annual tradition," Rulli said.
The kids enjoyed it, too.
Carol Christoff of Boardman and her daughter, Christy Christoff, brought about six kids to the outside hunt.
Isaiah Franklin, 9, showed off the candy and coupons that were in his Easter egg, and one of Christy's daughters, Grace Vargo, 13, showed off her wrist band, and Olivia Vargo, 5, was too shy to talk.
Inside the store, kids and parents were saying hello to the Easter Bunny waiting for their Easter egg hunt to begin at 3 p.m.
Among the 40-plus volunteers standing by to help with the special-needs children when needed was Kaylee Harroff of Salem, a volunteer for Greenford Christian Church's Big Reach program.
"I think it's a fantastic family event," she said.
Emily Gianetti of Youngstown, a Youngstown State University graduate and medical student at Northeast Ohio Medical University, said she volunteered to help with the special-needs Easter egg hunt because she likes the "inclusive idea."
But, the hunt was really for the kids.
Dan DeBow of Poland said his adopted daughter, ShiYu DeBow, 6, who has cerebral palsy, has been very much looking forward to the Easter egg hunt. "She loves all holiday events," he said.
Dennis Cuadri said his daughter, Sharria, 6, enjoyed the outside Easter egg hunt, but that his son, Jemhame, 7, has a rare disease that affects his hips that makes it difficult for him to get around.
More like this from vindy.com