YSU snaps 14-game losing skid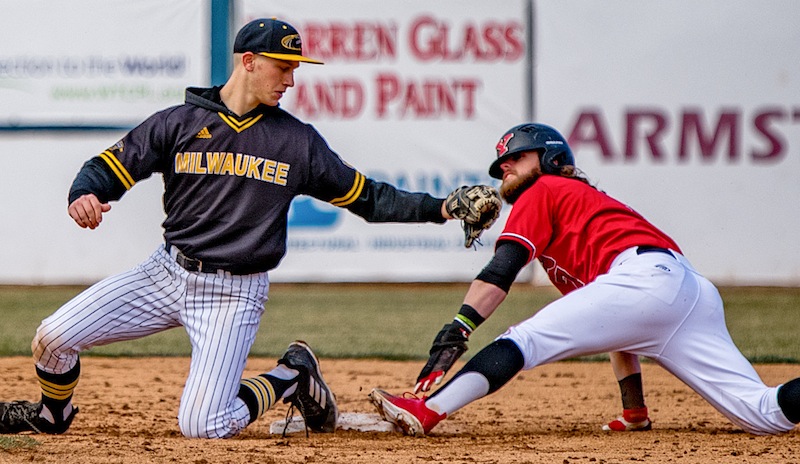 ---
YSU vs. Milwaukee Baseball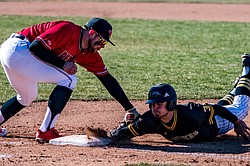 Gallery
The men's baseball teams from Youngstown State and Milwaukee faced off at Eastwood Field on Saturday, March 17, 2018. Photos by Dianna J. Oatridge
By BRIAN DZENIS
bdzenis@vindy.com
NILES
At some point, the Youngstown State baseball team had to start hitting.
In the second game of Saturday's doubleheader with Milwaukee at Eastwood Field, the Penguins mustered enough at the plate to top the Panthers 5-3. The win snapped a 14-game losing streak.
YSU's (2-14, 1-1 in the Horizon League) lone victory before was an 8-4 win against Belmont on Feb. 16 to open the season. The Penguins dropped game one, 12-4.
"It's a big thing for our ballclub. Our coaches have been preaching that our offense is pretty dang good," YSU designated hitter Jeff Wehler said. "When we got some base hits, it was nice for us."
Five of YSU's nine hitters in the lineup are batting below the Mendoza line and collectively, the Penguins are hitting .197. Slugger Andrew Kendrick in particular has struggled, batting .130 with six hits — two of which were home runs — while starting every game.
"I think there's been a little bit of pressure on him early. One publication has him as the Horizon League Player of the Year," YSU coach Dan Bertolini said. "He's started to struggle and we made some adjustments in his swing and he hit a home run today. He's been doing a good job and I don't expect it to be like this all season."
Wehler broke a stretch of nearly five scoreless innings with a two-run double to score outfield Trey Bridis and third baseman Web Charles.
Wehler was three for four in game two with two doubles and three RBI.
"I got a couple pitches on the outer half. I did what I had to stay back," Wehler said. "I didn't hit it as hard as I wanted to, but they fell and that was a big win for us."
Milwaukee (5-11, 1-1) split the deficit when Zach Noglaski's suicide squeeze brought home Joey Scaffidi.
YSU gave what proved to be the killing blow after the seventh-inning stretch. Bridis singled home Cody Dennis and Wehler struck again with an RBI single. Web Charles came home after Milwaukee's George Swedie balked.
Starter Collin Floyd (1-4) struck out six while walking two and giving up five hits in seven innings to get his first win of the season. Milwaukee's Jake Sommers give up two runs on five hits while striking out nine to take the loss.
Milwaukee scored twice in the eighth to set up a tricky ninth inning for West Branch graduate Kip DeShields. An error, a single and a wild pitch had runners at second and third with two outs. DeShields struck out Trevor Schwecke to seal the win.
"He swung at some bad pitches for me. It got me back into the count and I end up striking him out to win it," DeShields said.
Game one saw a brief glimmer of hope snuffed out in the ninth inning.
The Panthers got to Penguins starter Greg Dunham in the second inning with Tyler Bordner's RBI single followed up with Joe Vyskocil's two-run homer. Ben Chally knocked in a run with a double to go up 4-0 in the following inning.
Kendrick had a hand in all four of of the Penguins' runs. He got hit by a pitch to advance second baseman Drew Dickerson to second, where he scored on Nick Caruso's single followed by to Milwaukee fielding errors.
The Panthers tacked on two more runs across the sixth and seventh innings, but Kendrick's three-run home run cut the deficit to 6-4 going into the ninth inning.
Then things fell apart for the Penguins in a six-run top of the ninth. Zack Minney and Joel Hake combined to give up six runs on six hits and a walk in that stretch. Matt Quartel hit a three-run double and Bordner added a two run homer. Colin Kreiter contributed an RBI-single.
Dunham (1-3) took the loss by giving up six runs on 11 hits and a walk in six innings. He had one strikeout, while Milwaukee's Austin Schulfer struck out six while giving up a run on six hits and two walks in seven innings.
The Penguins get one more crack at Milwaukee today at Eastwood field, where they have a chance to clinch a series for the first time this season.