Three Valley women share personal experiences about living with MS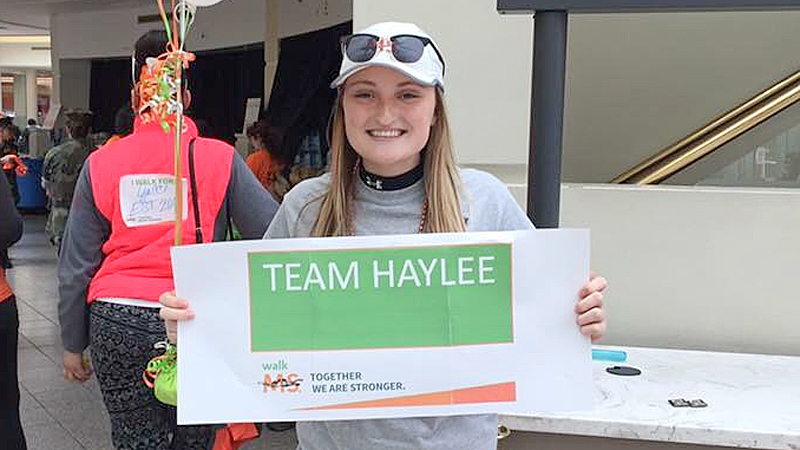 ---
RELATED: Activists bring attention to multiple sclerosis
By JORDYN GRZELEWSKI
jgrzelewski@vindy.com
YOUNGSTOWN
To look at Haylee Mathews of Cortland, Hillary Skok of Canfield, or Ashley Williams of Warren, you might not guess they live with a disease that drastically affects their lives.
All lead busy lives. Mathews is a college student at John Carroll University. Skok works full-time and has a 7-year-old. Williams has three young children.
What many don't see is the debilitating daily fatigue; the ways their lives are carefully planned to avoid exacerbating their symptoms; and the sometimes-painful treatments. Known as the "snowflake disease" because it affects each person differently, multiple sclerosis has affected these women's lives in ways both similar and unique.
In honor of MS Awareness Month, they shared their personal experiences in hopes of educating the public and helping others going through something similar.
UNCERTAINTY
After Williams, now 30, had her first child in 2011, her feet began to go numb.
In 2013, her legs went numb from the waist down.
Then, after a series of tests failed to show anything, an MRI showed lesions on her brain. She was diagnosed in December 2013.
"I was kind of numb," she said of learning her diagnosis. "Then I cried, and I came home and cried. I was like, 'What happens now?'"
Skok, now 41, knew something was wrong in the summer of 2015. What started as tingling in her hands and fingertips became numbness. Her thoughts were sometimes jumbled, and she couldn't always find the right words. A normally active and energetic person, she was hit with extreme fatigue. She recalled approaching a set of stairs and finding herself unable to move her legs.
After months with no answers, she went to a neurologist at the Cleveland Clinic who immediately suspected she had MS. A spinal tap confirmed it, and she was diagnosed in February 2016.
Though she was relieved to finally have an answer. Skok recalled crying for weeks after her diagnosis.
"When I was first diagnosed, I thought it was sort of a diagnosis of death," she said.
Mathews, now 18, was a varsity soccer player at Lakeview High School when her legs became tingly and numb during games. After several months of chiropractic care and a visit to a pediatric doctor, she got an MRI that found the tell-tale lesions on her brain and spine.
"It was very scary and very overwhelming, especially being a junior in high school," Mathews said. "I was very upset. I actually went into a time where I couldn't eat. I just kind of blamed myself. How did this happen to me? I didn't even know what the disease was when I was diagnosed."
LEARNING TO COPE
A few years since their diagnoses, Williams, Skok and Mathews have a better understanding of MS and the ways it affects them.
Williams' primary symptoms are dizziness, nausea, fatigue, and trouble with her memory.
She gets an infusion every six months that's been working well, but leaves her feeling sick afterward. With kids aged 7, 4, and 18 months, life can get hectic for her and her husband, Ryan.
Ashley and Ryan said they want people to understand that MS affects everyone differently, and just because you can't see it doesn't mean it's not real.
"It's an invisible illness," Ashley said. "Just because I look OK, doesn't mean I am OK."
For Mathews, she has to strike a balance between being a college student and a patient.
"I tend to get tired easily, and there's so much going on at college and so much I want to be part of, that I kind of have to prioritize," she said.
From the challenges, however, she's found some positive things. She has raised thousands of dollars for the National MS Society through its Walk MS event and is passionate about advocating for others.
"I feel like it's my job to make a change," she said.
Skok's life has changed dramatically, as well. She used to be able to go from early morning until late at night. Now, she knows she has to lay down by about 8 p.m. each night.
"It's a balancing act of, 'Where am I going to spend all my good energy?' It's usually, obviously, with my son," she said.
Skok's message for people going through what she went through is to trust their bodies when something seems wrong and keep pushing for answers.
She also wants them to know that what she first thought when she got her diagnosis isn't true.
"It's not at all a death sentence. It's actually quite the opposite," she said.
More like this from vindy.com