Spring is in the air at White House Fruit Farm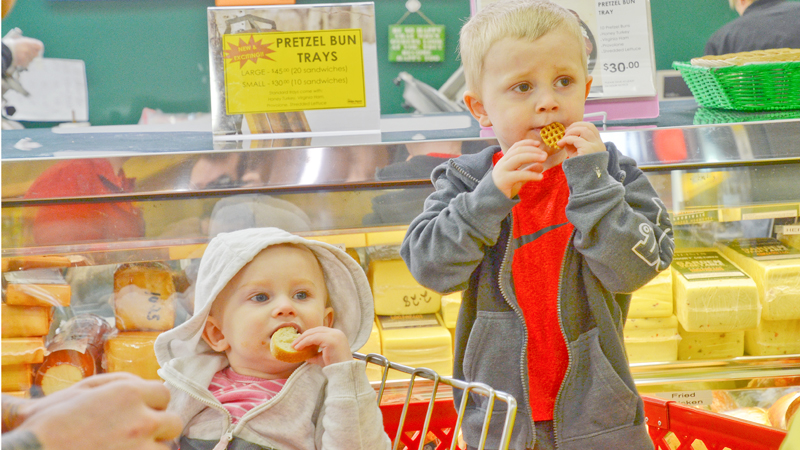 ---
By WILLIAM K. ALCORN
alcorn@vindy.com
CANFIELD
People who didn't make it out to White House Fruit Farm on Saturday can make the trip to Canfield today to pick up some blueberry doughnuts, and kick off the spring season with other farm-produced and farm-fresh food.
Also, visitors can enjoy free samples of 15 vendors offering a wide range of products fresh and canned. White House Fruit Farm is open from noon to 4 p.m. today at 9249 Youngstown-Salem Road (state Route 62).
Among Saturday's vendors was Julie Petrilli, a hostess at the Cafe 422 on South Avenue in Boardman, who was offering samples of the restaurant's famous hot peppers in oil, which is made at Cafe 422 on Youngstown Road S.E. in Warren.
"We're at the White House sampling weekend every year," said Petrilli.
White House Weekend 2018

Gallery
The 16th annual White House Weekend at White House Fruit Farm in Canfield, Ohio was held on March 17-18, 2018.
Among the forward-looking dairy farms in the area is Baker's Golden Dairy in New Waterford.
Baker's has existed for several generations as a dairy farm. It now has its own processing and bottling plant that produces milk using a pasteurization process to kill organisms that may make people sick — but does not harm enzymes that enable people who are lactose intolerant to drink the milk, said Casey Baker Hudson, manager of the dairy located at 46761 Carter Road.
At White House's sampling day, Baker's offered samples of milk flavored with vanilla, cookies and cream, orange cream, root beer, cotton candy; and pumpkin spice in the fall and eggnog during the winter season, said Hudson.
The goal of "sampling weekend" is to signal the end of winter and the beginning of spring and to get people thinking about local farm products, said Debbie Pifer, part of the Hull family, owners of White House Fruit Farm.
"Events like the local food sampling weekend bring folks out who might not be regular customers to see what we have to offer," said Pifer, who like other children of the Hull family began working on the farm at 8 or 9 when she was able to tote a bag of apples. "We all worked," she said.
White House is particularly known for its blueberry doughnuts and 25 acres of apples.
"We are open all year long and we sell apples all year long. That's one of the things we fight. Many people forget us in the winter," Pifer said.
She said she is grateful to the generations of families who make a special day to visit to White House Farm.
"It is a good place to bring out-of-town guests. We are a destination," Pifer said.
Among Saturday's visitors were Stacey Knox of Canfield, who was shopping with her sons, Hudson, 4, and Sullivan, 21 months, and her father, James Turner of Sharpsville, Pa.. who said he comes to White House Farm about once a month when he visits his daughter and her family.
"We come for the orange marmalade," said Knox. "And the apple sauce," added her father.
While touting her own business, Pifer encourages people to patronize all local farmers.
"We want folks to always, always, always look for local food and farmers," she said.
More like this from vindy.com