Outlook for YSU basketball better in second season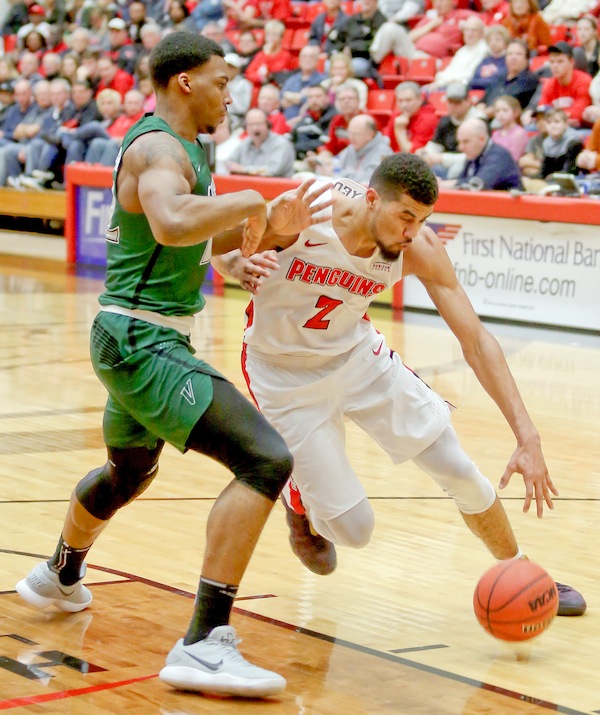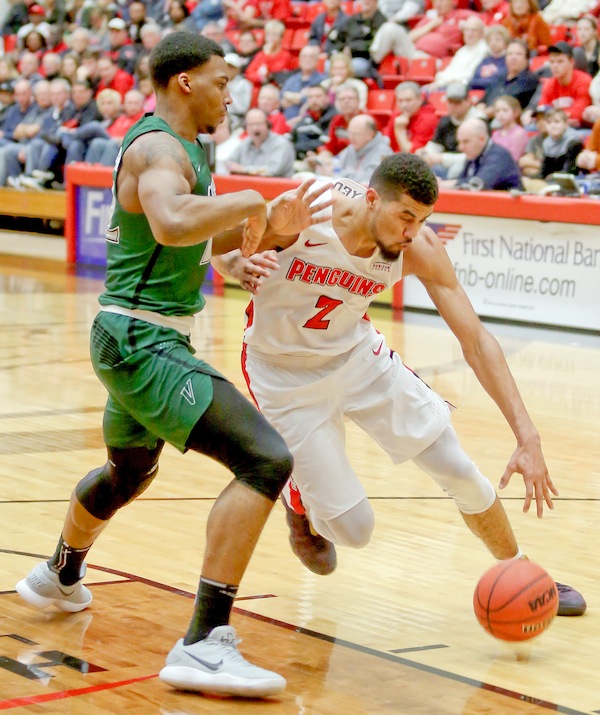 ---
By BRIAN DZENIS
bdzenis@vindy.com
The Horizon League Tournament contained an odd sight for Youngstown State basketball coach Jerrod Calhoun.
After his Penguins failed to make two late shots in a 80-77 first-round defeat to Cleveland State on March 2, the men's basketball coach watched his alma mater make a run all the way to the final. What made that run poignant was the state of the two programs heading into that opening-round matchup.
Both teams had first-year head coaches. Both teams had an identical 6-12 mark in the Horizon League, but CSU (who finished the year 12-23) was briefly a national sensation for having the potential of being the losingest team to go dancing in March.
YSU ended up the round one afterthought.
What does the Vikings' run say about the Horizon League? What does it say about YSU and its place in that league?
"In a conference that's a one-bid league, the tournaments are going to be wild. What that teaches your players is that the game of basketball is a game of inches," Calhoun said. "Every play determines an outcome and with the way the Horizon League tournament unfolded, it was kind of what I expected.
"I thought there would be some wildness to it and some upsets, but that's what makes our league fun and exciting for the fans."
The Horizon League is not well-regarded around the country, ranking 26th out of 32 conferences in RPI, but it doesn't take too long to find success there.
Calhoun pointed out that the two most recent League teams to make the NCAA Tournament — Wright State this year and Northern Kentucky last year — were run by coaches in their second year.
"There is a blueprint in place and we have to follow that and hopefully we'll have some success," Calhoun said.
Take away two wins against Division III Franciscan and Westminster, and the Penguins (8-24, 6-12) won just six Division I games — all of which came in the Horizon League. While the 2016-17 record is worse than last year's mark of 13-21, the Horizon League record is better by one game.
The biggest issue that plagued the Penguins was defense. They were the worst team in the nation in terms of opposing field-goal percentage at 50.9 percent and gave up 82.7 points per game as Calhoun tried to install his pressing defense.
"We weren't able to play the way we fully wanted to because we didn't have the depth. You have to continue to build your recruiting classes and we pressed better at home than we did on the road," Calhoun said. "You fed off the energy of the crowd and by being on your home court.
"I think with the best teams, their defense travels and certainly our defense didn't travel as much as it needed to this year."
It wasn't all bleak in year one. Calhoun found two key pieces to build on in forward Naz Bohannon and guard Garrett Covington, two freshmen who have become mainstays in the starting five.
Bohannon is the Horizon League's best offensive rebounder and third best rebounder overall at 8.1 boards a game. Covington was often trusted to guard the opposing team's best player.
Braun Hartfield is the team's returning leading scorer at 13.7 points per game, but the sophomore hit a slump near the end of the year, hitting double figures twice in his last six games.
"What happened with Braun is he was somebody who got eight or nine [points per game] as a freshman and then he's getting 15 to 20.
"We asked him to be the No. 2 guy behind Cam Morse and if Francisco Santiago had been healthy, Braun would be the third guy," Calhoun said. "We really had to speed up his development and speed up being able to rely on him and I think at times, that showed.
"I like his size and length. He needs to get stronger in the offseason because it's a long season in college basketball and that's how it has to be for all of our guys."
The area that's getting the biggest boost in depth is in the backcourt. All three of the Penguins signed players are guards in Columbus Beechcroft's Jelani Simmons, Huber Heights Wayne's Darius Quisenberry and Hackensack's (N.J.) Atiba Taylor Jr.
Covington's starting role seems safe, but that group will have to compete with returning guards Jeremiah Ferguson and transfer Devin Morgan, who sat out this season, but averaged 13.3 points a game at Delaware State.
There is also the question of Santiago. The starting point guard from last year tore his ACL last July and further injured himself in the season. It remain's unclear why YSU didn't pursue a hardship waiver for him in the summer. Calhoun revealed he was injured and out of eligibility in December only to reverse course the following month and say YSU was looking into a waiver. Calhoun said the university is still awaiting word from the NCAA regarding his status.
With that many moving parts, it will take time to sort out the other guard spot.
"It's too early to tell because you don't know how some guys are going to react to college," Calhoun said. "Some freshman — like Garrett — really struggled in the preseason, but got better as the season went on."
Calhoun said the lessons from his first year were innumerable. Along with Ferguson and Hartfield, big man Devin Haygood is set to return.
Should Santiago come back, Calhoun would have just four players from the Jerry Slocum era on his roster. He also comes back with a better sense of how to navigate the challenges of rebuilding the Penguins' program.
"Moving forward, I think the nice thing is you have the year under your belt, you learn about the other teams and the styles that they play and you understand what the Horizon League is about," Calhoun said. "I think we learned that there's a great fan-base in Youngstown that wants to win."
More like this from vindy.com