Brookfield community recoups losses from church theft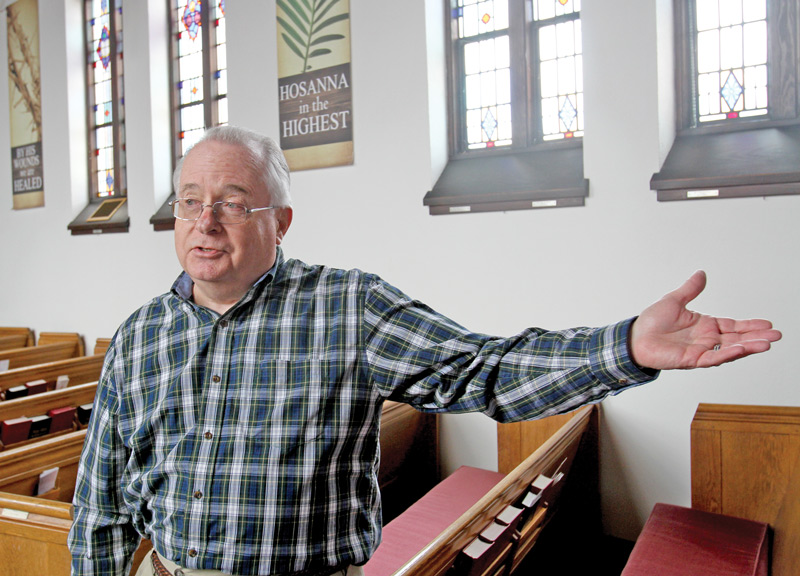 ---
By SAMANTHA PHILLIPS
sphillips@vindy.com
BROOKFIELD
Dick Smith, the pastor of a small Brookfield church, said the response from the community after a late January robbery is a blessing.
"The Holy Spirit has been working overtime in Brookfield lately," the Rev. Mr. Smith said.
The Brookfield United Methodist Church had a spaghetti dinner fundraiser Jan. 21 and raised a significant amount of money for its community- service programs funded by donations.
The next morning, church members arrived for Sunday service and were shocked to discover someone broke in through a preschool window at the church and stole all the funds raised.
Brookfield United Methodist Church

Video
Brookfield United Methodist Church pastor Dick Smith talks about a recent break in at the church. Video by William D. Lewis - The Vindicator
"People were crying. I walked in and said, 'OK everybody, time to go to
Sunday school, get ready for worship, life goes on. Yeah it's been a bump today, but we are going to get through this,'" the Rev. Mr. Smith said.
The next day, six people came to deliver cash and checks, people Mr. Smith said he hadn't seen at the church before. Within a month, the church received enough donations to not only reimburse the approximately $1,500 that was taken but also cover the insurance deductible from the broken window. Donations are still flowing in.
"We spend a lot of time focusing on the needs of other people, and a lot of people came together for our need this time. I felt that was amazing," he said. "They support our community."
The amount left to pay for the deductible was almost the exact amount needed; it gave church members chills.
"We are so blessed in this community. We have a bunch of wonderful folks in the church who love the Lord, and we work hard to do what he calls us to do here," Mr. Smith said.
Since the robbery, the church has strengthened its safety measures and added security cameras.
"If they needed something that bad, the church would have given it to them," said church preschool teacher Lovie Zarlinski. "They didn't need to rob them. If it's money to pay a bill or whatever, the church would help. The churches will give you what you need if you come to the door and ask. You don't have to steal it."
Mr. Smith expressed shock that somebody would rob a church that is heavily engaged with the community.
Police haven't found the robber yet.
"It was heartbreaking," Mr. Smith said. "Tears were shed, but it turned to smiles when people started coming to us with gifts and support, recognizing the work that we are doing. It was really uplifting to see that kind of response."
He talks about the robbery and the community response in his sermons. He said his Lent series has centered around rehabilitation, whether it's physical, mental or spiritual, and the incident fits in those sermons.
"Life is disrupted, it becomes hard and difficult, but we can get through this stuff," he said.
One of the programs the church uses its donations for is its Brookfield Backpack Charitable Trust, which provides food for students who may otherwise go hungry. The program started with 25 kids and now benefits 50 children. The church collects and stores nonperishable food, then once a month volunteers pack the food into bags that are discreetly put into students' backpacks.
"There are kids who line up for lunch who put food in their pockets so they'll have something to eat later on," he said. "We are blessed because the schools really want to partner with us, they want to partner with people who will help them help the children, and they are open to working together."
The church also donates blankets to Brookfield students and is working with the school district to create a food pantry for students, to which all students in the school district will have access.
Another church program is Blessing Bags, an idea from members T.J. and Kaila Mohney. The church packs large plastic bags with a Bible, socks, toothbrush, toothpaste, snacks and other provisions for people in need, especially those living on the streets or in a shelter.
"God is always at work, no matter what happens.
"We have tragedies all the time, people wonder why bad things happen all the time. Well, we live in a world that is imperfect. If it was perfect, it would be heaven," Mr. Smith said.
"God is always working in their lives, and it's apparent God was working in overtime mode because we heard from people all over the area after what happened."

More like this from vindy.com