Boardman High Jazz Fest will feature Roger Ingram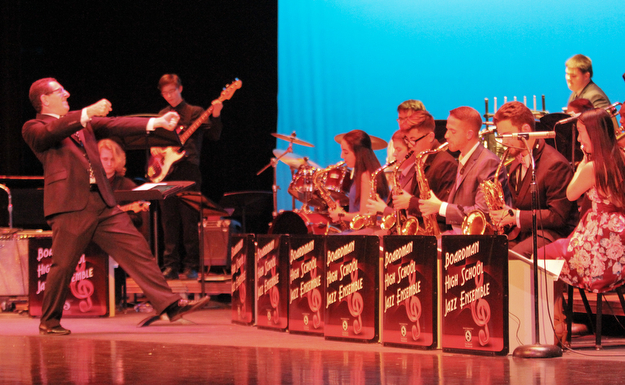 ---
Staff report
BOARDMAN
The 18th annual Boardman High School Jazz Fest will take place March 27 at 6:45 p.m. in the Boardman Performing Arts Center, 7777 Glenwood Ave.
The event will feature BHS Jazz Ensembles 1, 2 and 3 along with a preview of the eighth-grade jazz ensemble and special guest artist Roger Ingram. Admission is $8 ($5 for students; free for senior citizens).
Ingram is a trumpet player known for his high notes. He began his professional career at age 16, touring with the Louis Bellson Big Band. At 17, he was with the Quincy Jones Big Band. Other performing, touring and recording credits include Woody Herman, Frank Sinatra, Paul Anka, Chico O'Farrill, Tom Jones, Ray Charles, Maynard Ferguson, Wynton Marsalis and Arturo Sandoval. Ingram joined the Harry Connick,Jr. Big Band and recorded 19 albums with him, including the Grammy Award-winning "Songs I Heard."
He recorded seven albums with Wynton Marsalis, including "Blood on the Fields," which won a Pulitzer Prize.
Ingram played for 20 Broadway musicals when he lived in New York. He is the author of the textbook Clinical Notes on Trumpet Playing, which is now recommended reading for many college music programs. The 2016 Downbeat Readers Poll lists Ingram as the second favorite trumpet player bested only by Wynton Marsalis.
The BHS Jazz Fest will open with a free rehearsal/clinic from 1 to 3 p.m. Those who attend can purchase tickets to the evening concert for a discounted price.
The concert will begin with a performance by Boardman's eighth-grade ensemble. Jazz Ensemble 3 will take the stage at 7 p.m., followed by Jazz Ensemble 2, then Jazz Ensemble 1.
Ingram will play with each of the high-school groups, but mostly with Jazz 1. His featured selections include "Beauty and the Beast," "Blues in the Closet," "Pavane," "Autumn in New York" and "Oleo."
Thomas Ruggieri is the director of Boardman bands.
Past guests of the BHS Jazz Fest include Joe Graziosi, Mike Tomaro, John Reese, Janet Opritza-Davis, Bernie Dresel, Jack Schantz, Maynard Ferguson, Randy Purcell and Phil Woods.
The schedule for this year's Summer Jazz Ensemble includes appearances at Firestone Park in Columbiana, Boardman Park and WaterFire Sharon, Pa. Go to boardmanband.org for information.
More like this from vindy.com