SUV strikes ODOT worker clearing brush on I-680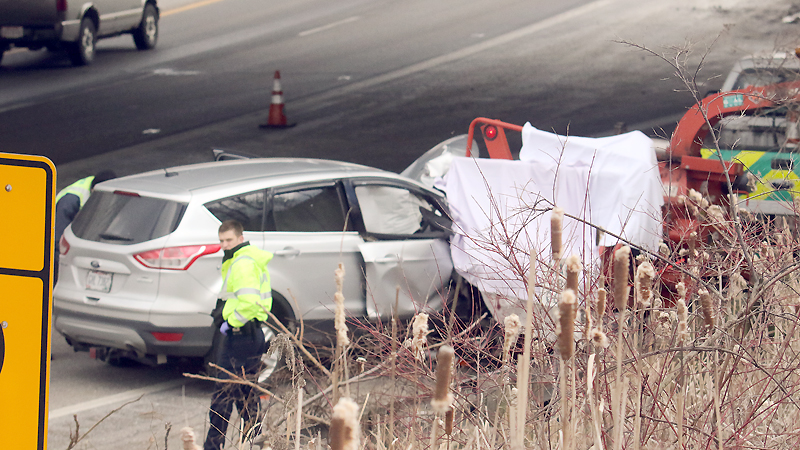 ---
By JOE GORMAN
jgorman@vindy.com
YOUNGSTOWN
Police continue their investigation today into how an SUV driver struck and killed a worker for the Ohio Department of Transportation on Interstate 680.
The worker has been identified as John Pasko, police Chief Robin Lees said late Thursday night.
SITE OF FATAL ACCIDENT
He was part of a brush-clearing crew when he was struck about 12:35 p.m. Thursday in the southbound lanes of I-680 under the Market Street Bridge, which spans the highway.
Justin Chesnic, a spokesman for ODOT District 4, which covers Mahoning County, said no other workers were injured. Several were there as police began the investigation.
The police department's Accident Investigation Unit released a one-sentence statement late Thursday afternoon about the accident and said Pasko's family was notified.
There was no word on the identity of the SUV driver, who was taken to St. Elizabeth Youngstown Hospital for a medical emergency. Lees said it was unclear if the medical emergency happened before or after the SUV struck Pasko.
It appeared the driver struck a wood chipper under the bridge.
Lt. William Ross, head of the traffic unit, said a cause of the accident has not yet been determined. Members of the Accident Investigation Unit and crime lab were taking measurements and photographs of the wreckage. A white sheet was placed over the front of the SUV and part of the wood chipper, to shield whatever was underneath the wreckage.
In a statement, District 4 Deputy Director John Picuri said: "We are deeply saddened today by the death of a member of our ODOT family. Ohio lost a hard-working public servant who will be truly missed. Our thoughts and prayers are with their loved ones tonight."
Police managed to keep the far lane of the highway open while they investigated the accident. Some cars were also directed off the freeway to the Market Street exit ramp.
Passers-by watched from the sidewalk on the bridge above the scene, some of them snapping pictures, while people who were leaving the freeway were craning their necks to get a look at the wreckage.
Troopers from the Canfield Post of the Ohio State Highway Patrol were also on scene, but post commander Lt. Jerad Sutton said city police will handle the investigation.
The city now has six traffic deaths in 2018.
This is the second fatal accident on the highway this year. On Feb. 4, two people were killed in the southbound lanes of the freeway near the Indianola Avenue/Shirley Road exit after they got out of their cars. Police never said why the two were not in their vehicles.
The investigation in that case is complete and has been submitted to the city prosecutor's office for review.
On Feb. 23, a woman drove the wrong way on state Route 711 and collided with a tractor-trailer, killing her brother and two of her children. That crash is still under investigation.
More like this from vindy.com