---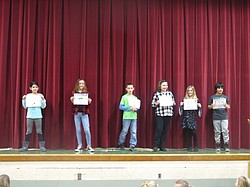 Photo
Neighbors | Zack Shively.Once the students walked the red carpet at Stadium Drive's award ceremony, they stood on stage and displayed their achievements. The parents then had an opportunity to take a photo of their children..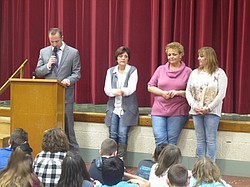 Photo
The teachers named the awards and chose the students who received the awards for Stadium Drive's Red Carpet Awards. Pictured are, from left, Principal Michael Zoccali and fourth-grade teachers Lisa Hughes, Mara Stevens and Lisa Cooper.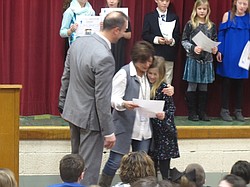 Photo
Neighbors | Zack Shively.The Stadium Drive Elementary teachers handed the awards to the students during their Red Carpet Awards, which happens once every semester. Pictured, a student celebrates her award with fourth-grade teacher Lisa Hughes.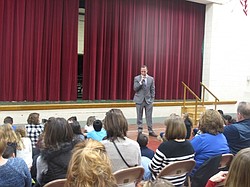 Photo
Neighbors | Zack Shively.Stadium Drive Elementary had an awards ceremony on Jan. 25 and 26. Principal Michael Zoccali laid down a red carpet for the students to walk when they got their awards. Pictured, Zoccali welcomed families to the Red Carpet Awards for the fourth-grade students.
By ZACK SHIVELY
Stadium Drive Elementary celebrated their students' accomplishments with their Red Carpet Awards on Jan. 25 and 26.
Principal Michael Zoccali presented the students of each grade in the school with class specific awards. The school had the ceremony in the school's gymnasium and placed out chairs for parents to watch the awards.
The school has the awards ceremony twice a year after each semester. Zoccali said they have the ceremony because the students enjoy it and get to be recognized for their success. Even if a student did not get an award, Zoccali said at the beginning of the ceremony that everyone in the class played an important role in each student's success.
The teachers made the awards for the students. Many of the awards had creative names, such as "future author" and "reading superstars." The teachers also picked the students they awarded.
The children came up and walked across a red carpet that the school had when Zoccali called their names. They walked up and hugged their teacher and shook hands with Zoccali, then walked to the stage. After Zoccali announced all the winners in a category, he paused to allowed some time for families to take pictures of their children with their awards.
For the fourth-grade class, Zoccali recognized the Math 24 Team's success. They had six members on the team and all placed in semifinals, where two students finished in first and second. Math 24 is a 24 Challenge math program where the program runners give children a series of numbers and the children have to figure out what math applications they can do to finish with the result of 24.
The awards ended with full class awards. The students who did not receive an individual award will have another chance to do so at the end of the school year.