PBA's O'Grady rested, healed
By JOHN BASSETTI
sports@vindy.com
HUBBARD
Matthew O'Grady is coming to Bell-Wick Bowl healed and healthy for the eighth Hubbard Open this weekend.
The PBA East-Central Region Hubbard Open Presented by the Trumbull County Tourism Bureau is the East's first regional of 2018, running simultaneously with three other regionals, including the PBA50 Showtime Lanes Midwest-Central Open in Virden, Illinois.
Not far removed from his career-highlight achievement (winning the Tournament of Champions at Riviera Lanes in Fairlawn on Feb. 11), O'Grady is as eager to participate in today's high school clinic and pro-am as he is excited to shoot for his third straight Hubbard Open title.
While a lot of the pros are in Munich, Germany for the Brunswick Euro Challenge this week, O'Grady seems satisfied with Bell-Wick as his destination this weekend.
PBA Hubbard Open Clinic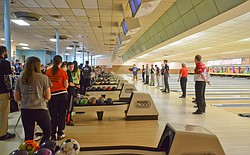 Gallery
Members of the Professional Bowlers Association held a clinic for high school bowlers at Bell Wick Bowling Alley on Friday, March 16, 2018. Photos by Scott Williams - The Vindicator.
"Of course, I love the place," the 31-year-old from Rahway, N.J., said of his plans. "I'm coming in for practice and the pro-am and junior clinic [tonight]."
After winning the TOC (one of the PBA's most prestigious events) O'Grady bowled in the Go Bowling PBA 60th Anniversary Classic in Indianapolis and the Barbasol PBA Players Championship in Columbus. He then had a week off.
"Following Fairlawn, I missed the cut the following two weeks and that was the end of the swing," O'Grady said.
So, is he rested heading into Hubbard?
"The break is good; it gives you time to mentally rest and physically recuperate."
Was O'Grady's slide after the TOC the result of a classic letdown?
"Absolutely," he said. "The very next day [from TOC] I had to be in Indianapolis at 10 a.m. for a practice session after getting only three hours of sleep. It was such a quick turnaround. My hunger and my focus wasn't quite there as it had been the week prior."
The two-time PBA East Region Player-of-the-Year missed the cut by 50 pins in both Indianapolis and Columbus and again by about 50 pins for the doubles event in Columbus.
"A couple games, a couple extra hits could have propelled me there, but I didn't get the job done," O'Grady said of his second and third tour stops of 2018.
Although 2017 included regional victories in Hubbard and Denver and the New Jersey state Masters title in December, O'Grady thought that last year could have been better overall.
"It [2017] wasn't as successful as 2016. I had a couple of victories, but also some ups and downs. I'm hoping 2018 is better."
O'Grady should be in peak form coming to Bell-Wick.
"I did some bowling over the weekend, so the fingers are actually a little bit cut up," he said on Monday. "But I'll be hitting the gym a few times this week to feel nice and strong for the weekend."
O'Grady wasn't certain about other national Tour players entering the Hubbard Open, but he took an educated guess at a few.
"There may be a Kyle Troup sighting and maybe E.J. Tackett again because he's close in Indiana.
Tackett is another Hubbard Open regular who won the Tournament of Champions — in 2017 when it was in Shawnee, Okla.
O'Grady is loaded and ready for his trip to Hubbard.
"I've got a truck now [Ford Escape] which can fit up to around 40 bowling balls in there, so it serves the purpose."
Other PBA touring pros who have signed on for Hubbard Open are Ryan Ciminelli (inaugural HO winner in 2011), Ryan Shafer and Chris Loschetter.
More like this from vindy.com