COSI teaches AES students about ecology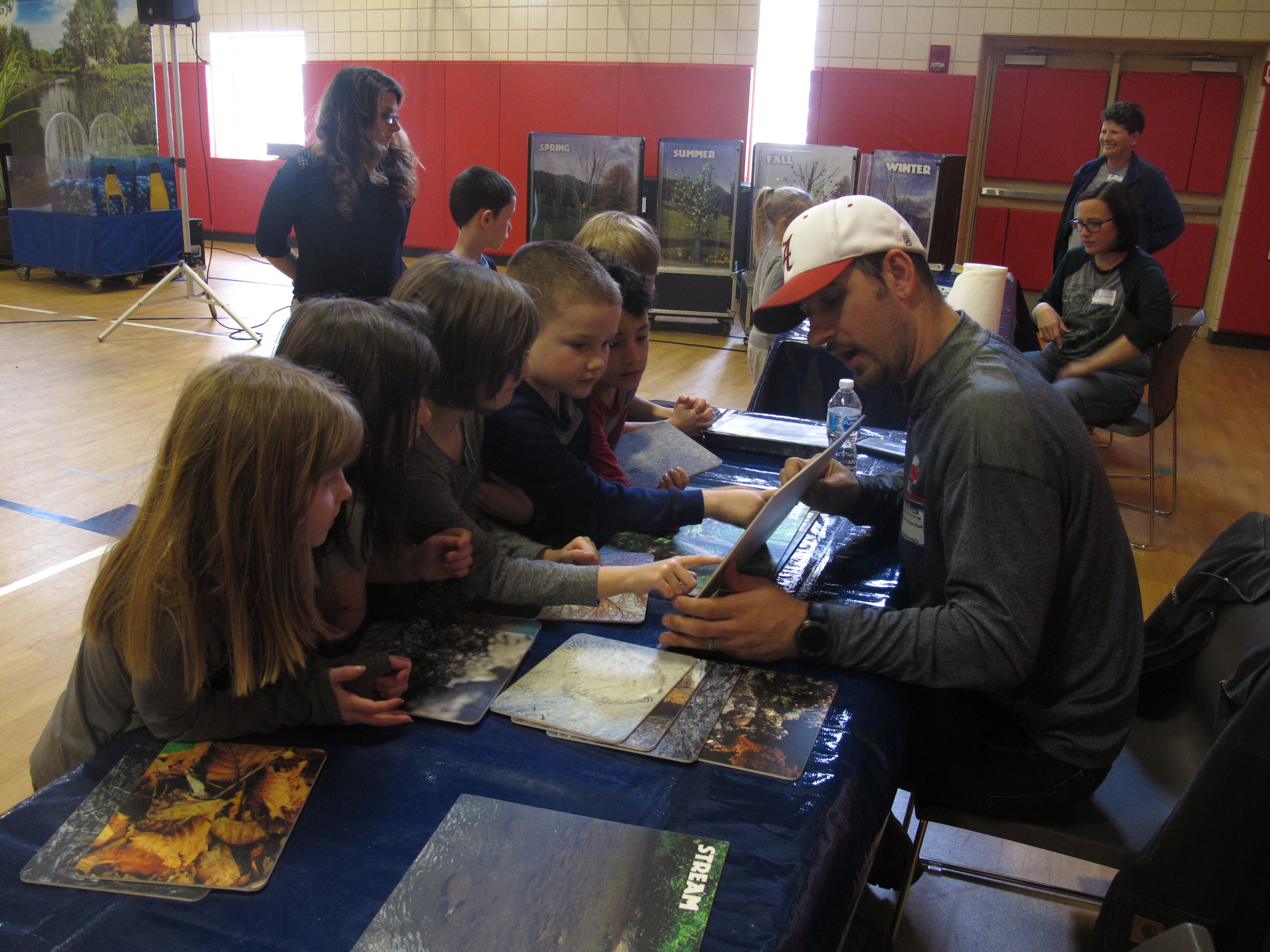 ---
By ZACK SHIVELY
The Austintown Elementary School welcomed a presentation from COSI Columbus from March 7-9 to teach the students about ecology.
COSI, Center for Science and Industry, gave each grade an assembly presentation in the morning of each day. Students visited the gym later in the day to learn at ten activity stations. They went down to the gym two classes at a time for a 30 minute session to go to each station.
"The K-2 curriculum has no science education, so we brought [COSI] to give the students a taste of science before third grade," said Bethany Martinez, the president of the school's PTA.
The PTA has brought in the presentation from the science museum last year and this year. The previous assembly focused on chemistry, whereas this one had an ecology theme.
Lindy Newman, a representative with COSI, gave the assembly presentation and led the students through the activity stations. The assembly introduced the concepts of ecology to the students and the stations gave them a hands-on experience with those concepts.
When the students returned to the gym for the activities, Newman sat them down and explained the rules and expectations for the students. Then, she let the children freely explore the 10 stations. PTA members sat at each station and helped the children learn.
The science museum brought a station that showed the four season and the changes in the climate and ecology with each. Next to that station, they had a station that explained camouflage with an "I spy" style activity where the children tried to find the animal in a set of photos.
They had two stations where the children got to better understand an animal's experience. One station had vision goggles that children looked through to see what it was like to be that particular animal, such as an owl or an insect. The other station gave the students different types of bird beaks and they tried to pick up objects with the different types of beaks.
Three of the stations explored the ecology of plants. One showed the outline of a plant and had students label each part correctly. Another showed the rings on a tree and the parents explained how that showed the age of the tree. The third station demonstrated seed dispersal by having a child press a button and launch a seed into the air.
They also had a metamorphosis station that detailed the life cycle, a stacking station where the children made the food pyramid and a station titled "Just Fur Science," that had a number of animal furs.
COSI Columbus does these types of assemblies all through Ohio and other surrounding states, such as Kentucky and Michigan. They have five different programs, with nine or ten stations each.
More like this from vindy.com