Chamber touts 2017 accomplishments at meeting, 25th anniversary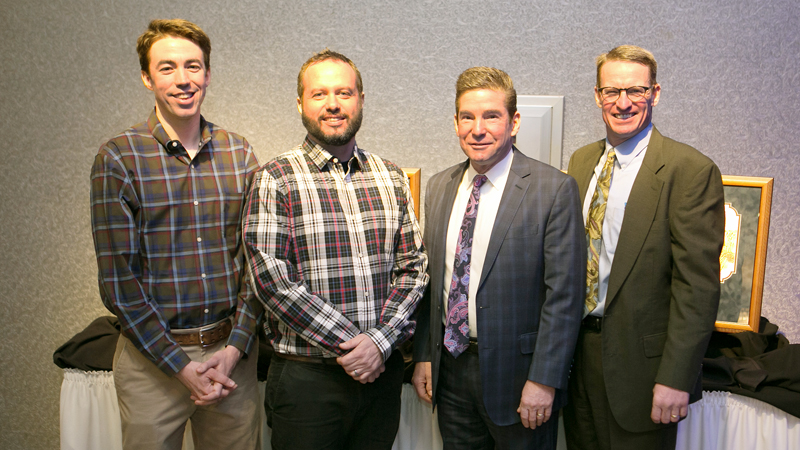 ---
By Kalea Hall
BOARDMAN
This year, the Youngstown/Warren Regional Chamber celebrates its 25th anniversary.
At its annual meeting Thursday at Mr. Anthony's Banquet Center, the chamber discussed what was accomplished in 2017 and highlighted what's to come during its anniversary year this year.
James Dignan, chamber president and CEO, discussed the TJX Companies Inc. project and the need for the community to support it. TJX wants to build a $160 million warehouse/distribution center on Ellsworth Bailey Road. The development would bring 1,000 jobs to the area. For the project to happen, however, two large pieces of land in the 290-acre development need to be rezoned from residential to industrial.
"This is the perfect location for their distribution facility," Dignan said. "This is a business that wants to be a good neighbor. This is not a small deal. This is an opportunity for us. This project is important."
The chamber noted in its annual report it assisted large local warehouse/distribution center, Anderson DuBose Co., also in Lordstown, expand its operations with a $13 million investment for entry into supplying bakery products to current and future customers. The expansion led to 30 new jobs and 194 retained jobs.
Overall, in 2017 the chamber assisted in 19 projects that brought $57 million in investment to the Mahoning Valley.
At the meeting, the chamber awarded the William G. Lyden Jr. Spirit of the Valley Award to Ian Beniston, executive director of the Youngstown Neighborhood Development Corp., and Matt Martin, executive director of the Trumbull Neighborhood Partnership.
Gary Soukenik, president and CEO of Seven Seventeen Credit Union, received the Donald Cagigas Spirt of the Chamber Award. Craig Butler, director of the Ohio Environmental Protection Agency, received the Chairman's Political Achievement Award.
"This isn't about me," Beniston said when accepting the award. "I think everyone knows that. This is about our team."
Martin echoed the same sentiments.
"The spirit of the Valley is really collaboration," Martin said. "I think all of us know that our communities face a lot of challenges, and we will face those challenges together."
More like this from vindy.com