Canfield Wrestling Club successful in February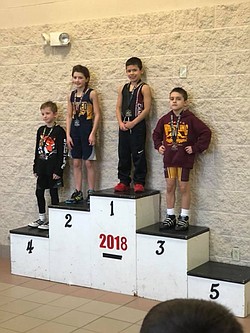 Photo
Neighors | Submitted ..Canfield wrestler, Jose Estrema won first place in the 56 pound weight class division in Sectionals on Feb. 4.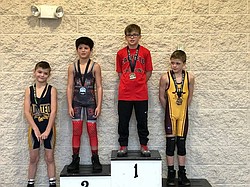 Photo
Neighbors | Submitted .Tanner Stricko took first place for Canfield in the Sectionals Tournament on Feb. 4. Stricko competed in the 67 pound weight class division.
In February, Canfield Wrestling Club celebrated its novice wrestlers with its medals tournament.
The club also hosted a sectionals tournament, which is designed to move its experienced wrestlers on to the league championship.
The medals tournament was designed to celebrate first and second year wrestlers. Divided into foursomes, they wrestle for a place on the podium. The medals tournament aims to promote early wrestlers' confidence and encourage them to return for another year.
Later in the tournament, 81 youth wrestlers took part in the sectional tournament. Boys and girls alike, in grades six and below, traveled from local communities including Salem, Alliance, Crestview and Beaver Local to wrestle for first place among weight-based foursomes Canfield boasted several first place winners at sectionals, including Jose Estremera, Jon Adamson, Tanner Stricko, Max Switka and Aiden Hensdill.
The top placers from Canfield's sectional tournament went on to compete in the league championship on Feb. 11 in Maple Heights. Canfield's placers included Aiden Hensdill (first place), Tanner Stricko (second place), Noah Adamson (third place), Jonathan Adamson (fourth place), Max Switka (fifth place) and Jose Estremera (sixth place).
Wrestlers began their season in October with several weeks of physical conditioning. They continued to learn and practice wrestling skills four nights a week through November, December and January.
"I've seen some impressive progress these last few weeks in our wrestlers," said Dave Crawford, head coach. He noted that wrestling is a sport perfected by repetition and practice. "Every practice is a chance to get better," he reminds the athletes each week.
Canfield Wrestling boasts several tournament accolades at youth and high school levels. The club will host open house nights next fall for interested young wrestlers.
More like this from vindy.com