Campbell community night draws more than 400 students, teachers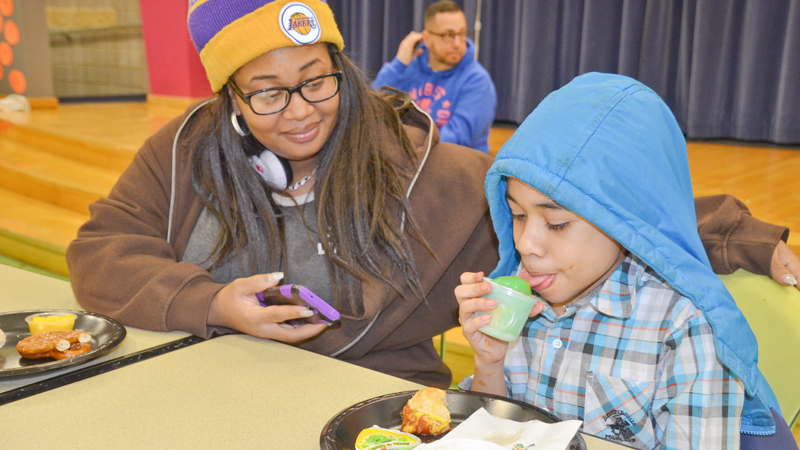 ---
CAMPBELL
Campbell K-7 school students went head-to-head with teachers, community members and law-enforcement personnel on the basketball court during the district's quarterly community night.
Thursday night's event drew more than 400 students and parents and included representatives from a variety of community, law enforcement and educational organizations.
Campbell Community Night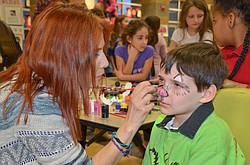 Gallery
Campbell K-7 School held Campbell Community Night on Thursday, March 15, 2018. Photos are by Scott Williams, The Vindicator.
Thursday's event was a combined theme of March Madness and STEAM – science, technology, engineering, the arts and mathematics.
The centerpiece of the night was a series of basketball games between the combined seventh- and eighth-grade boys and girls basketball teams and teams composed of members of the community, teachers and law enforcement.
For those less interested in the court and more interested in activities, there were several art stations set up in the school's cafeteria where students could decorate their own cookies or get their faces painted, as well as a science station where students could make their own slime.
McKenzie D'altorio, 9, and her brother Marlon, 8, were at the event with their parents, Natasha Taylor and Marvin D'altorio.
"I came because I wanted to have fun, and I've never been to one of these," McKenzie said. "You get to make things here. I made a cookie and slime."
Her brother joined her in the cookie decoration, but he was also excited to watch the basketball game.
Principal James Klingensmith said the basketball theme went beyond just the game. Students had been spending the weeks before the community night researching the various colleges that participate in the annual NCAA tournament as a way of tying college preparation into their studies.
The results of their studies lined the windows of the cafeteria. The students' findings were presented on paper in the shape of a white basketball jersey and prominently features the colleges' logos.
Community organization and law-enforcement representatives staffed tables where they interacted with community members and students.
Police Chief Dennis Puskarcik attended, as did Dan DeLuca, an Ohio State Highway Patrol trooper, and representatives from the National Guard. Students chatted with law-enforcement personnel while they handled police equipment like riot shields and tactical vests.
Representatives from the United Way, Akron Children's Hospital Mahoning Valley, the city fire department and the Mahoning County Drug Task Force also worked tables throughout the room.
More like this from vindy.com