Valley students join national protest against gun violence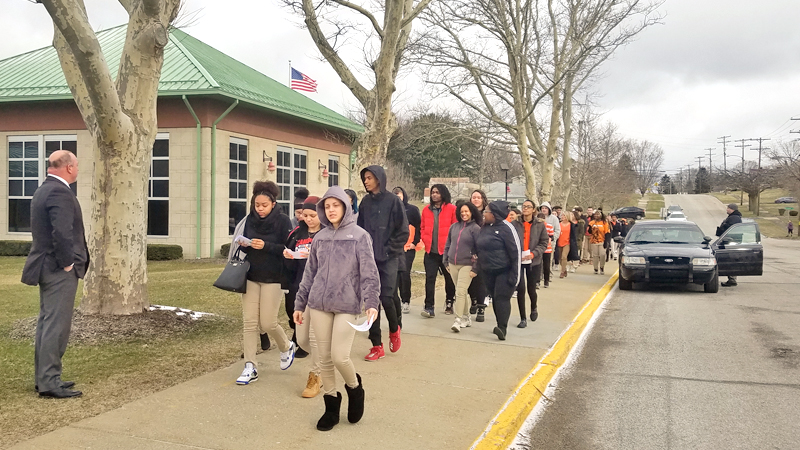 ---
Staff report
Some students in Valley school districts participated in the nationwide walkout Wednesday, whether they were allowed to or not.
At Campbell Memorial High School, students were not only encouraged to participate, but Mayor Nick Phillips and numerous city officials joined them. Campbell police officers were positioned along the walking route.
School Walk Out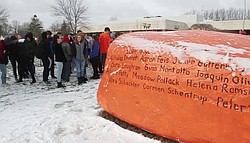 Video
Students at Lordstown HS participated in the national School Walk Out Day to promote school safety.
Campbell and Poland Walk Outs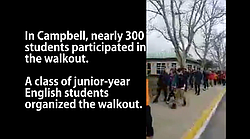 Video
Chaney School Walkout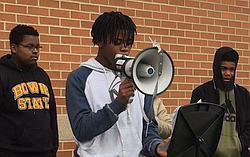 Video
Chaney students speak on National Walk Out day
Things were different in Boardman where the administration marked the walkout with an emergency lockdown practice. A few students walked out anyway.
"I feel the movement is important enough to walk out," said Leigh Carabbia, a senior who knew she might face punishment. "The administration not wanting us to take a stand is despicable."
A handful of Poland Seminary High School students risked discipline after they, too, walked out despite a planned school assembly.
Ninth-grade student Deena Kassawat said she decided to participate "to show the unification of people across the country and to honor the people who never got to walk out that day" in Florida.
High schools in Struthers, Liberty and Girard had no students walk out.
Liberty hosted an optional candlelight vigil. Following the vigil, 17 students released orange balloons outside and handed out orange ribbons to students, a color principal Akesha Joseph said represented school safety.
Struthers students were allowed to participate in a safety assembly or spend the time in the cafeteria.
Girard students were encouraged to talk to and eat lunch with 17 students they don't normally interact with for the "What's Your 17" campaign.
The walkout marked the one-month anniversary of the Feb. 14 shootings at Marjory Stoneman Douglas High School in Parkland, Fla. The walkout lasted 17 minutes to represent a minute for each of the 17 people killed.
Here are details from Wednesday events covered by The Vindicator:
AUSTINTOWN
Austintown Middle School and Fitch High School students were informed about the security measures in place. "Just know that our No. 1 goal is to keep you safe and to get you home the same way your parents sent you here," said assistant Superintendent Jeremy Batchelor.
School resource officer Kathy Dina implored students to report anything suspicious.
"It's disappointing that we even have to see anything like this," said Kara Pirone, seventh-grader and student council officer. "But I definitely feel honored that we can do this."
District officials said there was no walkout planned for students. Instead there was an evacuation drill followed by a reading of the names of those killed Florida and a moment of silence.

The school's custodial and maintenance staff practiced locking down the driveways onto campus with district vehicles while these assemblies took place. No students walked out, said Superintendent Vince Colaluca.
BOARDMAN HIGH SCHOOL
Boardman students were allowed to attend a school safety event. Students then practiced an emergency lockdown and honored the shooting victims and safety services workers.
Five high school seniors walked out in support of the 17 Florida victims. The students said they will be punished by having to go to Saturday school and stay in a room for four hours.
Sophia Justice, a senior student who walked out, said the school's lockdown/safety drill "is a completely tone deaf action on behalf of the administration. They should not inhibit our protest and by doing this lockdown. They are completely undermining the entire meaning of the walkout movement."
Senior Pranav Padmanabhan, a co-organizer of the school event, wants to see stricter gun laws such as the ban of bump stocks, increased background checks and raising the age for those buying firearms to 21. Padmanabhan said he feels safe at the Boardman school.
This was the first of what will be a "legacy event" at Boardman High School, said Principal Cynthia Fernback. That means it will be observed annually on Feb. 14. "This was one of the most meaningful, inspiring events I think we've ever had at Boardman High School."
CHANEY HIGH SCHOOL
About 200 students stood on the track as student speakers read the names of the Florida victims preceding a moment of silence.
Students – including Kelynn Dean, sophomore, and his classmate Janiya Day – also spoke to their classmates imploring those who could vote to do so if they want change and to lobby their government officials for tougher gun laws.
Dean said during the civil rights movement it was young people who led the way and it will be that way now.
"The young people should try and make the change," Dean said.
Day said her primary concern is she thinks people should not be afraid to go to school.
"There needs to be stricter gun laws and we shouldn't be scared that someone will carry a gun into the school," Day said.
In addition, gubernatorial candidate and state Sen. Joe Schiavoni of Boardman, D-33rd, spoke to students at Chaney during Wednesday's walkout. "These students are an inspiration. They embody the new generation of leadership we need at every level of government," he said.
POLAND SEMINARY HIGH SCHOOL
Eight students gathered in front of the school's main entrance, some of them carrying signs that read: "Thoughts and prayers are not enough! Leaders must take action or step down!"
Ninth-grader Seth Kollar said, "I think it's a way to show ... we need to make schools safer, so people like me and Deena [Kassawat] can go to school every day and not have to worry about the dangers that are out there."
The students said they would like to see changes to gun laws, giving examples such as raising the age at which you are allowed to purchase firearms and strengthening background checks.
"Considering the legal age to purchase a gun is 18 ... if somebody decides to purchase a gun and bring it inside the school, there's nothing that's going to stop that," Seth said, "So the age of purchasing a weapon should be raised, because it's less than the drinking age right now ... and I find that's absolutely absurd."
Because the administration did not condone students walking out, school officials said those who did would face discipline. Still, the students who walked out said it was not a difficult decision to make.
"By walking out, it will show our administration and our principals we're not joking around with this and we want to see actual change, not just little tiny things that don't really make a difference," said junior Ellie Blasko.
Students said they were told they could either attend a Saturday detention, or they could write a letter to an elected representative in lieu of detention.
Officially, PSHS observed a moment of silence at 10 a.m., opened up the gym for students who wished to reflect privately, and hosted an assembly.
During the assembly, state Rep. John Boccieri of Poland, D-59th, said: "You could pass all the gun laws you want," but people and the culture need to change, too.
YOUNGSTOWN STATE UNIVERSITY
About 200 YSU students and faculty gathered around the rock on campus.
Ernie Barkett, university Student Government Association vice president, urged students to register to vote.
"We want our representatives to make the change we want," Barkett said. "Vote for those who cannot because they lie murdered in their schools, in the streets and in their houses of worship."
DeMaine Kitchen, president of Youngstown City Council, encouraged students to turn their desire for change into political action. "It's a sad day when we have to beg our government to keep us safe," he said.
HUBBARD HIGH SCHOOL
Students honored the victims with a candlelight vigil. Fourteen students spoke about the 14 student victims and three teachers spoke about the three teacher victims. Nobody walked out of the schools.
"We didn't feel like walking out of the school was going to be very meaningful or powerful," said student council member Lukas Mosora. "We wanted to try and stay away from the political aspect; students all have different views on gun laws. ... We wanted it to strictly be, what can we do to make everyone feel safer and to honor each of the 17 victims."
Police Chief James Taafe said, "It's a productive way they chose to memorialize the victims; it was powerful."
The Hubbard Middle School had "Honor 17 Day" where student council challenged students to do 17 acts of kindness for people. "We wanted to spread positivity," said student council member Elijah Chambers.
LORDSTOWN HIGH SCHOOL
Students walked out equipped with letters to bring with them to Columbus to give to legislators. Emma Crissman, senior, said she's excited to deliver the letters.
"It's kind of hard for [legislators] to say no to us in person," she said. "We want to have them implement new legislation to get us funds for more school security."
Hannah Boyle, sophomore, said she feels amazing to be a part of a national movement. "We are catalysts for change," she said.
Empowering students is meaningful to the teachers encouraging the students to act on what they believe in, said Patrick Barrett, middle school math teacher.
"Students are doing great things here and what they're doing is admirable — they're having a voice," he said.
HOWLAND HIGH SCHOOL
About 100 of the 900 students assembled in the gym for about 10 minutes, then a handful of girls gathered and addressed their classmates.
"Respect the lives that were lost," one said in asking everyone to observe a few minutes of silence. Everyone joined hands.
Ethan Deemer, a junior, gives the school administration credit for not standing in the way of the students or the gathering. "We have a right to share our opinions, as well," he said.
Sandra Williams, principal, said the school felt it best to provide the students with a safe place to express themselves.
"We have four years to make them productive citizens and to have them understand and realize their value, their worth in this country," she said.
Macey Gust, a senior, said: "It felt good for people to stand up for something that matters."
More like this from vindy.com